Nokia biggest player within the smartphone and slider market is showing off itself in a user review. The device that support great looks, a 3.2 Mpixel camera and UPnP & Wifi connectivity in compact package.
We will discuss the new Nokia N80 here in the first user review from Alexandre Silva. He will mention all parts within the new hot Nokia device and ellobrate on the main issues within the device as the package, camera, call quality, screen and much more. It will give you a quite a clear view on what normal users like about their new device and will show you an independent view on what it is like to use their new device.
If you are interested in reading more about the new Nokia slider smartphone, check the story below.
Nokia N80; sliding the competition
What is in the package?
The package has the phone itself, a charger with the new connector - a standard from now on, headphones, data cable, charger adapter for charge the phone even with the previous chargers, 3.5 mm jack adaptor, cloth and the user manuals with the PC Suite CD.
Outside looks
The phone is small. But it feels a little thick. The difference depends on what your previous phone was. I had a N70 which is slimmer and I could feel the difference. But my brother with the 6600 won't feel at all. But the thickness is more imaginary than real. If you put the N70 and N80 side by side you will see that it's really a matter of three milimeters and since it's smaller, it looks more thick. It's very compact. I think compact is the word that best describes it.
The phone gives a very good impression. All of my friends got amazed with the phone and even the most critics said "that's a beautiful phone you got there". This is the first time I had some critics saying this is the best looking phone they have ever saw.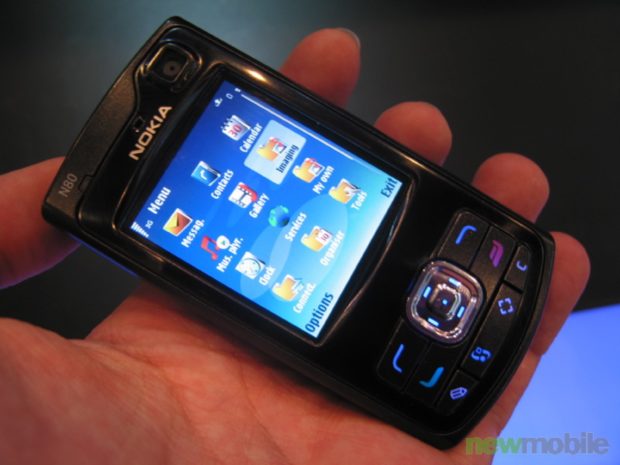 The keys are huge. I mean, not huge, they have a good size, but I was so used to the tiny keys of N70 that I find myself feeling that there was too many space between the keys. One aspect I still need to get used too is that the keys are almost flat, without those "little steps between them, making the finger help the eye on where to press. I couldn't type a message without looking, while I could with N70. It's just a detail of course, but I still need to get used to. I naturally started thinking what the SE's W950i will feel like to users.
The buttons are made in some sort of rubber. It's not plastic. It's half plastic half rubber something like that. They are extremely comfortable except for the navigational key. The center part is hard to press and that makes you feel the phone moving a bit. The keys are clicky. To me it's not a problem, but to some it may be. I don't know, as it's a matter of personal taste. My advice is don't get obcessed with it. They feel great!
To be very honest I was expecting this N80 to have a better built quality. In fact, when the N-series were presented, Nokia said that this phones would be top of the line, with solid construction and features above the average. Well, there's no doubt about the features above the average, but the built quality could be better. The slide is weak. It's not assisted slider, but this is not the point, because that's only a matter of personal preferences. The slide opens really easy. Sometimes in your pocket, or when you're connecting a data cable, headphones, etc. Also the top part moves about 1 mm for the sides, like the 6260 cover did. That's a bit annoying. Also, there's a gap between the top and bottom half. When the phone is closed is not noticeable, but when it's open, and you press the hard navigational key, you can't miss it. It seems you're double clicking it.
However, with time, you'll get used to it. Right now, I don't get bother by that anymore, but I feel how soft it is, for example, to use the N70 key.
Call quality
As usual, the call quality and signal reception of Nokia is absolutely flawless. You can hear and be heard very well, and there's nothing to spot on. No worries at all.
Screen
There's not enough words to explain how the screen looks like. It's the best Nokia screen ever and it's only comparable to the sharp ones. The colours are vivid, the fonts anti-aliased, the shades enhanced. Five stars here. The downside of it is that this screen demands more energy from the battery.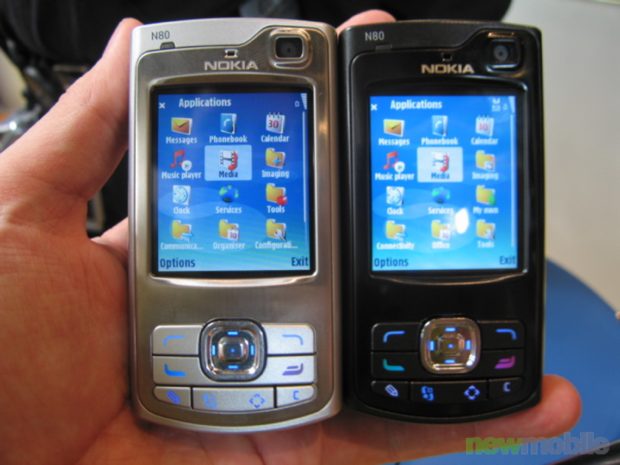 Battery
Speaking about the screen and it's effect on the battery. It's easy to see that this is not a phone to have days and days with only one charge. We have mixed in one product oe of Nokias smaller batteries and the most energy consumer screen. The result: bad standby times.
Nokia managed to do a new trick to save power. Now we can have the phone with a complete "turned off" screen to avoid those bits of power spent by the screensaver. Instead we can have a blue led (where the brightness sensor is), blinking every ?¶ seconds to inform you that the phone is still on. Nice touch.
With a use of 20 minutes of calls, 20 sms messages, 20 pictures, some play with phone functions, including some Wifi and Blluetooth transfers, you got a bit more than two days with the phone always on.
Menu
The menu now presents 12 icons in 3 rows of 4 thanks to the new S60 3rd edition. It's an usual thing for all S60 "connaiseurs". While this is nice in this type of screen and probably good on QVGA's too, I'd like to see how it fits a standard screen. It may be too small. It's a pity to me, to feel that it's not possible to choose between 9 and 12 icons. I think you should be able to choose that and even more. After all, one of the strong points of a smartphone is the ability of customization.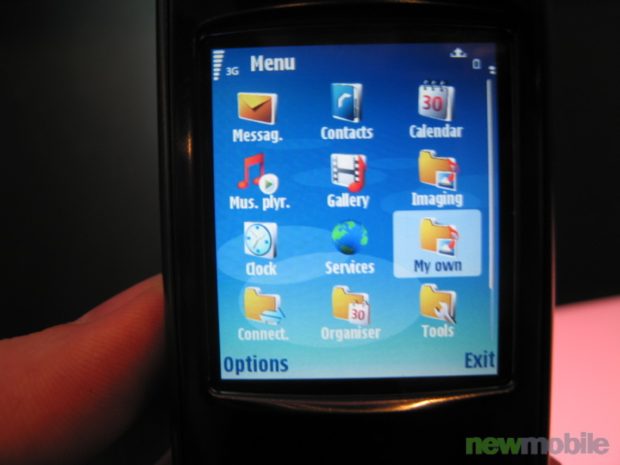 Another new thing is the amout of shortcuts you now have. 14 shortcuts. Amazing huh? Two softkeys, one in the camera button, six in the active standby screen, five in multimedia key. So you can have everything pretty well covered.
Phonebook
The phonebook is like every other S60. You can sort the names by first name, last name or nick name. You can also assign a different ringtone to each contact or order them into groups, which will made your job of senting multiple sms to some group easier.
Messaging
Nothing new here. Sending SMS, MMS and emails is as eay as it used to be.
Connectivity
The connectivity is one of the many aspects enhanced in N80. With 3G, Bluetoth, Infrared, WiFi and UPnP, this phone is an awesome connecting machine. But from all of this only the Wifi gets really important, since BT, IR are known, and UPnP isn't something we all can try at our homes. However, this is another function ahead of its time form the N80. At least I don't have any UPnP equipment.
The connection is more or less easy to setup. Easier in open networks and a bit more difficult in encrypted ones. However, you can set them up in 2/3 steps. All you need to do is search for available WLANs, choose one and set it as an access point. Then, choose Web and the apropriate access point!
Memory
The phone was bundled with a 128 MB Mini-SD card and around 47 MB of internal memory. However installed apps like the QuickOffice take some of this internal memory. With support for Mini-SD cards up to 2 GB, memory isn't a problem.
Camera
The phone that first carries the 3.2 Megapixel mark for Nokia does a good job. With the right light conditions the N80 takes really good pics, but with low light, the phone reveals some difficulties in processing good results. However, it has a good flash light that illuminate the subject around 1/2 meters.
The camera interface is great. Taking landscape pictures makes much more sense and finally we can. Everybody will like it. The phones's gravity center changes and you can hold the phone much better, without shaking it much.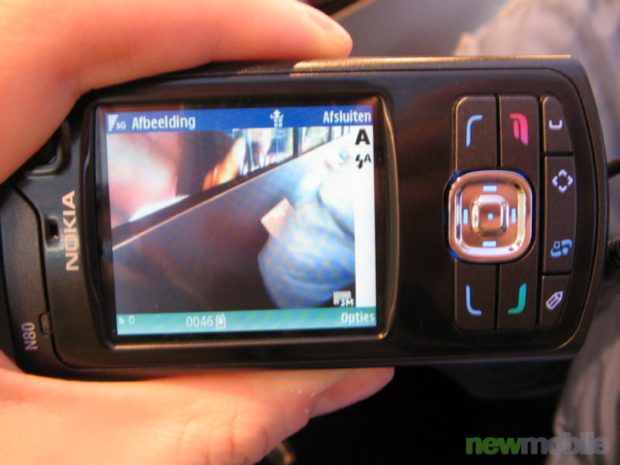 The macro function isn't something you should wait much for. With the touch of a button in the back, below the lens, it gives just a little advantage, not much. Probably due to the lack of autofocus. I say this because with a digicam you see the macro when the lens is focusing the object. Here, that can't happen, and what we see is an enhancement of something in close range. It makes something that wasn't readable, into something readable. Nothing more. It's more than proved that the presence of auto-focus is what makes the difference in phone's picture quality.
The camera is quick in response. You press the camera button for about one second and the phone enters in camera mode. When in here you can set the white balance, contrast, exposure, color saturation, sharpeness, colour tone. And almost the same settings for the video.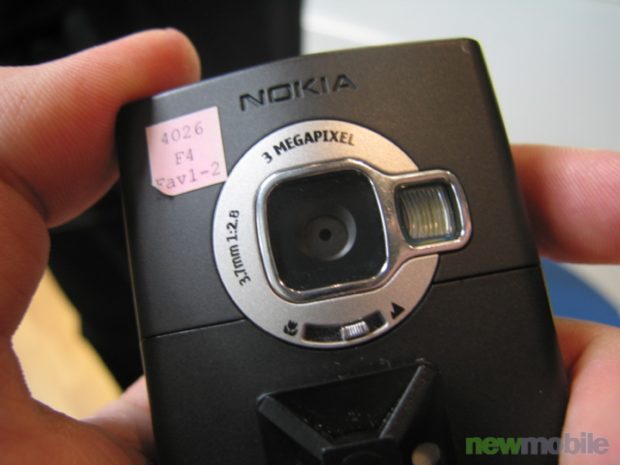 But the video isn't as good as N70. A bit more blurred and noisy. I think new firmwares will solve this problem, as the feedback starts reaching Nokia. Then the editing part, is just like N70. Nothing new here. It was already good (not perfect) so this wasn't a part that they would get much better than it is. But it's N eighty, not N ninety three.
Available programs and games
The phone comes with the usual programs from S60. It has two games, Snakes and Card Deck. If last year it was a pleasant surprise to see N-Gage's snakes in the N70, now it's no longer a surprise. Quickoffice is also installed and Flash Lite player by default.
In time a lot more programs will appear as the 3rd edition will became mainstream. So it's a matter of time until new games and applications became available. Right now, I really need File Explorer, as to me it's the best explorer there is, and SExplorer (the one already available) simply doesn't work well.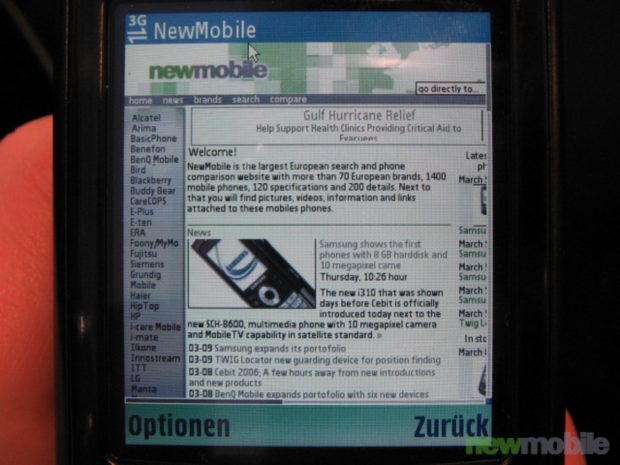 Extra (UPnP, VoIP)
The phone also has Visual radio and a new and enhanced music player. The music player got better. Now you can adjust the equalizer, having preset types and a new UI, which is better in my opinion than the ones used before. The sound is great. Honestly I don't know what more can one ask. Unless you can distinguish a bee buzz from a fly buzz you can't be unhappy with the sound of N80.
VoIP is something everybody is eagerly waiting for. The N80 supports it via the SIP protocol inside the device. Using your own home access point with SIP support will create the possibility for every user to make calls free of charge. SIP is the futture on VoIP and making calls within networks. The N80 is the first device to support this feature in its full range.
A new thing now available is the possibility of the phone to tell you who's calling. That's right. Specially useful when you're using bt and you can't look at the phone to see who's calling. The phone tells you who it is. After a great feature that is the automatic dialing with voice recognition, we now have this.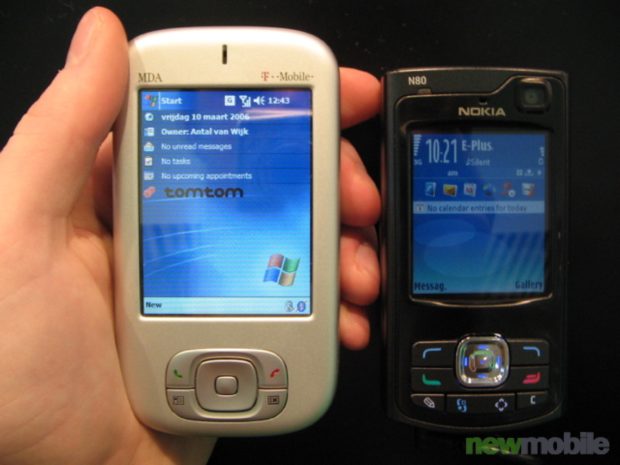 Conclusion
My overall opinion is that this is the smartest smartphone I ever had. I'm very very happy with it. It's small, it's fast, it has a wonderful screen, it's beautiful. My concerns are only battery life and how the slide will be with more use. The phone will please every one who buys it will be happy with its product. Good work Nokia. Keep them coming!
Pro's and con's
+ Design
+ Screen
+ Camera
+ Music player
- Build quality
- Battery life
When you want to check out more pictures and videos of the new Nokia N80 click on the links below:
Credits: Alexander Silva