The arrival of the AirPods 3 was widely expected. They have an updated design with a shorter stem. Noice canceling is missing but it is sweat-resistant and there is Spatial Audio. This spatial sound experience ensures that if you move your head the sound seems to stay from where it sounded from.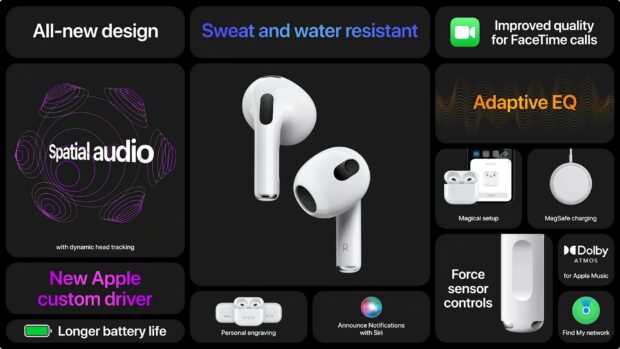 The AirPods gen 3 has a slightly longer battery life of 6 hours of music listening. That's an hour longer than the previous model. Combined with the charging case, you even get 30 hours. The case can be charged via a Lightning cable or wirelessly via MagSafe or Qi.
Adaptive EQ
Apple paid much attention to the Adaptive EQ feature during the keynote. No ear is the same and everyone hears sound differently, even the same sound. By analyzing the shape of your ear, the AirPods 3 can more or less play sound the way the musician intended. An inward-facing microphone picks up sound waves and automatically adjusts bass and midrange frequencies.
AirPods 3 price
The new earbuds are available for preorder starting today and will be released on Tuesday, October 26. The price is $179 or €199. The AirPods 2 are still for sale but drop in price to $129 or $149.