This is a Chinese poster that figures the Xiaomi 12 including some highlights of the device. Starting with a 6.28-inch FHD display with a resolution of 2400 x 1080 pixels and 120Hz screen refresh.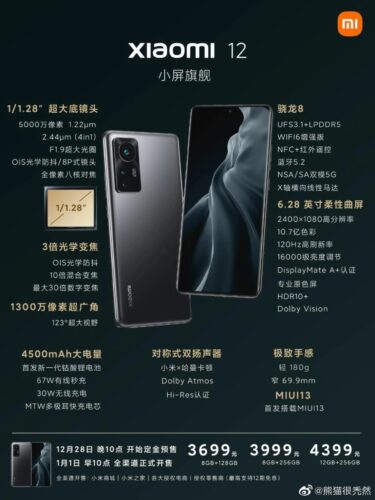 The panel of the Xiaomi 12 has bagged an A+ score from DisplayMate. There is also a 50MP camera with a 1/1.28" sensor, optical image stabilization (OIS) and an f/1.9 lens. The camera also has 3x optical zoom and 30x digital zoom. The battery is on the right side with 4500 mAh and can be charged quickly with a maximum of 67 Watts. So far, few surprises.
Xiaomi 12 price
Possibly, the Xiaomi 12 therefore also has to rely on its price. For a flagship, the price seems to be pretty good. A starting price of 3699 CNY is equivalent to 513 Euros. There is still tax on top, import duties and shipping which possibly results in a slightly lower price for which the Xiaomi Mi 11 was released at the time.
As mentioned, we will hear more on December 28 when Xiaomi officially announces the device. This will first happen in homeland China, after which a worldwide launch will hopefully follow. Whether Xiaomi will then also announce the Xiaomi 12 Pro is obvious, but nothing is certain these days.
Source : Weibo