In the prelude to the release of the Nokia Lumia 900, the first details of this phone are leaking.We now have the screen size, the camera resolution and the amount of RAM for you.
Nokia Ace, the codename of the new smartphone with Windows Phone from Nokia, gets a 4.3 inch screen, as large as that of the Samsung Galaxy S II and HTC Sensation XE , for example. In addition, the Nokia Ace is equipped with an 8 megapixel camera, and the handset gets a battery of 1830 mAh. The smartphone has 512 MB of RAM. The illustration below shows the Ace next to the Lumia 800.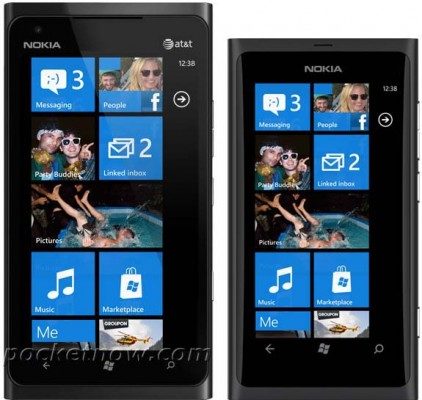 According to rumors, the Nokia Ace is equipped with LTE support, a broadband technique that is not yet available in Europe. That suggests that the this phones comsto the market first in the U.S, and only later will be available for Europe. Probably we will know more next week.
Source: Pocketnow.com