On this page you find information about NewMobile.com in general, the beginning and our mission.
NewMobile is the biggest and most user-friendly phone comparison site of the Web and provides thousands of visitors each day with free information necessarily before and during the purchase of a new mobile phone. NewMobile is the daily and irreplaceble information source for consumers, retailers and salesmen of mobile phones.
History
On July 17 in the year 2002 the Dutch website NieuweMobiel.NL came to live. Nevertheless, the first real launch happend in September of that year. The wish to provide more and better information about functions and characteristics of mobile phones became the reason to start NieuweMobiel.NL. NewMobile is the English version of NieuweMobiel.NL.
During the quick growth of the telecom market in the end of the 90's and in the beginning of 2000, suppliers paid more attention to the delivery of information about subscription structures and their prices, but not so much to mobile phones that had to sell the subscriptions. Information that was given was often incomplete. With the introduction of NieuweMobiel.NL a new complete database arose that nowadays has around a thousand mobile phones with their functions and characteristics.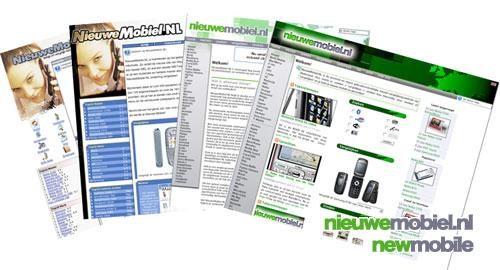 Mission
As can be read on the homepage of NewMobile, we are the biggest and most user-friendly phone comparison site of the Web. Our motto; searching + comparing = finding!
With NieuweMobiel.NL becoming more and more active a new telecom website arose that made the search on individual characteristics of mobile phones possible for the first time. Not long after NieuweMobiel.NL also became the first Dutch website where you could compare mobile phones. These new functions came as a result of the wish of our main user; the consumer.
It is our mission to provide the users with the most accurate and complete information about mobile phones as possible in the periode before and during the purchase of a mobile phone in the most user-friendliest way possible.
Legal
NieuweMobiel.NL is a trade name of NewMobile BV and is located in the city Groningen, The Netherlands. Our contact information:
NewMobile
Postbus 531
9700 AM Groningen
The Netherlands
Chamber of Commerce, Groningen: 0208 1009
VAT NL8180.16.310.B.01