An unknown HTC device has appeared on a benchmark website. These websites can be used to measure the speed of a phone. Is someone trying to be funny, or is HTC working on a new flagship?
When someone says "HTC U23 Pro," we automatically think of the U12+ from 2018. That was HTC's latest high-end flagship. Since then, the Taiwanese company has released phones now and then, mostly simple. And so it's strange that a U23 Pro is now popping up.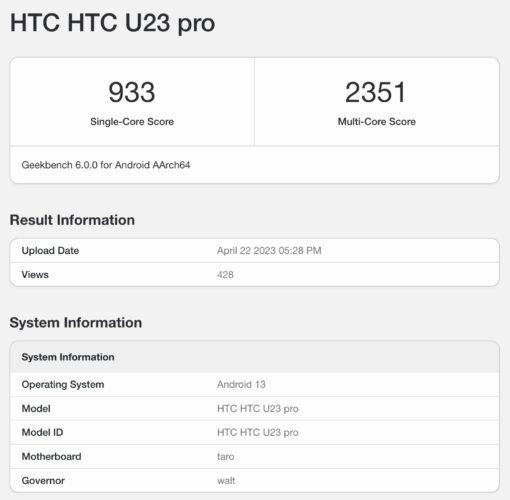 To temper expectations, giving a fake name to a score is relatively easy. So this could be a hoax. Nor is it very convincing that HTC would re-enter the high-end flagship market after years of absence, especially when the reasons for quitting the high-end market are still there. Namely the immense competition and the lack of budget for marketing. Not to mention the many thousands of employees who left.
Which Snapdragon processor?
Should the Geekbench score be real after all, it is still weird. The processor used has a maximum speed of 2.4 GHz. For a flagship, we expect an 8-series Snapdragon processor. The last Snapdragon 8xx that maxed out at 2.4 GHz was the 2016 Snapdragon 821. One level down, the Snapdragon 7 Gen 1 could be a possible candidate. That's a year-old chipset for mid-range devices. Yet that doesn't seem to match the "Pro" name.
We may be looking wrong, and HTC is opting for a chipset from MediaTek. According to the score card, the amount of RAM would come out to 12GB, which is inconsistent with a mid-range device. Or, in other words, all kinds of mixed signals that don't add up.
Last HTC phone
HTC announced the Wildfire E3 as recently as April 2023—a budget phone for the African market. By the way, it does not make this phone itself; it leaves that to others. HTC, meanwhile, mainly focuses on VR headsets under the Vive name. Should HTC re-enter the high-end smartphone segment, we will be the first to report it.