The Motorola high-end Windows smartphone we're showing here, is probably getting a brother: code name Atila. A mobile phone without a keyboard, but with everything else, well...almost everything.
The Motorola Atila was first seen on the website of Boy Genius Report, the website that also showed one of the first pictures of the phone. Other producers use "alternative" platforms like LiMo, Symbian and Android, meanwhile Motorola is putting their money on the Windows Mobile platform. That's not a strange thing to do, since Microsoft has created a lot of experience with mobile devices.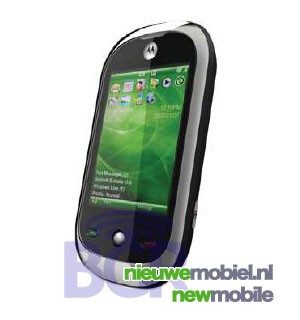 The Atila is the first Motorola mobile phone that uses tri-band HSDPA/UMTS. The people in the Unites States would probably love this. Other characteristics are probably:
* Quad band GSM / GPRS / EDGE / UMTS / HSDPA / HSDUPA
* QVGA resolution (240 x 320 pixels) display (2.8 inch diameter)
* WiFi b/g network support
* A-GPS location determination
* Windows Mobile 6.1 Professional Edition
* 1130 mAh battery
* Qualcomm 7201A chipset, 528 MHz processor
No camera?
Nothing is said yet about the built-in camera. If a camera is missing is unclear. The website of Qualcomm tells us that the 7201A chipset camera's can only have 6 megapixels or less. Thusfar, we think that the mobile phone has no camera at all.
Source: Boy Genius Report