After manufacturers have been releasing the same phone designs for years, things are starting to get a bit more exciting. Largely because of the introduction of foldables. Now the LG Wing is not a foldable, but it does have an interesting design.
The LG Wing looks like any other phone. A 6.8-inch screen with thin edges. But the Wing has a special feature that virtually no other phone has; you can rotate the screen 90 degrees after which a 2nd secondary screen of 3.9 inches becomes visible. You used to see swivel phones like this more often in the past but then it was used to hide a keypad.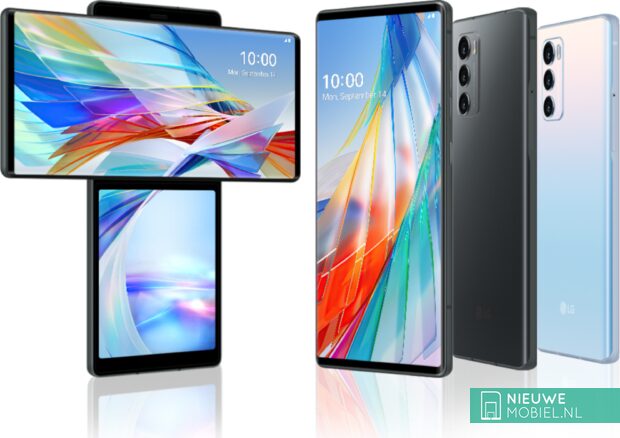 The secondary gOLED display is mainly used for displaying control buttons. For example, when playing video or music. It also displays notifications so that the large screen is used exclusively for uninterrupted playback of content.
Gimbal Motion Camera
The swivel design is also useful when shooting video. By rotating the screen, you can still hold your phone vertical. That's a little more convenient and stable. Videos are also captured with less movement because the Wing is a full-fledged gimbal. So you no longer need a separate stabilizer or gimbal to create professional-looking videos. LG has also added numerous video functions such as Timelapse Control, Slow Motion and Follow Mode.
As a selfie camera, LG has chosen a 32MP pop-up camera. This can work simultaneously with the main camera so you can record both images in 1 video. The main camera consists of 3 sensors; a 64MP main camera, 13MP ultra-wide-angle lens and a 12MP ultra-wide-angle Gimbal Motion Camera.
LG Wing price
It is powered by the Snapdragon 765G with 5G support and 8GB of RAM memory. In the USA the Wing comes out with 256GB of storage memory, the rest of the world gets 128GB. Because of the hinge mechanism and the relative narrow thickness of 10.9 millimeters, there is no more space than a 4000 mAh battery. There is fast charging and support for wireless charging. LG wants to have the Wing in stores in South Korea from October, after which markets in North America and Europe will follow. Prices LG did not give.