Qualcomm has announced its latest mobile processor, the Snapdragon 8 Gen 3. This chip will power most of the most powerful phones in 2024. Companies like Samsung, OnePlus, Xiaomi, and Oppo are lining up to get their hands on them.
Qualcomm announces a new version of its high-end Snapdragon chipset every year. The most powerful is the eight series, thus making the Snapdragon 8 Gen 3 the most powerful. The third-generation Snapdragon 8 was announced during the Snapdragon Summit Keynote.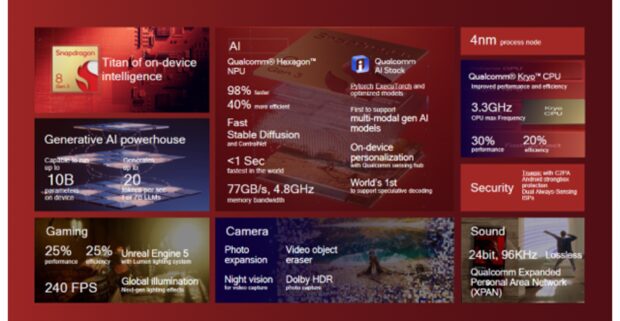 Qualcomm says the Snapdragon 8 Gen 3 is particularly good at AI computations and camera capabilities. Graphics performance should match that of the latest gaming consoles.
Specifications
Qualcomm built the Snapdragon 8 Gen 3 using a 4nm process and consists of one prime core at 3.3 GHz, five performance cores at 3.2 GHz, and two efficiency cores at 2.3 GHz. The Kryo CPU performs up to 30% better than its predecessor while at the same time being 20% more energy efficient. The GPU performs 25% better, with Ray Tracing being up to 40% better.
Snapdragon 8 Gen 3 in phones
The first products powered by the Qualcomm Snapdragon 8 Gen 3 are expected in the coming weeks. According to rumors, Xiaomi will be the first to announce a phone with the Snapdragon 8 Gen 3, the Xiaomi 14. According to Qualcomm, brands such as ASUS, Honor, OnePlus, OPPO, realme, Sony, Vivo and ZTE will soon follow.