From the front, a phone looks like one piece of screen. Preferably as much screen with as little bezel possible. This is often why most phones look alike. But they don't have to, especially now that we have folding screens. That makes multiple designs possible. Motorola is making a stab at it.
The most exciting thing to happen to smartphones in years is foldable screens. It allows for many more designs than the default monoblock that has dominated recent years. Even flip phones are making a real comeback, but the booklet form factor is also no exception.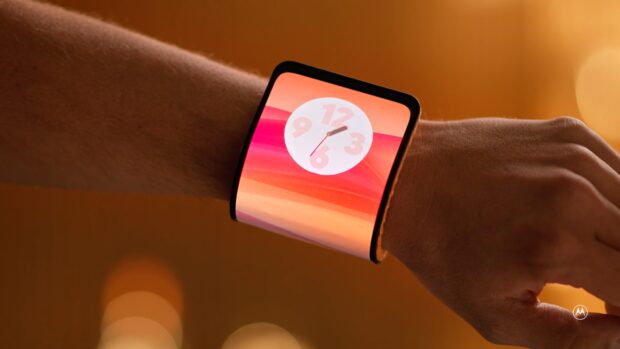 A foldable screen also makes it possible to wear your phone on your body. Like a bracelet, for example. That's the idea Motorola suggests in a recent press release. Why carry a phone exclusively in your pocket or bag? Whether it's practical is up to you.
Lenovo Tech World '23
The concept device was shown at Lenovo Tech World '23 and features a flexible FHD+ pOLED display. Fully stretched, the screen measures 6.9 inches and displays a regular Android version. Bent, 4.6 inches of that remains, after which a more compact Android interface is shown similar to that on the razr 40 ultra.
Don't expect the above phone/wearable in stores anytime soon. The device seems intended solely to show the world what is possible. Distantly, the device is reminiscent of the LG Flex and Samsung Round though those were only slightly curved and certainly not very bendable.