Asus ZenFone 3 Max (ZC520TL) review
No pole position for this Max
---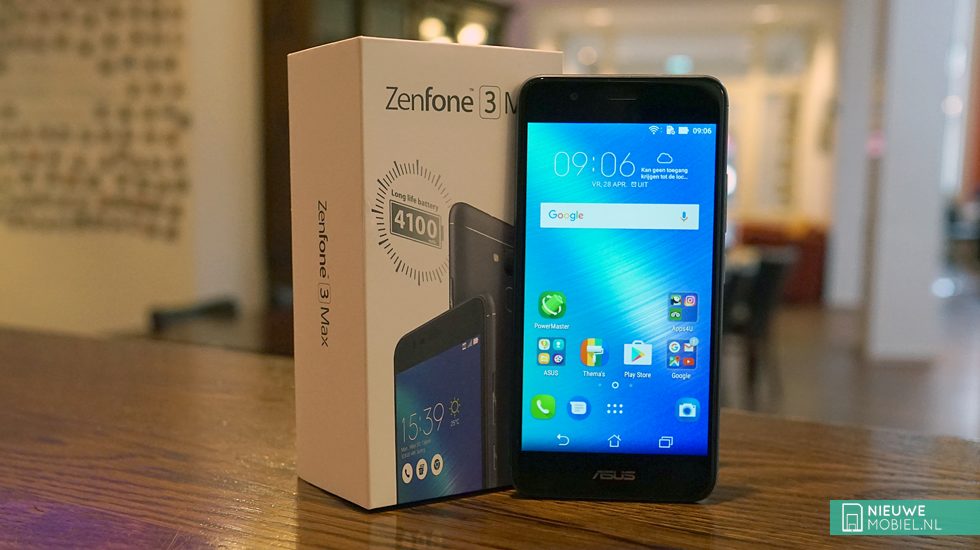 Asus is mainly known for laptops in all shapes and sizes, but for some time now they also try it with smartphones and the Zenfones are available here. Among them are the Zenfone 3 Max.
Contrary to what you might think, the Max is not a more powerful version of the regular Zenfone 3. The battery capacity has been increased to an impressive 4130 mAh. On the other hand, the screen, processor and camera are considerably more sober. The price of the Max is therefore a bit more modest.
Content of the box
Adapter (model W12-010N3B)
MicroUSB cable
USB adapter cable
SIM lock removal tool
Quick start guide
The Zenfone 3 Max comes in two versions and the difference in name is only apparent from the rather curious type numbers. We are testing the ZC520TL. With a 5.2 inch screen it is a bit smaller than its brother who has the catchy name ZC553KL. Furthermore, the camera has a fingerprint scanner, 13 megapixel camera, 32 GB storage memory and 1.25 GHz Quadcore processor. When looking at battery capacity and price, the competition for the Zenfone 3 Max comes only from the LG X power. In the price range below 200 euro the offer is very extensive nowadays. For example, the Samsung Galaxy J5 (2016), Motorola Moto G5 and Honor 5C come into the picture.
---
Design
In the Sterling Grey version that we have tested, the Max is not really a striking appearance and silently goes along with the mass of budget-friendly smartphones. Nevertheless, the design is well cared for and the device is well put together. For a phone with a 5.2 inch screen, the Max is quite large. This is because there is quite a lot of space above and below the screen and because all sides of the phone are a bit convex. This ensures that it lies comfortably in the hand.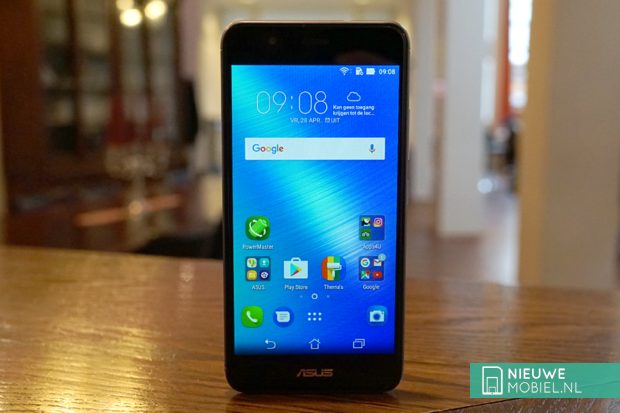 Subtly hidden LED
Fine rounded glass panel
USB connection
The Zenfone 3 Max seems to consist entirely of metal on the back, but the top and bottom are indeed made of plastic. A method we encountered earlier on Honor devices but on this Asus a lot neater with less color difference and a nicer transition with a shiny edge. Besides the camera and fingerprint scanner, the speaker is also located at the back. Because of the placement, it is very muffled when the device is on the table.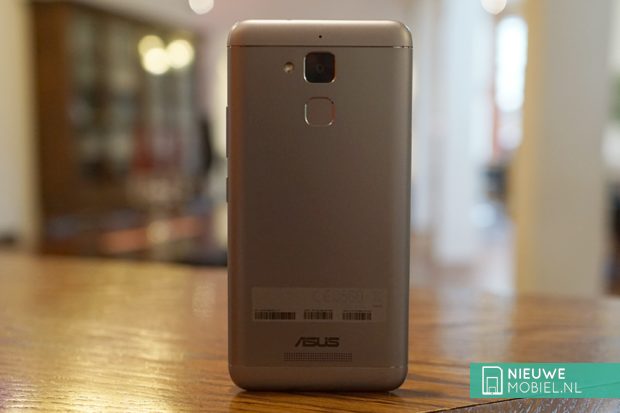 Top this line of plastic, beneath which metal
Sim card slot with memory card or 2nd SIM card space
Speaker
The glass plate on the front lies nicely on the device but is surrounded by a plastic edge where some dirt can get in at some places. Right above the screen is a small notification led. The hardware buttons for volume and power are located on the right side of the device and are easy to operate. At the top of the device is the headset jack. In contrast to the regular Zenfone 3, the Max is not equipped with USB-C but with an old-fashioned microUSB connection. This is located at the bottom and is not in the middle but on the right.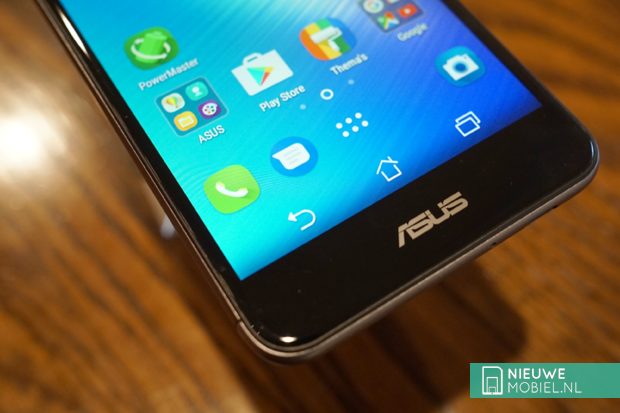 For a phone with the size of a battery like the Zenfone 3 Max (ZC520TL), the thickness and weight are not that bad. With its rounded corners and sides, the phone lies comfortably in the hand. However, the metal back of course remains fairly smooth. But considering the price, you won't hear us complain, especially not because there is plenty of metal used.
Performance
With smartphones, we've gotten used to the fact that it's quite an achievement when they effortlessly last a day on a battery charge. When it goes towards 1,5 day we are already quite impressed. In our case, the Zenfone 3 Max ZC520TL lasted 48 hours on a full battery charge once in a while and with some difficulty. We ended up with a screen on time of 8 hours. During this time we mainly used apps for mail, news, social media, YouTube and the camera. Asus has so much confidence in the battery of the Max that they even provide a cable that allows you to connect other devices to the device on the road to charge them. This large battery capacity is of course very handy, but it takes a while before you can use it. The Zenfone 3 Max does not have fast charging.
".
Despite the large battery, Asus still considers it necessary to supply an application with which the battery can be accurately monitored. The PowerMaster app has quite a number of different functions, but most of them are difficult to find out exactly what they do. This is partly due to the fact that many of the descriptions are in poor English and/or Dutch. Also, some parts are very technical for the average Jan with the cap.
".
As far as we are concerned, such apps only complicate use anyway. They are mainly about detecting and restricting apps and functions that are supposed to threaten battery life. You will then be alerted by irritating notifications and advised to turn them off. However, this limits to a greater or lesser extent the normal operation of the device by, for example, disabling networks or slowing down notifications. The app cannot be removed, but you can disable most functions.
".
As the Max is a budget device, it does not have the most powerful processor. And that's noticeable. The Max in the name is clearly not a reference to Max Verstappen. Fortunately, there is quite a bit of working memory; namely 3 GB. Unfortunately that is not enough for a nice smooth and responsive device. It seems as if the interface is not well optimized for the hardware. It's syrupy with occasional hiccups. This Max often lets itself be overtaken by left and right and often chokes up in the simplest actions, making it quickly irritating.
Screen
The ZC520TL version of the Zenfone 3 Max has a screen with a rather scanty HD resolution of 1280 x 720 pixels. However, this is an IPS panel with good viewing angles, and the brightness can also be quite high. As far as colors and contrast are concerned, the image is still pretty good. The biggest disadvantage of the low resolution is that the interface is rather enlarged due to the limited number of pixels and therefore does not fit too much into the image.
A nice addition of Asus is a blue light filter that can be used to prevent fatigue in the evening. It can make the image redder at five levels of strength so that it is more pleasant to look at in the evening. Unfortunately, the filter cannot be switched on automatically at a certain time of day. Instead, you have to do it automatically.
Software
The Max still runs on Android 6.0 Marshmallow and therefore not on the now also available version 7.0 (Nougat). At first glance you won't notice much of it because Asus has redesigned the interface with its own ZenUI shell, so there is hardly anything left of the original Android. And that is not always to his advantage.
".
The metamorphosis already starts at the locking screen. Here, in addition to a clock widget, a weather animation and three shortcuts for apps are visible. Fortunately, there is an application menu at the start screens. Although this can also be switched off. The default grid size is 4x5 but can be set to 5x5. The design of the application menu is hopelessly old fashioned with a tab for widgets and buttons for a search function, sorting and options menu.
".
By the way, the search function is a special case. It opens a separate window with space for frequently used apps, search trends and rarely used contacts. What would be the possible use of this is a mystery to us. By the way, the options simply mention the most frequently used contacts.
".
Searching can be done via Google or Yahoo! and the application can also be opened by swiping from top to bottom on a start screen. A swipe in the opposite direction opens another unusual screen, namely the home screen management. This also appears when you long press an unused part of a start screen. Here you can quickly make changes to the appearance of your start screens. Unfortunately Asus has also stuffed it with a lot more useless links to the application menu, the ZenUI themes app, app lock and the settings menu.
".
When you open a folder on a home screen, a full-screen window opens with the shortcuts at the very top. This folder style can be switched to a smaller and more common form using the three dots. The advantage is that there is an almost infinite amount of shortcuts that fit in one folder.
".
The notification panel has plenty of space for a clock and shortcuts to settings and other functions. You are required to choose four buttons for the top line from a limited amount of 'tools' that you don't necessarily need. Moreover, this line cannot be switched off. A maximum of 12 shortcuts can still be shown underneath. Because of the size of the buttons, a lot of space is needed for all this.
The settings menu has also been expanded considerably. The clarity is not too much affected by this, but the operation has not become more comprehensible. With many functions it is not clear that you have to press it to open extra settings. Also the descriptions sometimes leave something to be desired.
The shell of Asus is amply equipped with additional applications. Usually this is not something we are waiting for and again it is not an addition or improvement. On the Max you will receive the following apps unsolicited: Audio Wizard, Backup, Do It Later, MiniMovie, Mobile Manager, PhotoCollage, PowerMaster, Puffin web browser, Service Center, Share Link, System Update, Tripadvisor, WebStorage, ZenCircle, ZenTalk and ZenUI FAQ. A significant portion cannot be removed. The only option left is to permanently disable it. This deletes updates and data and also removes the app from the menu, but it still takes up space.
".
There are quite a few sloppinesses and translation errors in the software. For example, we came across English and even Portuguese terms while we had the system language in Dutch. In addition, translations are sometimes so crooked that you have to guess exactly what they mean. It makes it extra sad that Asus asks in many places in the interface to "stimulate" them with a 5 star rating in the Play Store.
Hardware
Even in the budget-friendly segment, a fingerprint scanner is almost indispensable these days, so the Zenfone 3 Max ZC520TL also has one. The device gives a short vibration signal when your fingerprint is not recognized. This is exactly the opposite of what we are used to from most other phones. Moreover, the Zenfone 3 Max is not very adept at recognizing our fingerprint. Despite the fact that in order to save your fingerprint, a scan has to be made a lot of times. When he does recognize it, it takes quite a long time before the screen is turned on. On a Huawei/Honor this goes much smoother. Tapping the scanner instead of laying your finger on it often seems to work even better. It can also help to save the same finger again.
".
The fingerprint scanner has a number of additional functions. You can use it to answer incoming calls, start the camera when the device is unlocked and take a picture when the camera is open. All very nice and nice but we have turned off the fingerprint recognition because of its malfunction after a day. It was all simply too slow and frustrating so a PIN code or pattern works faster.
".
The screen can also be turned on by tapping or swiping it twice. This is so unsteady and slow that it is of little use. Of the 32 GB of internal memory, more than 24 GB remain for internal storage. This could be expanded by up to 32 GB using a microSD card. Still not very much, but with one copy you get the opportunity to sign up for 100 GB of free Google Drive storage.
Camera
Asus calls the camera on the Zenfone a "Pixel Master Camera". This creates expectations, and with a 13 megapixel camera it must be possible to do a few things. Opening the camera is sometimes easy and other times it makes you wait a long time on sight. The interface is not special but functional. Although the menu with settings options is a very long list.
By default, taking pictures is done in automatic mode. When the camera detects that there is little ambient light, a shortcut appears to enable low exposure mode. However, pictures taken in this mode are only two or three megapixels in size. Other modes include HDR, face beautification, super resolution, night, effect, selfie, panorama and time-lapse. In super resolution, a 52 megapixel photo is taken. This is done by merging four photos.
Focusing is pretty slow and the amount of noise in photos is bizarre even in daylight. All details are completely blurred. It is even so bad that for a moment we thought we had done something wrong with the settings. Contrast is a tricky story with machines in this price range anyway. The fact that colors are displayed reasonably is almost not worth mentioning anymore. It also seems that after taking a picture, the camera is completely off the map, a small count and nothing happens at all. It seems that the Max can't handle the amount of data and needs time to process the whole thing. Another sign that the camera is a bit underpowered.


Click above for more pictures shot by the Asus Zenfone 3 Max (ZC520TL)
.
Conclusion
Our first acquaintance with an Asus Zenfone is no basis for a successful continuation of the relationship. The neat design of the device and its good battery life, as might be expected, are left and right abandoned by weak hardware and cumbersome and poorly developed software. Of course, on Android the software can be adapted to a large extent to personal preferences, but on the Max that requires some experience and effort. Moreover, this does not correct the disappointing hardware yet.
In the beginning we also found similar comforts on Huawei and Honor telephones. That manufacturer now seems to have improved his life and to prove that things can be done differently. In terms of price, you certainly don't have to resign yourself to such shortcomings. This is evident from the alternatives we mentioned earlier. We also wonder whether it wouldn't be better to buy a Moto G5 from Motorola in combination with a separate power bank. Asus itself funnily has an alternative and that is the larger Zenfone 3 Max (ZC553KL). In his Snapdragon 430 processor from Qualcomm we have more confidence than in the MediaTek in this ZC520TL. Also the regular Zenfone 3 seems to be able to throw higher eyes for a modest extra price.
---
---
Questions and answers about this Asus 3 Max ZC520TL review