Elari CardPhone review
Is this the ultimate festival phone?
---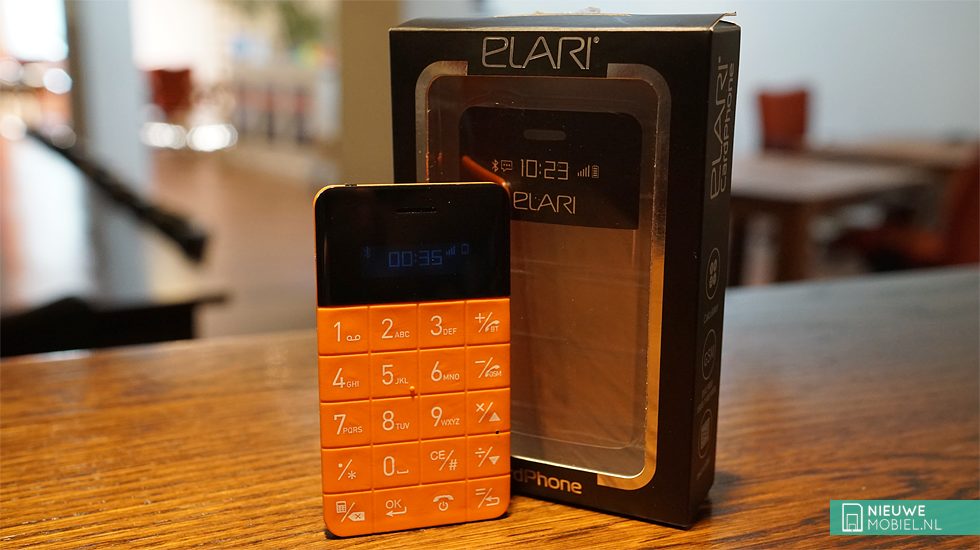 Between all the smartphone violence we thought it was time for something completely different. We ended up with the smallest phone we could get. That's the self-appointed anti-smartphone Elari CardPhone.
The name says it all. This device is the size of a credit card. Approximately, because at 5.5 millimeters, it's a little thicker. It also has a weight of 42 grams. Such a device should of course not have his specifications. According to the manufacturer, the CardPhone can be used as a phone where you can put your own SIM card in while you put a local SIM card with a cheap data plan in your normal phone. We also see a festival phone in it. Leave your expensive smartphone at home and push the CardPhone in your wallet or hang it around your neck. But is it suitable for that?
Content of the box
Attachment for charger
Cover
Manual
Really cheap is the CardPhone with a purchase price of 59.95 euros not to mention. For less money you can find simple phones Nokia 222 and Kazam Life B1 that do have a color screen and the first one even has a camera. You can even find smartphones for that money. Take for example the Wiko Sunny or Alcatel Pixi 4 (4) Dual SIM. You can then install WhatsApp on that which is not possible on the Elari.
---
Design
Apart from its size, what strikes you most about the CardPhone is its classic numeric keyboard that covers almost two-thirds of the front. This makes the device look a lot like a simple calculator. Many people who saw the Elari didn't immediately recognize it as a telephone either. All keys have a dual function and one of those keys actually turns the CardPhone into a calculator with a single click. However, the operation doesn't get any easier because you sometimes have to guess a bit what a button does or you make a mistake in the right button. Especially the enter and return buttons are easy to confuse. Maybe it's just a matter of time.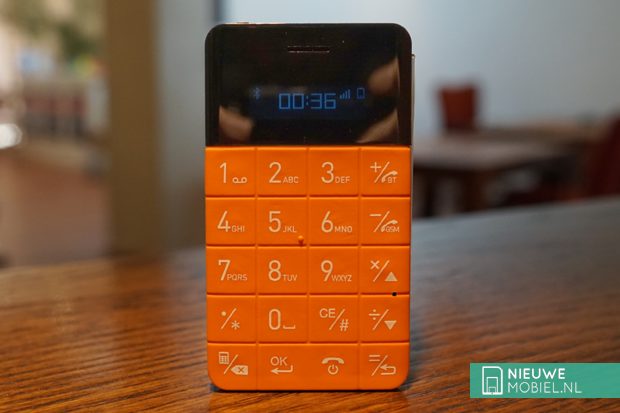 Rubber-like control buttons
Black/white screen with space for an average of 1 line of text
Screen lock button
The keyboard has a rubbery finish and above it is a piece of black glossy plastic containing the speaker and monitor. Unfortunately the screen is a lot smaller than the size of this black part suggests. On top of the device there is a small slider to enable or disable the automatic screen lock. Furthermore, there are no buttons or connections around the device.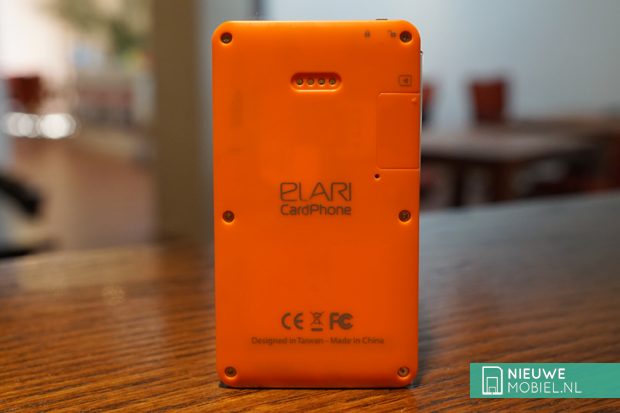 Simcard slot
Connector for charging attachment
The sides of the device are a bit tapered. The core of the device consists of a black piece of plastic. The back is attached to it with six screws and has a recess with a cover for the SIM card. There are also four golden contact points to which the charger must be connected.
Performance
Of course, there's only room for a small battery in the CardPhone. Its capacity is 220 mAh. After we paired the device to our regular phone via Bluetooth and made one call, the battery was already half empty. That doesn't offer much hope for actual daily use. According to the manufacturer, it should be able to remain on standby for three days. For charging, an attachment is included that must be clicked onto the back of the device and a microUSB port can power the device. Of course, it keeps the CardPhone nice and small, it's not handy. If you forget the attachment, you can't just borrow someone's USB charger.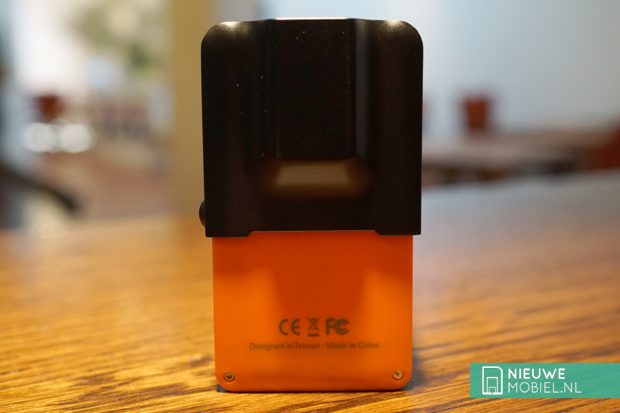 Calling with the CardPhone is reasonable. The volume can be adjusted but can't be very loud. Typing a text message is not really a start. For each letter you sometimes have to press a button more often and T9 what should do about it is missing on the Elari.
There is also a sound recorder on the CardPhone, but with an internal memory of only 0.5 MB, a lot of recording is not possible. The music player is more like a Bluetooth remote control for your normal phone. The CardPhone can be connected to the computer as mass storage or COM connection.
Display
The display of the CardPhone measures diagonally 1.1 inches and is monochrome, i.e. black and white. The number of pixels is negligible and the image quality is more like a cheap digital watch. Strangely enough, the screen is hard to read when looking straight at it and much better when you look at it diagonally from below. The fact that the black plastic is rather reflective and stain-sensitive does not make it easier to read. We couldn't find a setting to adjust the screen brightness. Finally, the plastic front panel is as scratch-sensitive as it can be. Because of this it will not stay beautiful for a very long time.
Software
In terms of software and interface, the use of the CardPhone is reminiscent of the days of simple Nokia's and Ericsson's. Although the square screen of a Nokia did show more information than the tiny screen of the CardPhone.
The menu is available in Dutch but consists mainly of icons without text. What the icons mean is not always clear. You can open the menu by pressing an arrow key and it consists of eight items. It starts with the music player. Not the most logical function but it is no different. When you press down, sound recorder, Bluetooth, anti-lost, contacts, SMS, call history and settings are displayed. The anti-lost function is only available when a Bluetooth connection is made. The CardPhone then emits a vibrating signal when this connection is disconnected.
A good technique with small screens was that the text automatically scrolled through the image when it didn't quite fit on the screen. Sometimes this happens on the CardPhone and sometimes it does not. With names or phone numbers it does, but when you try to perform a certain action and the phone gives a message about it, there is a word with three dots behind it and you have to guess what the device means or is doing. Often there is little else to do than to press the back button because nothing happens.
Hardware
We can't really elaborate much on the hardware of the CardPhone, because the manufacturer doesn't really let much go about it either. What we know is that the CardPhone is a phone of the quad-band type and has support for GSM networks of 850, 900, 1800 and 1900 MHz. This makes it suitable for use when travelling to different continents. So you can still stay connected to the home front should you need to.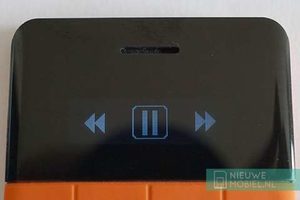 It also supports Bluetooth 3.0 connection. This makes it possible to use the CardPhone as a Bluetooth "headset" in combination with your regular phone. Elari herself indicates that the advantage of this is that you can, for example, keep your "big" phone in your pocket or bag and don't miss any calls. It is reminiscent of the beaten HTC Mini; a remote control for your phone in the shape of a phone. The Elari, on the other hand, is a fully fledged phone. Pairing up the CardPhone didn't work all at once, but in the end it was quite easy. The sound quality just doesn't immediately improve.
Conclusion
After a week of use we cannot conclude otherwise that the Elari CardPhone is not suitable as a primary telephone. Even as a second or spare phone we would not immediately recommend it. There are simply too many shortcomings. For example, the battery life is too short, charging is a bit cumbersome, the screen is difficult to read and the operation is a test. But that does not mean that the Elari CardPhone is totally unusable.
First of all, you could use it to amaze people. We really enjoyed people's reactions during our test week. Nobody seems to believe the Elari is just a phone. So fun in the pub is guaranteed, but of course you shouldn't buy it for that. You could put it in the glove compartment of your car as an emergency phone or take it with you when exercising outdoors. However, it is not waterproof so it will not always be suitable for the latter. Taking it with you to a festival or camping trip in the mountains where you still want to be able to call after a few days without a charger is an option. Too bad here is perhaps the lack of a camera. But retro is in and because of its minimal features you can better enjoy what you are currently doing. Finally, it's a device that you can easily hide in your sock, so it might come in handy during an exam to turn on a helpline on the toilet. Use is at your own risk!
---
---
Questions and answers about this Elari CardPhone review