Honor 8 review
Smooth guy with new look at interface
---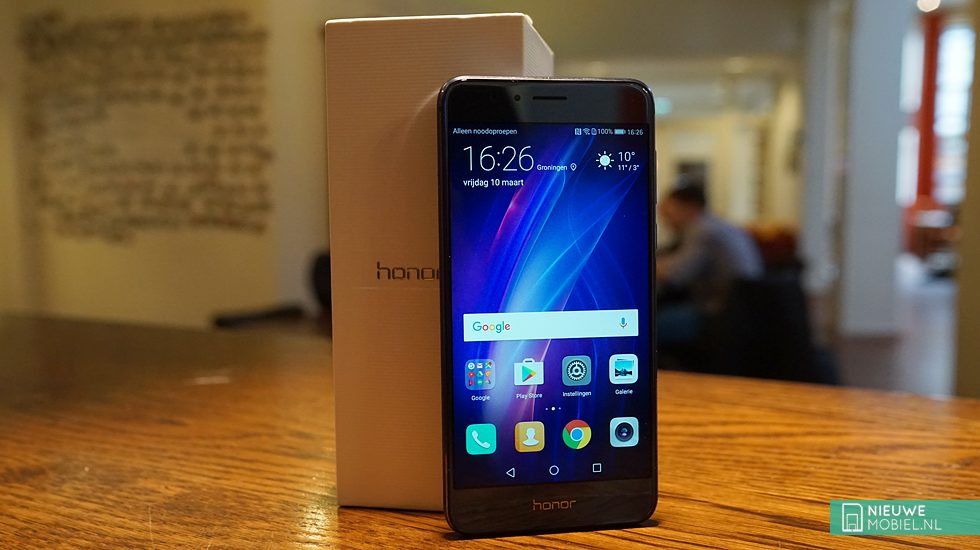 We know Honor as a manufacturer of affordable and premium looking phones with strong hardware but somewhat disappointing software. Maybe they will change that with the Honor 8. We figured it out.
Recently this device was one of the first to receive the update to Android 7.0 and we thought that was a good reason to take a closer look at it. The Honor 8 goes for just under 400 euros over the counter. Considering its features, that's a competitive price. For that amount you get two 12 megapixel cameras, a fingerprint scanner and a 5.2 inch screen. Other devices that cost less than 400 euros include the Samsung Galaxy A5 (2017) and the Sony Xperia XA1 Ultra. The recently released Asus Zenfone 3 is also a formidable competitor.
Content of the box
Manual
USB cable
Huawei Quick Charge loader
In terms of availability, it has become a little more difficult for Honor phones since 2017. Now the Honor phones were not available everywhere because of the savings on marketing and distribution. To top it all off, parent company Huawei has since early 2017 opted for sales in the Benelux only via its own vmall.eu channel. This is also the reason why we hardly ever find Honor phones at Coolblue. In spite of all this, there are still some good webshops that have gotten their hands on them and offer them for sale. This is handy because it allows you to take it out in combination with a subscription instead of just on its own.
---
Design
In spite of the budget-friendly approach, Honor always manages to make its appliances look pretty premium. The Honor 8 is no exception. Our blue test model is a sleek appearance.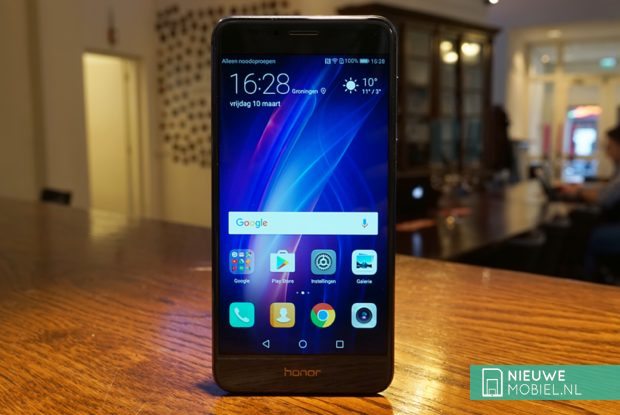 Hidden LED notification light
Dual 2.5D glass + rounded sides
5.2 inch large Full HD display with convenient eye comfort mode
Honor's more recent phones had metal backs with a slight bulge. With the Honor 8, a flat and glass back was chosen instead. This is only interrupted by a round opening for the fingerprint scanner. Since the glass plate at the front also extends all the way to the edge, and there it slopes a little bit, the front and back feel almost identical.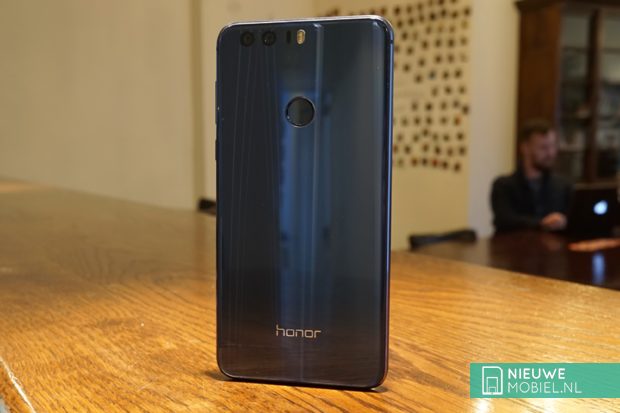 Pretty 3D effect due to grid of 15 different layers

Double 12 megapixel camera with hybrid autofocus

Quick 3D fingerprint reader (0.4s) with additional options

.

The edges on both sides of the screen have been kept nice and narrow. Above and below the screen there is still some empty space, but it has been kept within limits. Above the screen, in addition to the ear loudspeaker, there is also a camera and light sensor. In the recess in front of the ear loudspeaker there is also an LED light hidden for notifications and charging in different colors.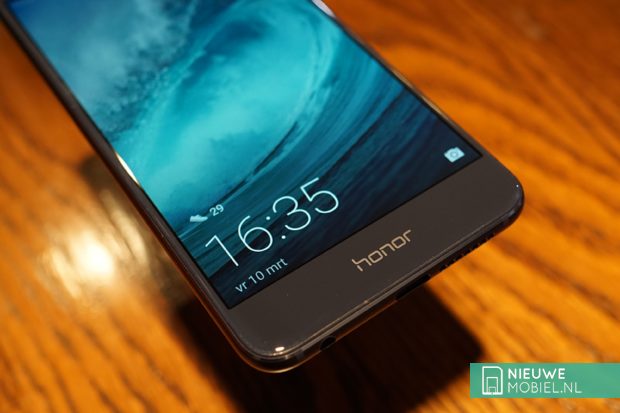 The metal edge around the device is slightly convex with bevelled edges and is interrupted in three places by a plastic strip. The corners are nicely rounded which makes the device very comfortable to handle. However, all that glass and metal makes the Honor 8 quite slippery. Hold it firmly and don't just lay it on your lap or a cushion of the couch because the chance of it sliding off is considerable. The plane doesn't even stay still when you operate it on a table.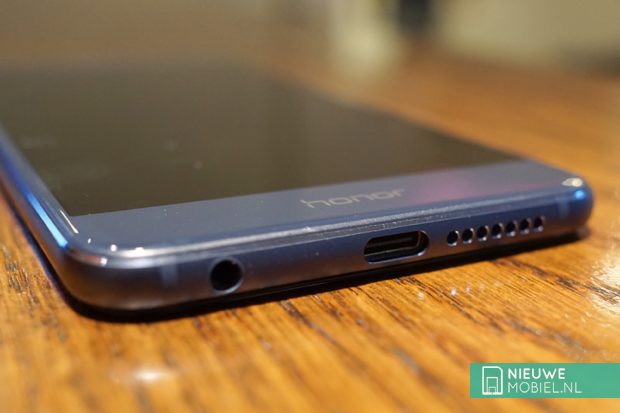 All buttons of the Honor 8 are located on the right side of the unit. With the slightly ribbed power button under the volume buttons. On the left side of the unit is the SIM tree with space for a microSD card or second microSIM. At the bottom of the device we find a USB-C port with the headset connection next to it and a row of holes for the speaker.
Performance
The drive for the Honor 8 comes from the eight-core HiSilicon Kirin 950 processor made by Huawei. One half of these run on a powerful 2.3 GHz while the other half can run on 1.8 GHz for the more quiet tasks. This makes the Honor 8 not only powerful but also energy efficient. We didn't encounter any hiccups in the interface during testing, and apps open smoothly. Switching between last used apps by pressing the multitask button twice is also a breeze.
With normal to intensive use, the Honor 8 can easily hold its own on one battery charge for one to 1.5 days. This results in a minimum screen on time of five to six hours. A neat margin so you don't have to pay too much attention to what you do with your phone during the day. The Honor 8 comes with a quick charger, but there is something odd about that. The fast charging only goes up to about 85%. Charging up to 100% then takes considerably longer. Possibly this is intentional to save battery life. On the other hand, fast chargers of other brands do not use the full fast charging capacity. This is probably because the Honor 8 uses Huawei's own fast charging technology instead of Qualcomm's more common Quick Charge technology.
".
An energy saving mode is available as well as an ultra mode. The first limited activity of apps in the background, reduces visual effects and sounds and disables email retrieval in the background. Unfortunately, this mode cannot be set to turn on automatically at a predetermined residual battery level. In ultra mode, only a very limited number of apps are available.
".
In addition, in the settings menu for the battery there is also the option to optimize. Among other things, this is used to close as many apps as possible when the screen is turned off. This is not necessarily an improvement because apps automatically go into sleep mode and after switching off they often require more energy to restart completely. The other optimisations also yield only a dubious profit.
Furthermore, to our great annoyance, Honor and Huawei aircraft are always equipped with the so-called current-intensive prompt. This provides a notification when the system finds that an app uses a lot of energy in the background. The obnoxious thing about this is that the notification is given for practically every app and most apps can remain active in the background. To turn this feature off, you need to dive pretty deep into the settings.
Screen
The 5.2 inch display of the Honor 8 has a Full HD resolution of 1920 x 1080 pixels. That is in principle more than enough for a screen of this size, but sometimes we found the image just not quite sharp. Also, the interface seems a bit more inflated than necessary. Except for the font size, this can unfortunately not be adjusted.
".
In addition to brightness and sleep mode, the colour temperature of the screen can also be adjusted. This is useful because the standard image is very cold and bluish. By the way, we find the contrast really excellent with good black values. There is also a so-called eye comfort mode available. This filters blue light out of the image and makes it a lot more yellow. According to the description this should alleviate visual fatigue but we think it is especially useful if you want to use your phone in the evening before bedtime. You can set the start and end time yourself and regulate the filtering.
Software
By default there are quite a few applications installed on the Honor 8. Something that Huawei/Honor has had a hand in for a long time and doesn't need from us. Some apps can be quite intrusive. For example, News Republic sometimes gives notifications for news items from the start. Without these being immediately relevant to the user.
".
In addition, a pedometer is active even before anything has been done or installed to the device. This is apparent from irritating and irregular notifications, among other things. Logical thinking leads to the conclusion that this has to do with the app 'health', but before you can check this, you first need to enter your personal details and give the app access to your location. Then you can indeed set a fitness goal and target weight. However, there is nowhere to turn this off completely. Luckily, since Nougat, Android has had the ability to revoke app-level permissions in case you want to stop the location permissions. You can also be more rigorous; you can remove the health app from the device altogether.
".
That a manufacturer tries to add functionality by installing its own applications is still understandable. But the fact that you also get the apps from Booking.com, TripAdvisor, Opera browser, Shazam, Facebook, Twitter and Instagram, we think, is a bit of a good thing. Not to mention the seven(!) game applications on the device.
".
With the update to Android 7.0, the EMUI shell of Huawei/Honor is also updated to version 5.0. Unfortunately the above mentioned problems are not solved but the whole interface looks a lot better. By default all apps are still on the start screens but this can easily be changed to a more traditional application menu in the settings.
".
The icons for their own apps are still all the same size but look more mature and tighter. Third party apps are no longer squeezed into that same format but can just keep their own icon. The standard apps look tighter and more organized. However, in some cases there is still a line of buttons floating at the bottom of the image.
".
At the top of the notification window there is a line with five shortcuts for settings and below that a slider for screen brightness. This line can be further expanded to display another 15 shortcuts. In terms of appearance and functionality, this window now looks a lot more like classic Android. Notifications are placed neatly underneath each other and they can be folded out. For messages, a quick response can be set up immediately.
".
The settings menu has also been rearranged. It is quite full of more and less common options. Some parts are a bit oddly worded so it is not immediately clear what the function means or you have to search for the desired function.
".
Despite the abundance of extra options and setting possibilities, Huawei also provides some nice additions to the EMUI shell. Not all functions in phone management are equally clear, but things like the virus scanner and blocking list are nice. The contacts app has a standard scanner for business cards and a flashlight, sound recorder or compass can also come in handy.
Again and again we were not at all charmed by the EMUI software on Honor and Huawei aircraft. Cosmetically, however, the update to Android 7.0 and EMUI 5.0 is a big improvement. Navigating through the interface is a lot more pleasant. There are still some spelling mistakes and grammatical peculiarities in the text. That's cute but not really disturbing.
Hardware
In terms of hardware, the Honor 8 has a lot in common with the Huawei P9. This came on the market in April of 2016 and is still a fraction more expensive. One difference is that the Honor 8 is on top of an infrared transmitter. With the accompanying app it can be used as a remote control for your TV or other devices.
".
The Honor 8 is only available in the Netherlands with 32 GB of storage memory, something that can be expanded. We sometimes found the touchscreen to react a bit slow or inaccurate. Turning on the glove mode doesn't seem to offer a solution either. The loudspeaker at the bottom can be loud enough but the sound is not super and you cover it quickly by accident.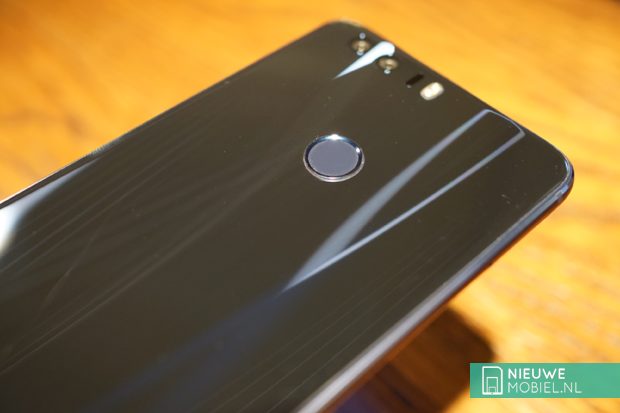 The fingerprint scanner recognizes your finger well works nice and fast. Apart from unlocking the device and/or apps, there are a lot of other functions available. The scanner is also a pressable button. By holding it down, a photo or video can be taken, a call answered or an alarm stopped. By swiping over it you can open the notification panel or browse through photos. It can also be used as a shortcut for three different functions or apps.
".
Camera
The Honor 8's camera starts up quickly and focusing also goes smoothly. After tapping the screen to focus, the brightness of the picture can be adjusted. Furthermore, in the shooting screen filter, large aperture and flash can be adjusted and there are links to the self-image camera and photo album.
By swiping from left to right in the shooting screen, a grid with various shooting modes such as pro picture, night shot, time lapse and slow-mo appears. Unfortunately, HDR is also a separate mode and can therefore not always or automatically be switched on. Knuckle enough, not all parts of the interface rotate with you when you hold the device horizontally. That doesn't make using pro-photo mode any easier. The settings menu can be opened by swiping the screen in the other direction.
".
Despite the fact that one of the two cameras only shoots images in black and white, it is not possible to capture photos in that way. Instead, it is only intended to take more contrast-rich and sharper photos, just like the P9 and P10. Thanks to the double camera, you do have the possibility to adjust the focus of a photo and, for example, blur backgrounds. This is also possible afterwards. All in all, the Honor 8 for a camera in this price range shoots great photos. Even in low ambient light, the Honor 8 takes neat photos with not too much noise.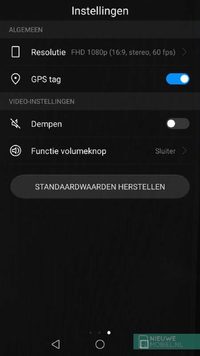 Video can be recorded up to 1080p (Full HD) with stereo sound and 60 frames per second. The quality of video images lags considerably behind that of the photos. Images are not always sharp and colors are not always displayed correctly in our opinion.
Conclusion
At all times the EMUI interface on Honor and Huawei aircraft was an absolute disappointment for us. Despite often capable hardware for a decent price, the software was the decisive reason never to want to own a device from the Chinese manufacturer. Moreover, you always had to wait and see how quickly updates would become available. With the Honor 8, it seems that Huawei is clearly improving this.
You still need to spend some time after using the device to uninstall applications and turn off the necessary software functions, but after that you will have a device that works very well. The Honor 8 takes nice pictures but the dual camera does not offer significant extra functionality. Although that is of course no reason not to buy it. Combined with the excellent stamina and fingerprint scanner, there are not many reasons not to consider this camera anyway.
---
---
Questions and answers about this Honor 8 review