We have some real pictures inside of what looks like the OnePlus 8 Pro. Here we see a device with a small screen hole, at least 3 cameras on the back and a mention to 5G-support.
References to the OnePlus 8 Pro already go back to October 2019. That was very early because its predecessor, the OnePlus 7T Pro, was announced in the same month. There are plenty of differences. For example, the popup self-image camera was swapped for a screen hole. OnePlus chooses the top left corner to place a 32 megapixel sensor.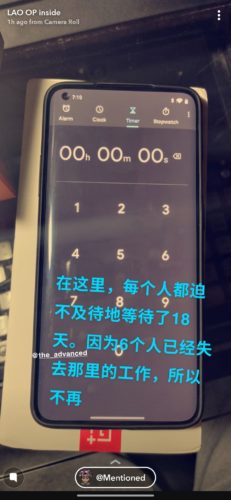 The OnePlus 8 Pro is also expected to become OnePlus' first phone with wireless charging. Other specifications include a 6.7-inch Fluid AMOLED display with 120Hz and Quad HD+ resolution and a Snapdragon 865 processor with 5G support. On the camera side, we strongly consider a 64 megapixel main camera, 20 megapixel ultra-wide-angle lens and a 12 megapixel telephoto camera with 10x hybrid zoom. There also seems to be a 4th sensor to recognize depth.
Launch OnePlus 8 Pro
A launch always seems to take place half a year after the previous model. In the case of the 8 Pro it comes out on March. The Corona virus could still throw a spanner in the works. Many Chinese factories are currently down to contain the virus outbreak. So April is also a good opportunity.
Source: Snapchat (LAO OP inside).