Nokia is still the largest mobile phone manufacturer in the world. The Finnish brand has that position mainly due to the leading position in the market for basic mobile phones.
The figures of the global sales of mobile phones in the fourth quarter were made up recently. Nokia still leads, but it lost ground to Apple and Samsung, the second and third in the list. Apple's position is remarkable, because the brand makes no simple phones, a markey with a relatively high demand worldwide. Nokia currently has 26.6 percent of the market.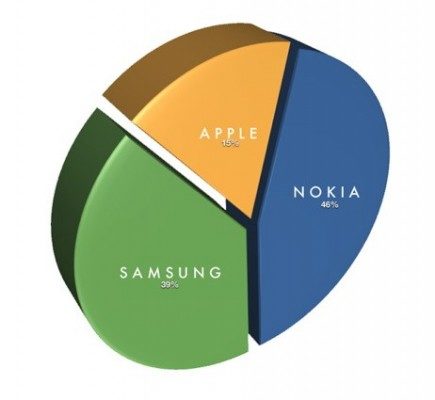 Nokia loses 4.1 percent compared to the same quarter last year. Samsung has 22.8 percent of the market, and improvement of 2.8 percentage points, and Apple has 8.7 percent, an improvement of 4.7 percent. Apple is the biggest climber. LG, on the fourth place, lost a substantial portion of market share, and is taken over by China's ZTE.
Source: Engadget.com