It seems that for the first time we have real footage of the upcoming V60 ThinQ from LG. It seems to be official press material of high quality.
The LG V60 ThinQ would actually be announced during the Mobile World Congress in Barcelona. The Coronavirus (COVID-19) threw a spanner in the works. The world's largest telecoms fair was cancelled and many manufacturers will now have to look for other ways to announce their latest phones. Possibly this V60 ThinQ will be made public during an impersonal press release, maybe there will be another online webcast.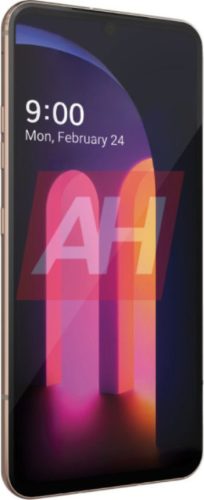 Back to this V60. LG again chooses a conservative design; a rectangular unit with rounded edges. Compared to the V50 ThinQ, the notch has become considerably smaller. Whether it has reduced the components or simply left them out is still to be seen. The image further reveals the Google Assist button on the side. This immediately calls up Google's digital assistant.
5000 mAh battery
LG wants to impress further by using a large battery. Inside the LG V60 ThinQ is said to be a 5000 mAh battery. If we could recharge it now, we'd be completely happy. A Snapdragon 865 processor with 8 GB of RAM is also expected inside. With regard to audio, we take into account 4 microphones and the necessary Dolby techniques. In terms of colour, there will be a golden version in any case, but take more colours into account.
(via)