Samsung has just officially announced the Galaxy A52, A52 5G and A72. At first glance, these models look a lot like their predecessors, yet a lot has been renewed.
Perhaps the most eye-catching feature is the IP67 waterproof body. This does not make the Galaxy A52, A52 5G and A72 the first waterproof Galaxy A phones, the 2018 A8 preceded them. Still, it's a rarity in the popular A series. The new Galaxy A phones also have smoother displays and better cameras.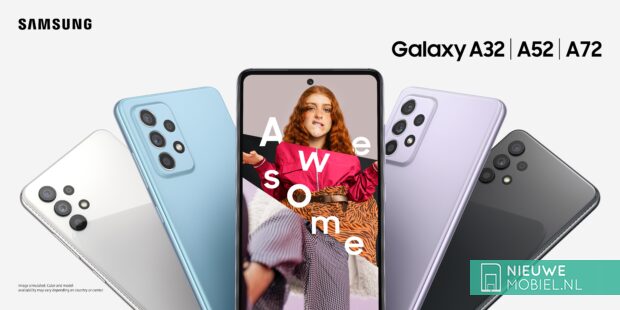 For example, the A52 and A72 both have a screen with 90Hz refresh rate while the A52 5G gets a higher 120Hz. Previously, this was something you only saw on expensive high-end phones. A higher refresh rate ensures smoother animations, for example, during scrolling. The screen size of both the A52 4G and A52 5G is 6.5 inches, the A72 has a slightly larger 6.7 inch panel. All three have a Super AMOLED Infinity-O Display with Full HD+ resolution.
64MP Quad Camera
Camera wise the differences are also small. All three get a 64MP main camera with f/1.8 lens for sharp pictures even in the dark and 4K video. They also share a 12MP ultra-wide-angle camera with wide 123° lens and a 5MP macro camera for extreme closeups. Where they differ is in the fourth camera. Where the A52 and A52 5G both have a 5MP depth camera, the A72 gets a 8MP telephoto zoom lens with 3x optical zoom. Digitally you can even zoom up to 30x, the A52 doesn't go further than 10x. At the front of the trio, we find the same 32MP selfie camera with fixed focus f/2.2 lens.
4G and 5G
The biggest surprise is that only the A52 has a 5G version. An A72 5G currently only exists in our minds but it seems a matter of time before that will also be announced. The future is 5G.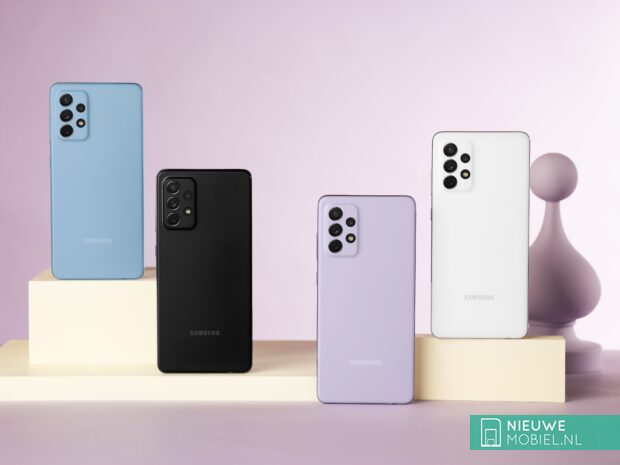 New Galaxy A now in the store
The Samsung Galaxy A52 4G is available from €349, the 5G version starts from €429. The Galaxy A72 can be bought for €449. All devices are available in the colors 'Awesome Violet', 'Awesome Blue', 'Awesome Black' and 'Awesome White'.