Samsung may be known for its consumer products by the general public, it has become rich with the production of components for third parties.
For example, Samsung makes Apple monitors and provides ARM processors for use in phones, tablets and other consumer electronics. To the dismay of Apple, it is the main supplier of the same company.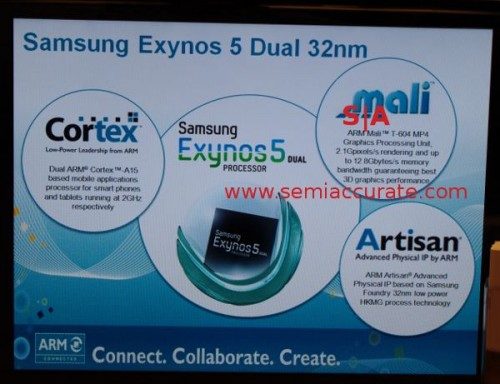 The next big thing is the flagship Exynos 5 processor based on two 32nm ARM Cortex A15 chips, clocked at 2 GHz. In addition, there are four GPUs of the type ARM Mali T-604 MP4. Expect this new SoC not in the short term for smartphones or tablets. This is not the processor that we will find the Galaxy S III. For that, the chipset is not energy efficient enough. However, it is good to see that Samsung looks ahead and makes maximum use of its ARM license.
Source: SemiAccurate.com