For those who want to stay connected but don't want to lose themselves in technology, HMD Global has a trio of new phones to choose from. These so-called feature phones are inexpensive, ensure you are connected, and sometimes offer unique features.
The three featurephones each target a different audience. For example, the Nokia 2660 Flip is ideal for seniors thanks to its large buttons and simple controls. In contrast, the Nokia 8210 4G is a rugged companion with modern connectivity, while the 5710 XpressAudio is aimed at music lovers thanks to its unique built-in wireless earbuds.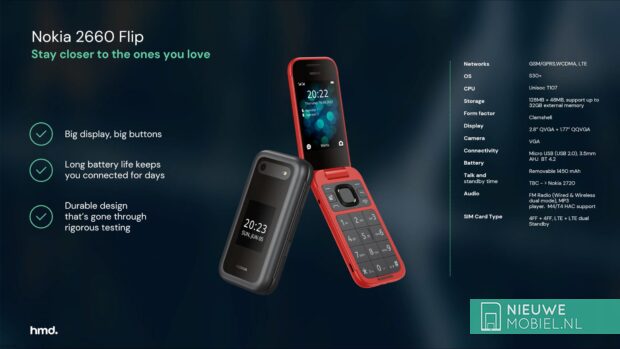 The 2660 Flip comes in a flip-up casing in blue, black and red. Inside we find a 2.8-inch screen with QVGA resolution and large buttons. Outside we find a 1.77-inch secondary screen for notifications and displaying time. There we also find a VGA camera for taking simple photos. The battery is user-replaceable. The device will be available with a charging station for €99.99. They are also each available separately for €89.99 and €19.99. Expect the Nokia 2660 Flip to hit stores from late July, early August.
Nokia 8210 4G
For those who want to be connected, there is the Nokia 8210 4G. This simple candy bar-style phone is equipped with 4G and has room for two SIM cards. The 8210 4G runs the S30+ platform and is powered by a Unisoc T107 processor. Here we also find a VGA camera and removable battery.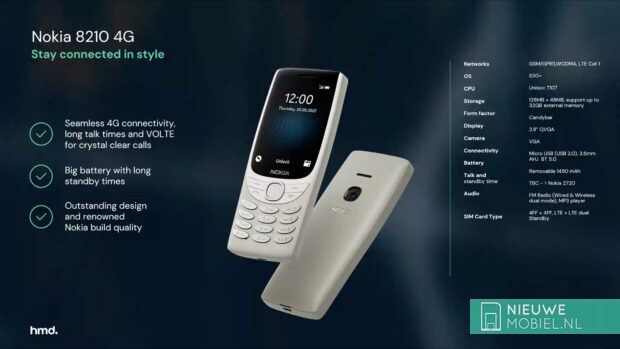 Thanks to its small 2.8-inch screen size and energy-efficient internals, HMD Global promises a long battery life. Even with the limited capacity of 1450 mAh. The Nokia 8210 with 4G is expected around late July or early August and has a suggested retail price of €79.99. The device will only come in blue.
Nokia 5710 XpressAudio
And then HMD Global also announced the interesting Nokia 5710 XpressAudio. What makes this special are the built-in wireless earbuds. For €89.99, you get a phone and wireless earbuds.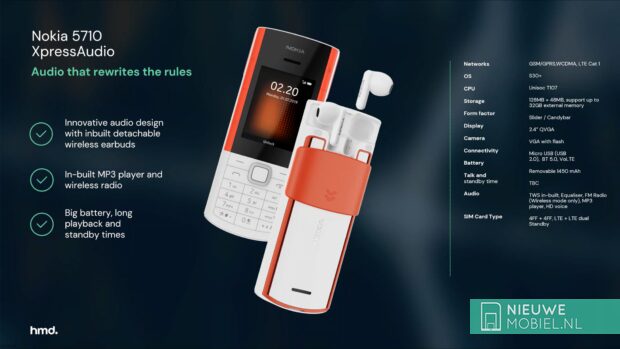 The earbuds are stored behind a slide mechanism, providing extra protection. They are recharged within the 5710 XpressAudio. HMD Global promises a listening time of 4 hours. The device also features a built-in FM Radio and MP3 player. Again, we find a VGA camera on the back and a Unisoc T107 processor inside. Expect this device in stores around the end of July in the color black/red.