Cat presented the S62 Pro today. A rugged yet beautifully designed phone with enhanced thermal camera that allows you to capture heat more precise.
Robust phones always kind of look clumsy and cumbersome. The S62 Pro does not. It has beautiful curves, clean edges and different finishes. It makes it both elegant and functional. For example, there is a layer on the back for extra grip and the sides are rounded so it fits well in the hand and does not poke your pants.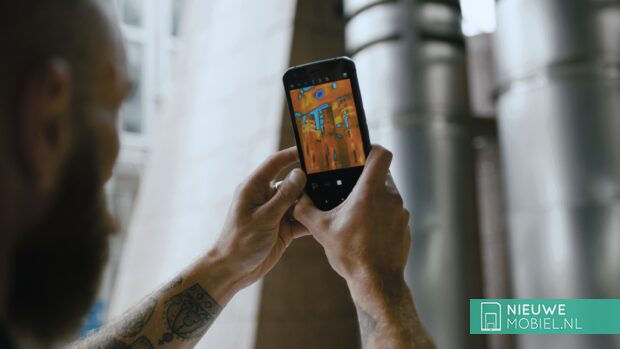 But in the end, the Cat S62 Pro is of course a work phone that should help professionals in the field to do a better job. The built-in FLIR Lepton camera has a higher resolution than previous FLIR models from Cat. It tracks drafts, short-circuits and thermal bridges with a single glance. Previous Cat phones with built-in FLIR heat camera saw thermal images up to 4x less sharp.
Specifications of the S62 Pro
As we are used to from Cat, the S62 Pro is also water and dust resistant (IP68) as well as drop and shock resistant (Mil-Spec 810H). Unlike many other rugged and waterproof phones, there is no cover for the USB charging port. This means you don't have to open a cover every time you want to charge the device. Ideal for those who work with gloves. The front screen measures 5.7 inches, has a Full HD+ resolution and an 18:9 ratio. The device runs Android 10 with 3 years of security updates, has 6GB of RAM memory and runs on the proven Snapdragon 660 processor.
Cat S62 Pro for sale
Cat expects to have the S62 Pro in stores starting August in the color black for a suggested retail price of $761.