After a couple of days with leaks about Note20 models it now seems the whole series is out in the open. And it appears something strange is going on.
For years, the Note-series was virtually the same as the Galaxy S-series; a high-end flagship made of the best materials and the most advanced features. But with a stylus. Samsung seems to changed its mind, starting from the Note 20. According to a leak from WinFuture Samsung is going to give the Note 20 a rear made out of plastic.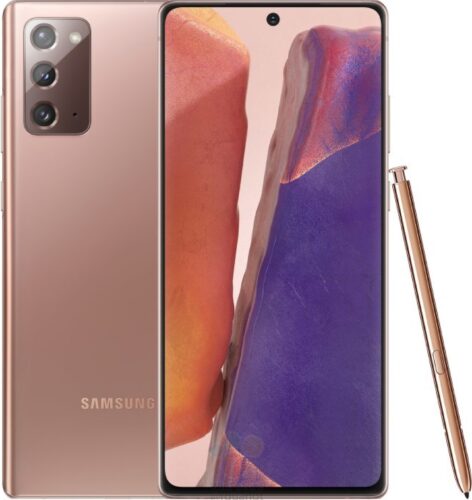 Now plastic comes in many forms and shapes but this still sounds a bit disappointing. Especially when you consider that Note-phones are not the cheapest phones on the market. Not disappointing is the flat 6.7 inch AMOLED screen but the refresh rate of 'only' 60Hz is. For Samsung to make this phone work in 2020 it has to try harder. If you want smooth images then you will have to move to the (much more expensive) Note 20 Ultra. The main 'disadvantage' is that this phone is a bit larger because of its 6.9 inch large screen.
Triple camera system
According to the source, the Samsung Galaxy Note 20 also gets a triple camera consisting of 12MP main camera, 12MP ultra wide angle and 64MP telephoto for 3x optical zoom. What the Note 20 does have and the Note 20 Ultra does not is a Mystic Green version. Both are available in Mystic Black and Bronze. The latter color has appeared more often in recent days and may also be used for other models.
Samsung announces the entire Note20 series on August 5 during an Unpacked Event. This event starts 16:00 CET time and can be followed online.