Green it is! And the Samsung E200 is definitely green. The device is made of bioplastic made out of corn and warns you when it's been charged to long.
During the Olympics in Beijing Samsung introduced the E200 Eco: a low-end mobile phone that has the outside fully made of bioplastic made out of corn. And that's good news for mother nature; bioplastic is recycleble. You can simply throw the E200 away as trash when you want to replace it. The same counts for the box of the E200 Eco that is made of parts that are recycled.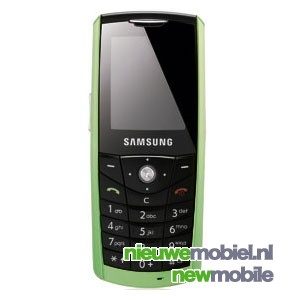 The E200 Eco is not meant for the fanatical recycle-fan solely. The device measures almost 10mm and has quite some good characteristics for a low-end mobile phone. What do you think of a 1.3 megapixel camera and built-in MP3 player?
Samsung already made some environmental friendly devices, but they weren't fully made of bioplastic. With the E200 Eco Samsung succeeded and it is the first of its kind. The Samsung E200 is meant for the European market and is expected to be launched in September.
Source: The New York Times