Apple announced the Apple Watch Series 6 at a Keynote last night. In addition to a number of new colors including for the first time a Product Red variant, the smart watch will feature a new type of health sensor. What the watch doesn't come with is a charger. To save the environment, Apple no longer supplies a USB charger.
The new sensor is for measuring the oxygen level in your blood, the so-called oxygen saturation (also called SpO2). Thanks to a new app, you can find out what the oxygen level in your blood is after 15 seconds. The Watch Series 6 can tell you if you have sleep apnea. Patients who suffer from this suffer from fatigue despite a good night's sleep. In theory, the watch could also recognize early signs of the Corona virus because that affects breathing.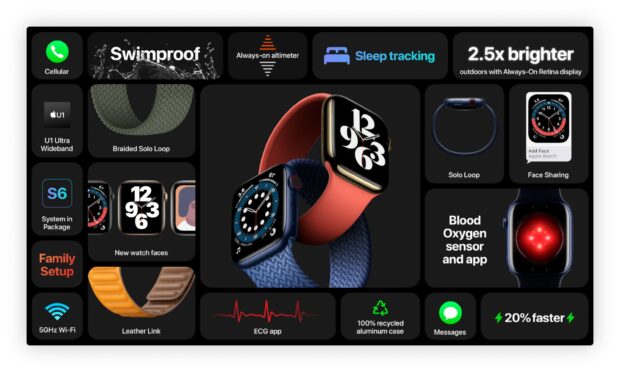 The Apple Watch Series 6 is powered by a 20% faster chip; the S6. This not only provides more speed but also improves existing features. For example, the Always-On Display is now 2.5 times brighter outdoors. WatchOS 7 also gets an update that includes new Watch Faces focused on surfing, photography and doctors. There will also be more band choices. There is now the Solo Loop strap which consists entirely of one piece and is swim resistant. The new strap is available in 7 different colors. The GPS-only version gets a starting price of 399 dollars. For the first time Apple no longer supplies a USB charger. Chances are you already have one at home. The watch will be available from September 18.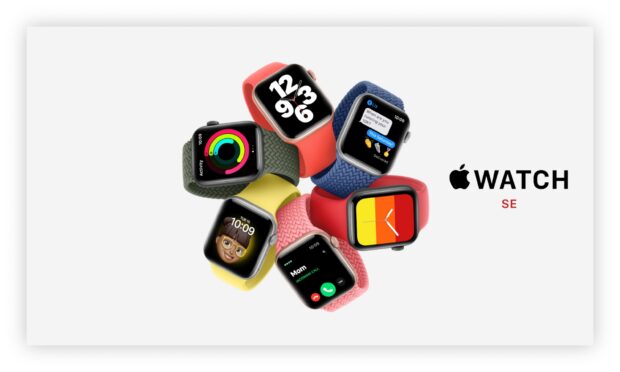 Cheaper Apple Watch SE
For the first time, Apple is also releasing an SE version of its smart watch. The Apple Watch SE will have the S5 chip from a year ago, but will largely have the same sensors, including a gyroscope, compass, altimeter and motion sensor. Thanks to the latter, the Watch SE has Fall Detection to warn contacts when the wearer has fallen down.
The watch comes out for $279. Anyone who thinks that's too much can go for the Apple Watch Series 3. It remains in stock for an even lower price. The Series 4 and 5 can enjoy a well earned retirement.