Just after the official release of Android 12, Google already announced a successor; Android 12L. This update is mainly meant for devices with large screens like tablets and foldables.
This reminds us a bit of Android 3.0 Honeycomb. This Android version brought support for tablets, especially for the Motorola Xoom that was announced at the same time. A big advantage was that apps could utilize 2 panels, useful for example for the email client to show both the contents of the inbox and an email message.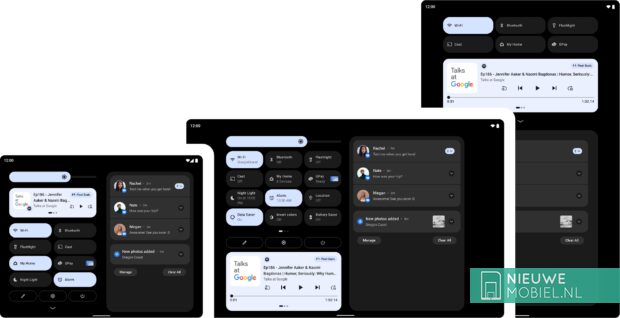 Android 12L does something similar but for foldables. Until now foldable manufacturers had to come up with their own interface, but soon they will be able to use ready-made solutions. Ideal for example Microsoft and Samsung and their Surface Duo 2 and Galaxy Z Fold 3.
Release Android 12L
The notification window, quick settings and lockscreen make better use of the extra amount of screen space in Android 12L. To improve multitasking, there is now a taskbar with app icons. You can easily drag and drop an app to any part of the screen to open it.
Google urges developers to get familiar with all new features of Android 12L to ensure that their apps are fully optimized. A public release is expected in early 2022, just "in time for the next wave of Android 12 tablets and foldables." Which one Google means by this is still unclear. It has long been rumored that Google is working on a foldable of its own.