Ahhh the selfie camera. The one thing that just keeps getting in the way. Above the screen, in the screen, somewhere inside the screen. The holy grail seems to be underneath the screen. And that is exact what Samsung is trying to do next.
A phone display with the selfie camera behind it. It sounds like magic, but we've already seen working prototypes. The pixels around the camera go off so the camera can see. Oppo and Xiaomi showed us how it works back in 2019. But it looks like Samsung is beating them to market. According to rumors, the upcoming Galaxy Z Fold 3 will be (one of) the first consumer phone with an under display camera.

Example of Xiaomi's 3rd generation Under Display screen technique
Samsung has been working on the technology for years but has never found it good enough to go into mass production. An Under-Display camera follows Infinity-U, Infinity-V and Infinity-O. These are screens with a U and V-shaped notch respectively, and a round punch-hole. The next step is no notch or punch-hole at all. Samsung previously called this 'New Infinity'. The entire front of a phone consists of a screen. Sensors such as ambient light and proximity have already been successfully placed behind the screen. It is obvious that Samsung is using this technology in a high-end flagship first. The Z Fold3 seems to be the most logical candidate.
New Infinity Display
Now it must be said that the Z Fold 3 is not the first with a New Infinity screen, the A80 preceded him. But there the main camera functioned as a selfie camera by tilting up and forward. With the Fold 3 the selfie camera is behind the screen. A disadvantage is that the camera has to look through an extra layer (the screen itself), which will not improve the image quality. Samsung may have found ways to make this acceptable.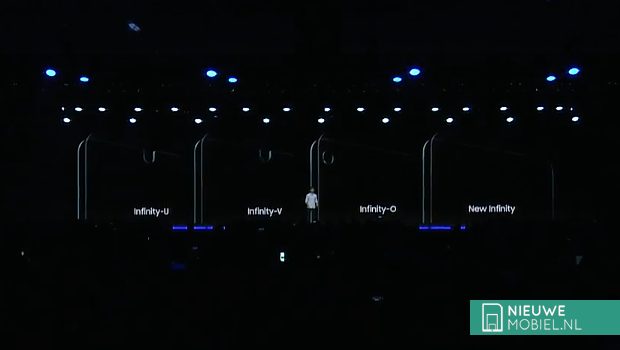 A launch is not expected until the third quarter of 2021. If you can't wait that long, you can consider the ZTE Axon 20 5G. This phone already has an Under-Display selfie camera. One tiny detail; the camera has only been announced for the Chinese market.