The Samsung Galaxy A80 is a fairly revolutionary Android phone. At Samsung, they asked themselves why the best camera had to be on the back. Why wouldn't you be able to use it at the front as well? The result is the Galaxy A80, which was one of the first Android phones to have a completely uninterrupted display.
Rotating camera is first for Galaxy
This feature is unique to a Galaxy phone at the time of release and that brings us straight to its first plus; a unique feature that you don't have to pay the top price for. Usually we only saw this kind of feature introduced in the Galaxy S series and then later dripped into other series. The triple camera module slides up after which it turns around. All this is done in a fraction of a second, so you never have to wait long. The mechanism has been extensively tested and should last a while. Unfortunately it is not watertight so you have to be extra careful at the pool.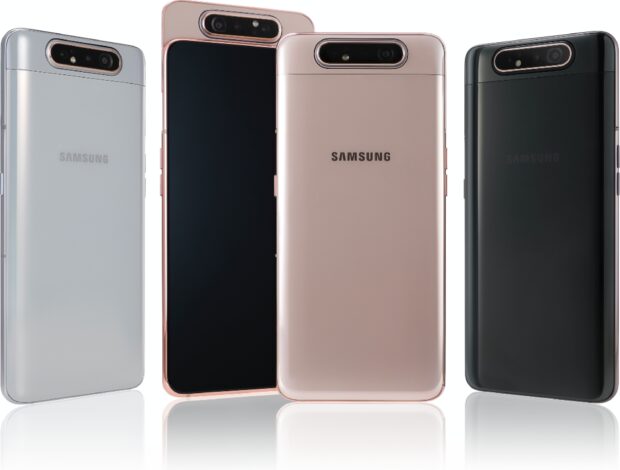 One camera system, multiple possibilities
The camera consists of three systems; a 48 megapixel main sensor for everyday use, an 8 megapixel camera with an ultra-wide angle of view of 123° and a 3D depth camera. The first sensor is used for most photos and thanks to its high resolution it captures extra detail. With the wide-angle lens you capture just a little more, which is useful for landscapes, architecture or large groups. The depth of field camera can distinguish between foreground and background, which helps to create beautiful portraits with blurred backgrounds. Live Focus is available on the Galaxy A80 not only for photo but also for video. In fact, the 3D depth of field camera is so accurate that you can use it to measure things, such as a couch. And because you also use the camera as a selfie camera, all functions and possibilities are also available at the front.
Main Samsung Galaxy A80 specifications
New Infinity Display display of 6.7 inch in size
48 + 8 MP rotating camera can be used as selfiecam as well
Support for 4G internet (LTE)
Room for 2 sim cards thanks to Dualsim support
Powerful processor at 2,2 GHz
Large screen asks for content
The rotating camera system offers another advantage. It leaves space in front of the screen. No annoying notches or thick screen edges. In fact, the Galaxy A80 has such a high screen-to-case ratio that many phone manufacturers envy it. In other words, almost the entire front panel consists of a screen. And because there is little discarded space, there was room for an impressive 6.7-inch screen. Samsung uses an AMOLED panel for the screen, which is known for its bright color reproduction and deep black tones. The result is a good multimedia phone that asks you to devour a lot of content. Fortunately, it has a 3700 mAh battery that should last a day. Once it's empty, you can recharge it in no time with the included 25 Watt quick charger.