---
Pro and cons Apple iPhone 7
Waterproof and dustproof housing
More light-sensitive camera
Slightly better battery life
Available in new Jet Black version
---
Reviews about the Apple iPhone 7
| | | |
| --- | --- | --- |
| 5 stars | | 0 reviews |
| 4 stars | | 0 reviews |
| 3 stars | | 0 reviews |
| 2 stars | | 0 reviews |
| 1 star | | 0 reviews |
Want to earn $50?
Every month we select a winner among all user opinions that were submitted. That person wins a voucher of $50. The only thing you need to do to is write your very own user opinion and let us and others know what you think about this product. Click the button below to start.
---
---
Apple iPhone 7 product details
The Apple iPhone 7 was announced in September 2016 and, at first glance, differs little from its predecessor. For a bigger difference, you'll be better off with the iPhone 7 Plus. Still, there are changes that make the iPhone 7 worth considering. We are going to explain them here.
Waterproof and new home button
The biggest change is the water and dustproof housing. Apple gives the iPhone 7 an IP67 rating making it completely dust-free and waterproof up to 1 meter for 30 minutes. The previous iPhone also proved surprisingly resistant to moisture, although Apple did not actively advertise this. This time, all inputs are fully protected from outside influences. Another new feature is the home button. Again, we can't see the difference from the outside. It doesn't turn out to be an actual button you can press. By emitting a vibration at the right moment it does feel like an actual button. The new button has advantages. Moving parts break down, this button will break down less quickly. What's more, apps will soon be able to respond to this new button, it is adaptable and new possibilities arise. The button still recognizes fingerprints for quick access.
Main Apple iPhone 7 specifications
Spatterproof, water and dust resistant 7000 Series aluminum body
25% brighter 4.7-inch Retina HD screen with wider color reproduction and 3D Touch
12 megapixel camera with optical image stabilization and light-sensitive f/1.8 Lens
High 7 megapixel selfie camera with virtual Selfie Flash
Support for fast 4G Internet (up to 450 Mbit/s)
3.5mm headphone jack missing, but it has stereo speakers
Available in 32, 128 or 256GB storage, Jet Black only in 128 and 256GB
40% more powerful quad-core processor (Apple A10 Fusion)
Light-sensitive camera
Apple also puts a strong focus on the camera of the iPhone 7. Apple had something to make up for because the iPhones weren't really good in the dark so far. No matter how popular, the device didn't shoot the best pictures in the evening. Apple did something about that with the iPhone 7 in various ways. This time it is equipped with an optical image stabilization. This compensates for movements so that a longer shutter speed is possible, even up to 3x longer. More light can be captured without taking blurred pictures. Another advantage is the lens, which is 50% wider with a maximum aperture of f/1.8. Again, more light is better photos in the dark. If you really don't want to do it all anymore, there is a renewed flash which this time consists of 4 LED lights. Famous functions that we saw before just remain, think of Slo-mo video and Timelapse video.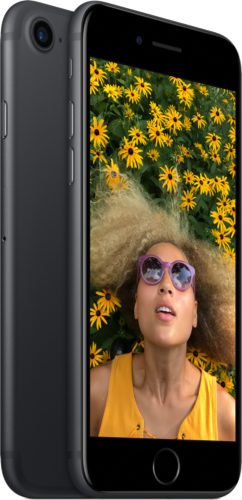 No headphones, but stereo speakers
So far we have discussed all the nice new things but the elephant in the room has not been mentioned yet. Let's do this one then. Apple finally says goodbye to the headphone jack on the iPhone 7. They themselves think this is a courageous decision, or history will have to decide. Headphones will have to be plugged into the Lightning port from now on. In any case, there is an adapter in the box to continue using your existing favorite headphones. Music lovers will welcome the stereo speakers in any case. The second speaker was already on the device; this is the speaker above the screen that is normally used to make phone calls. It is not as powerful as the speaker at the bottom, but it produces 50% more powerful sound.
Lots of small changes make a big difference
Apple is making even more small changes to the iPhone 7. For example, the selfie camera will be upgraded to 7 megapixels, the screen will be 25% brighter, the A10 Fusion processor will be 40% faster, battery life will increase by an average of 2 hours and 4G speeds will increase from 300 to 450 Mbit/s. There will also be a new version; Jet Black. This jet black version has a shiny back that is more sensitive for scratches than the other versions. If you don't want to run that risk you can always choose the matte black version. Incidentally, the shiny Jet Black version is not available in the entry 32 GB, you will immediately have to pay the premium that belongs to the 128 GB model.
---
Most important Apple iPhone 7 specifications
Dimensions
138.3 x 67.1 x 7.1 mm
Weight
138 grams
EAN code
9508387134659, 9508386767896, 8719743775992, 8719743775961, 8719743773592, 8719743773585, 8719743773578, 8719743773561, 8719743773554, 8719743773547, 8719743773530, 8719743773523, 8719743773516Show 220 more

, 8719743773509, 8719743773493, 8719481708702, 8719481708696, 8719481708672, 8719481708665, 8719481708641, 8719481708634, 8719481708610, 8719481708603, 8719481708580, 8719481708573, 8719481708559, 8719481708542, 8719481708528, 8719481708511, 8719481708498, 8719481708481, 8719481708467, 8719481708450, 8719481708436, 8719481708429, 8719481708405, 8719481708399, 8719325214116, 8719325212624, 8719325212570, 8719325212273, 8719325211979, 8719244276738, 8719244276721, 8719244276714, 8719244276707, 8719244276677, 8719244276660, 8719244276653, 8719244276646, 8719244276639, 8719244276622, 8719244276615, 8719244276608, 8719244275557, 8719244275540, 8719244275533, 8719244275526, 8719244275496, 8719244275489, 8719244275472, 8719244275465, 8719244275458, 8719244275441, 8719244275434, 8719244275427, 8719244274376, 8719244274369, 8719244274352, 8719244274345, 8719244274314, 8719244274307, 8719244274291, 8719244274277, 8719244274260, 8719244274253, 8719244274246, 8719244272501, 8719244272495, 8719244272488, 8719244272471, 8719244272457, 8719244272440, 8719244272433, 8719244272426, 8719244272419, 8719244272402, 8719244272396, 8719244272389, 8719122772543, 8712421546174, 8712421538773, 8712421538711, 8712421532054, 8712421532047, 8712421532030, 8712421532023, 8712421532016, 8712421532009, 8712421531996, 8712421531989, 8712421531972, 8712421531965, 8712421531941, 8712421531934, 8712421531927, 8712421531910, 7448139898878, 7448132947931, 7448117068095, 7440833752784, 7440833752777, 6543216518135, 6111111111111, 5415247199335, 5415247199328, 4719072365752, 2750064876179, 2750064484039, 2750064472678, 2750064472647, 2750064472449, 2750064472333, 2750064472128, 2750064471978, 1999422222222, 1993222222222, 1901980689898, 1400000000014, 1400000000007, 0766970282432, 0766970282388, 0759776450020, 0759776450006, 0759776449970, 0759776449949, 0759776446504, 0759776446498, 0759776446481, 0759776446467, 0759776446450, 0759776446443, 0759776446436, 0759776446399, 0759776446368, 0746839995956, 0718037779911, 0683346540067, 0400055815862, 0400055815855, 0400055815848, 0400055815831, 0400055807164, 0400055807157, 0400055807140, 0400055807133, 0400055803586, 0400055803579, 0400055803555, 0400055803418, 0190199121539, 0190199121515, 0190199121492, 0190199121478, 0190199121416, 0190199121393, 0190198543110, 0190198542854, 0190198360847, 0190198360571, 0190198360489, 0190198360212, 0190198360175, 0190198156105, 0190198071774, 0190198071460, 0190198071415, 0190198071057, 0190198070784, 0190198070746, 0190198070692, 0190198070579, 0190198070388, 0190198070333, 0190198070227, 0190198069979, 0190198069726, 0190198069702, 0190198069665, 0190198069610, 0190198069344, 0190198069306, 0190198069252, 0190198069146, 0190198068989, 0190198068941, 0190198068897, 0190198068880, 0190198068620, 0190198068583, 0190198068538, 0190198068415, 0190198068262, 0190198068224, 0190198068170, 0190198068064, 0190198068057, 0190198067937, 0190198067906, 0190198067869, 0190198067814, 0190198067708, 0190198067692, 0190198067579, 0190198067548, 0190198067500, 0190198067456, 0190198067340, 0190198067333, 0190198067180, 0190198067142, 0190198067098, 0190198066855, 0190198066824, 0190198066787, 0190198066534, 0190198066510, 0190198066473, 0190198064325, 0067148622242, 0000000736268, 0000000734042, 0000000733960, 0000000733953

Fingerprint recognition
iOS
10.1
Color display
4.7 inch, IPS
Camera
12 MP
Dirt and waterproof housing
Processor
Apple A10 Fusion, Quad Core
Secondary camera
7 MP
LTE (4G)
Internal memory
2 GB (Size (RAM)), 128 GB (Storage), 256 GB (Storage), 32 GB (Storage)
Memory card slot
Battery
1960 mAh
Audio jack plug
---
Alternatives of the Apple iPhone 7
Scroll the table below to see more
| | | |
| --- | --- | --- |
| | | |
| | | |
| | Current product | |
| Fingerprint recognition | | |
| iOS | 10.1 | 11.0 |
| Color display | 4.7 inch, IPS | 4.7 inch, IPS |
| Camera | 12 MP | 12 MP |
| Dirt and waterproof housing | | |
| Processor | Apple A10 Fusion, Quad Core | Apple A11 Bionic, Quad Core |
| Secondary camera | 7 MP | 7 MP |
| LTE (4G) | | |
| Internal memory | 2 GB (Size (RAM)), 128 GB (Storage), 256 GB (Storage), 32 GB (Storage) | 2 GB (Size (RAM)), 256 GB (Storage), 64 GB (Storage) |
| Memory card slot | | |
| Battery | 1960 mAh | 1821 mAh |
| Audio jack plug | | |
Complete comparison between the Apple iPhone 7 and these alternatives or compare with other models
---
Questions and answers about the Apple 7