---
Pro and cons Apple iPhone 8 Plus
Large iPhone but with fingerprint recognition
Dual camera with additional functions
Wireless charging
Suitable for Augmented Reality
Considering the iPhone X the 8+ is not always the logical choice
---
Reviews about the Apple iPhone 8 Plus
| | | |
| --- | --- | --- |
| 5 stars | | 0 reviews |
| 4 stars | | 0 reviews |
| 3 stars | | 0 reviews |
| 2 stars | | 0 reviews |
| 1 star | | 0 reviews |
Give your opinion
Write your very own user opinion and let us and others know what you think about this product. Click the button to start.
---
---
Apple iPhone 8 Plus product details
Apple introduced the iPhone 8 Plus at the same time as iPhone 8 and iPhone X. It's the first year that the Plus model is not the most comprehensive of all iPhones. That may make it a tough sell, especially since the price difference with the much more innovative iPhone X is not that big. Here's why you should consider the iPhone 8 Plus.
Wise choice?
First, the elephant in the room. The most expensive version of the iPhone 8 Plus is almost as expensive as the entry-level model of the iPhone X. So what's a good reason to go for the iPhone 8 Plus and not for the apparently more interesting iPhone X? Actually, there's only one reason and that's that this iPhone 8 Plus has fingerprint recognition and the iPhone X does not. You can only unlock it with a code or your face. Furthermore, there are actually few good reasons not to go for the iPhone X. However, if you choose the 64 GB entry-level model then the price difference is greater and then the iPhone 8 Plus can be a more sensible choice. Especially if you're not willing to spend more than a thousand euros for a smartphone. This year, Apple was kind enough to upgrade the entry-level model from 32GB to 64GB. Note: this is not expandable so what you buy now, you'll buy later.
Main Apple iPhone 8 Plus specifications
Large 5.5 inch True Tone screen
Sharp 7 megapixel selfiecam with Portrait Lighting
Double 12 megapixel camera that lets you zoom in
Waterproof and dustproof housing made of glass and metal (IP67 rating)
Powerful Apple A11 Bionic enables Augmented Reality
4G support for high-speed mobile internet on the go
New portrait mode functions
Just like the year before, the Plus version of iPhone 8 features a large 5.5-inch Retina HD screen. Apple applies True Tone this time, with sensors scanning your environment to find the right white balance. That makes it easier for your eyes to see what's on the screen. We also recognize last year's dual 12-megapixel camera. A wide-angle lens is combined with a telephoto lens. This allows you to zoom in optically without loss of quality. What's more, it allows you to add out-of-focus backgrounds to a portrait photo. This results in more professional photos. Apple has expanded the portrait mode this year to include portrait exposure. You can make a background disappear altogether, just like in the studio. On the iPhone 8 Plus, this Portrait Lighting feature even works with the FaceTime camera at the front.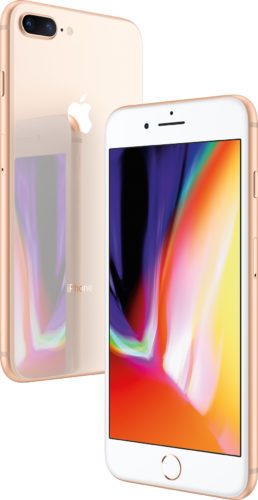 New brain, wireless charging
Apple has equipped the iPhone 8 Plus with the most powerful processor they've ever made; the A11 Bionic. This powerhouse should make it even faster, and it also gives you a few extra features. All that extra processing power is used to merge reality with the virtual world. This is also called Augmented Reality and there are already many apps that use it. For example, point your camera at a table and let dinosaurs walk over it. But AR is not only suitable for games, there are also many educational possibilities imaginable. Finally, the iPhone 8 Plus has a new feature. Because Apple uses a glass back this time it is possible to charge it wirelessly. You need a so-called Qi charger for this. According to Apple, you don't have to worry about this glass breaking quickly; it's the strongest glass Apple has ever used in a smartphone. Whether this claim holds up will soon become clear.
---
Most important Apple iPhone 8 Plus specifications
Dimensions
158.4 x 78.1 x 7.5 mm
Weight
202 grams
Item ID
A1905
EAN code
9501481458171, 8720195020912, 8720195020905, 8720195020899, 8720039738140, 8720039738133, 8720039738126, 8720039738119, 8720039738102, 8720039738096, 8720039738027, 8720039738010, 8720039738003Show 138 more

, 8720039737990, 8720039737983, 8720039737976, 8720039737907, 8720039737891, 8720039737884, 8720039737877, 8720039737860, 8720039737853, 8719743776210, 8719743776203, 8719743776197, 8719743774384, 8719743773233, 8719743773226, 8719743773219, 8719743772953, 8719743772946, 8719743489363, 8719743489356, 8719743489349, 8719743489332, 8719743489325, 8719743489318, 8712421546600, 8712421546594, 8712421546426, 8712421546419, 8712421546396, 8712421546259, 6548623121657, 6013719930975, 6013719179169, 6013715878882, 6013714198165, 6013713718746, 6013712996978, 6013711569562, 6013710297251, 6013709670638, 6013705529572, 6013705456410, 6013704615634, 6013703699666, 6013702647613, 6013702345359, 6013700725788, 6013700502518, 6013700378304, 5415247219767, 2750092572197, 2750082607823, 2750082607786, 2000015371292, 2000015371285, 2000015371278, 2000015371261, 2000015371254, 2000015371247, 0690292519542, 0690292519535, 0690292519528, 0690292519092, 0683346541545, 0683346538088, 0400063415757, 0400063415740, 0400063415733, 0400063414880, 0400063414873, 0400063414866, 0400063413685, 0400063413678, 0400063413661, 0400063040386, 0400062555249, 0400062555225, 0400060098861, 0400060098809, 0400060098632, 0400060098595, 0400060098571, 0400060097727, 0400060097680, 0400060097536, 0400060097482, 0400060097475, 0400060096638, 0400060096591, 0400060096447, 0400060096393, 0400060096386, 0400059991050, 0400059991036, 0400059991029, 0190199294363, 0190199294264, 0190199294035, 0190199293939, 0190199293700, 0190199293601, 0190199293335, 0190199293250, 0190199293175, 0190199121799, 0190199121775, 0190199121751, 0190198746641, 0190198746313, 0190198746221, 0190198746184, 0190198746078, 0190198482754, 0190198456076, 0190198455963, 0190198455956, 0190198455819, 0190198455710, 0190198455598, 0190198455451, 0190198455352, 0190198455277, 0190198455239, 0190198455093, 0190198454997, 0190198454874, 0190198454737, 0190198454683, 0190198454638, 0190198454515, 0190198454393, 0190198454379, 0190198454324, 0190198454270, 0190198454164, 0190198454157, 0190198454140, 0190198454010, 0190198453969

Fingerprint recognition
iOS
11.0
Color display
5.5 inch, IPS
Camera
12 MP, dual camera sensor
Dust and waterproof
Processor
Apple A11 Bionic
Secondary camera
7 MP
4G (LTE)
Internal memory
3 GB (Size (RAM)), 128 GB (Storage), 256 GB (Storage), 64 GB (Storage)
Memory card slot
Battery
2691 mAh
Fast charging
Wireless charging
Audio jack plug
---
Alternatives of the Apple iPhone 8 Plus
Scroll the table below to see more
| | | | | | |
| --- | --- | --- | --- | --- | --- |
| | | | | | |
| | | | | | |
| | Current product | | | | |
| Fingerprint recognition | | | | | |
| iOS | 11.0 | | | | |
| Color display | 5.5 inch, IPS | 5.8 inch, Infinity Super AMOLED Quad HD+ | 5.8 inch, Flat Dynamic AMOLED Full HD+, hole-punch display | 5.5 inch, Quad HD Super AMOLED | 5.5 inch, Full HD+ Flexible OLED |
| Camera | 12 MP, dual camera sensor | 12.2 MP | 12 MP, 16 MP, dual camera sensor | 12.2 MP | 12.2 MP |
| Dust and waterproof | | | | | |
| Processor | Apple A11 Bionic | 1.7 GHz, 2.3 GHz, Samsung Exynos 8890, octa core | 1.7 GHz, 2.4 GHz, 2.8 GHz, octa core | Samsung Exynos 8890, octa core | 1.6 GHz, 2.5 GHz, Qualcomm Snapdragon 845, octa core |
| Secondary camera | 7 MP | 8 MP | 10 MP | 5 MP | 8 MP |
| 4G (LTE) | | | | | |
| Internal memory | 3 GB (Size (RAM)), 128 GB (Storage), 256 GB (Storage), 64 GB (Storage) | 4 GB (Size (RAM)), 64 GB (Storage) | 6 GB (Size (RAM)), 128 GB (Storage) | 4 GB (Size (RAM)), 32 GB (Storage) | 4 GB (Size (RAM)), 128 GB (Storage), 64 GB (Storage) |
| Memory card slot | | | | | |
| Battery | 2691 mAh | 3000 mAh | 3100 mAh | 3600 mAh | 2915 mAh |
| Fast charging | | | | | |
| Wireless charging | | | | | |
| Audio jack plug | | | | | |
Complete comparison between the Apple iPhone 8 Plus and these alternatives or compare with other models
---
Questions and answers about the Apple 8 Plus