---
Pro and cons Apple iPhone XS
Better weather resistance
Faster Face ID recognition
A12 Bionic chip for more speed and features
Better photos thanks to A12 Bionic processing power
---
Reviews about the Apple iPhone XS
| | | |
| --- | --- | --- |
| 5 stars | | 0 reviews |
| 4 stars | | 2 reviews |
| 3 stars | | 0 reviews |
| 2 stars | | 0 reviews |
| 1 star | | 0 reviews |
Give your opinion
Write your very own user opinion and let us and others know what you think about this product. Click the button to start.
---
---
Apple iPhone XS product details
The Apple iPhone XS is the modest update of the iPhone X with which Apple introduced an entirely new design in 2017. Not to be disrespectful but 2018/2019 is a -s year where it is mainly about speed improvement. What the iPhone XS is capable of, we will explain in this description.
More or less the same numbers as last year
First some numbers. The iPhone XS, which you officially pronounce "ten -s", comes with a 5.8-inch Super Retina HD screen from the extra bright OLED. There's still a notch at the top, the challenged notch, containing facial recognition. Face ID has become a lot faster on the iPhone XS. It's protected by tougher glass, the toughest glass Apple has ever placed on a phone. The case is still made of stainless steel, but this time it's more water resistant. Its IP68 rating means the XS can survive up to 30 minutes at a depth of 2 meters. The cameras all get the same resolution and also the lenses are the same on paper. However, there are differences, which we will explain later.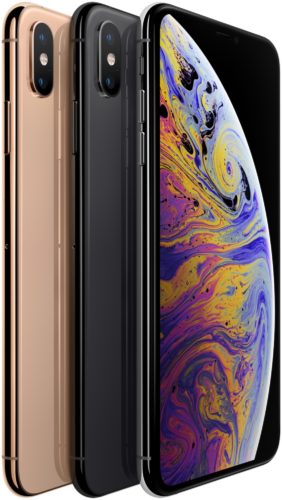 A12 Bionic
The biggest innovation with the iPhone XS is not visible, because it is deep inside the device. We're talking about the A12 Bionic. This chip, developed by Apple itself, is the beating heart and the most powerful one Apple has ever made. It makes apps start up faster, up to 30% faster, games run smoother and more possibilities are added. We can explain that this is a 7 nanometer chip with 50% more economical hexa-core CPU and 50% faster quad-core GPU, but at the end of the day it's all about what you can do with it. Apple uses that extra processing power mainly in the camera and gaming. So Face ID recognizes your face faster and unlocks your iPhone sooner. Augmented Reality is also much faster and memoji's are more accurate because more points of your face can be scanned.
Main Apple iPhone XS specifications
Super Retina OLED screen of 5.8-inch high-contrast
Higher IP68 rated water and dust resistant housing
Powerful Apple A12 Bionic processor provides extra processing power
Double 12 megapixel camera with Smart HDR and adjustable bokeh
7 MP TrueDepth-selfiecam with enhanced video stabilization and Portrait Lighting
Dual SIM support thanks to eSIM
Available in 64, 256 and 512GB of memory
Providing faster gigabit 4G internet
Better photos due to more processing power
Despite the fact that Apple equips the iPhone XS with the same dual 12 megapixel camera at the back and 7 megapixel camera at the front, improvements have been made. This is partly due to the use of a larger and faster sensor, but mainly due to the clever application of the extra processing power of the A12 Bionic. The extra calculations, up to one trillion per photo, results in a technique that Apple calls 'Smart HDR'. Shadows and light are captured separately and brought together in one photo. What's new is the ability to adjust sharpness/depth settings afterwards so you can blur the background more or less. This so-called bokeh delivers professional-looking portrait photos. You can also shoot these with the selfie camera and add Portrait Lighting which produces studio-like photos. For example, you can filter out the background and replace it with black, called stage light. With the selfie camera, you can also shoot memoji, replacing your face with a selection of emojis.
---
Most important Apple iPhone XS specifications
Dimensions
143.6 x 70.9 x 7.7 mm
Weight
177 grams
Item ID
A1920
EAN code
9504574657345, 9504535619450, 9503274272254, 9502586814848, 9502585989820, 8720195021780, 8720195021773, 8720195021766, 8720195021759, 8720195021742, 8720195021735, 8720195020141, 8720195020134Show 99 more

, 8720195020127, 8720039736825, 8720039736184, 8720039736177, 8720039736160, 8720039736153, 8720039736146, 8720039736139, 8720039736122, 8720039736115, 8720039736108, 8719743779334, 8719743779327, 8719743779310, 8719743779303, 8719743779297, 8719743779280, 8719743778887, 8719743778870, 8719743778863, 7818585852586, 6013737450424, 6013730094069, 6013715114133, 6013714010085, 6013706347373, 6013705859822, 6013702818891, 6013701395317, 6013700197127, 5858596969639, 5415247199274, 5254547474595, 5254547474519, 3544165542496, 3544165542458, 2750098453179, 0683346546533, 0683346544669, 0683346541682, 0683346531201, 0683346531195, 0683346531188, 0400060098755, 0400060098731, 0400060098724, 0400060098717, 0400060098700, 0400060098694, 0400060098625, 0400060098618, 0400060098601, 0400060096430, 0400060096423, 0400060096409, 0190198800572, 0190198800398, 0190198793980, 0190198793782, 0190198793683, 0190198793447, 0190198793317, 0190198793157, 0190198793102, 0190198793010, 0190198792778, 0190198792679, 0190198792525, 0190198792433, 0190198792334, 0190198792181, 0190198792099, 0190198791993, 0190198791757, 0190198791658, 0190198791627, 0190198791504, 0190198791467, 0190198791412, 0190198791313, 0190198791191, 0190198791160, 0190198791122, 0190198791078, 0190198790972, 0190198790842, 0190198790828, 0190198790781, 0190198790712, 0190198790675, 0190198790668, 0190198790637, 0190198790590, 0190198790552, 0190198790514, 0190198790477, 0190198790439, 0190198790392, 0000000012591, 0000000011792

iOS
12
Color display
5.8 inch, OLED, notch
Camera
12 MP, dual camera sensor
Dust and waterproof
Processor
Apple A12 Bionic, hexa core
Secondary camera
7 MP
Dual SIM
4G (LTE)
Internal memory
4 GB (Size (RAM)), 256 GB (Storage), 512 GB (Storage), 64 GB (Storage)
Memory card slot
Battery
2658 mAh
Fast charging
Wireless charging
Audio jack plug
---
Alternatives of the Apple iPhone XS
Scroll the table below to see more
| | | |
| --- | --- | --- |
| | | |
| | | |
| | Current product | |
| iOS | 12 | |
| Color display | 5.8 inch, OLED, notch | 6.2 inch, Infinity-O Display, hole-punch display |
| Camera | 12 MP, dual camera sensor | 12 MP, 12 MP, 64 MP |
| Dust and waterproof | | |
| Processor | Apple A12 Bionic, hexa core | Octa core |
| Secondary camera | 7 MP | 10 MP |
| Dual SIM | | |
| 4G (LTE) | | |
| Internal memory | 4 GB (Size (RAM)), 256 GB (Storage), 512 GB (Storage), 64 GB (Storage) | 12 GB (Size (RAM)), 128 GB (Storage) |
| Memory card slot | | |
| Battery | 2658 mAh | 4000 mAh |
| Fast charging | | |
| Wireless charging | | |
| Audio jack plug | | |
Complete comparison between the Apple iPhone XS and these alternatives or compare with other models
---
Questions and answers about the Apple XS