---
---
Pro and cons Apple iPhone XS Max
Larger screen area
Not larger than iPhone 8 Plus
A12 Bionic chip helps shoot better pictures
Longest battery life of all iPhones
---
Prices Apple iPhone XS Max Unlocked
---
Reviews about the Apple iPhone XS Max
| | | |
| --- | --- | --- |
| 5 stars | | 1 review |
| 4 stars | | 1 review |
| 3 stars | | 0 reviews |
| 2 stars | | 0 reviews |
| 1 star | | 0 reviews |
Give your opinion
Write your very own user opinion and let us and others know what you think about this product. Click the button to start.
---
---
Apple iPhone XS Max product details
If you're looking for an iPhone with a large screen, you can't ignore this iPhone XS Max. The 6.5-inch screen is the biggest Apple ever put in an iPhone. It's the logical successor to iPhone 8 Plus with more or less the same size but with a much larger screen. Ideal for gaming and video but it offers more advantages.
Greater screen ideal for video
The iPhone XS Max is so-called first generation iPhone. Never before has a 'Max' model been released. Apple wants to distinguish the Plus models from the past because it's a Super Retina screen with no screen border. There's also no home button with fingerprint scanner, just Face ID recognition. That's built into the notch at the top. Apple has set up the screen to make colors appear natural, and OLED technology delivers an unprecedented 1 million-to-one contrast. You can view HDR10 and Dolby Vision content, and the stereo speakers have been redesigned to produce more spatial sound. Clearly, watching video on iPhone XS Max is a party. The built-in battery keeps it up for 15 hours in a row.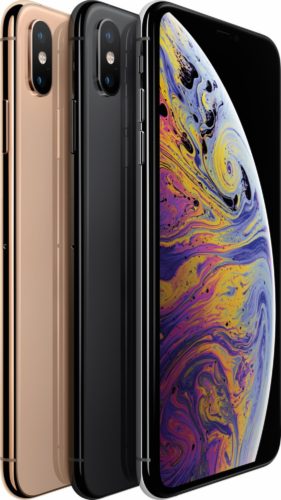 Surgical steel, waterproof and fast A12-chip
The Apple iPhone XS Max is made of stainless surgical steel with a glass front and back. The toughest glass Apple has ever put in an iPhone. You need that glass to charge it wirelessly. It's so seamless, it's water and dust resistant. With an IP68 rating, it stays dry for 30 minutes to a depth of 2 meters. That's a good thing, because there are valuable components inside. The most important one is the A12 Bionic chip. It provides all the processing power and the XS Max has quite a bit of that. Compared to its predecessor, apps run up to 30% faster and provide significantly better graphics performance, resulting in smoother games and faster object recognition in Augmented Reality mode.
Main Apple iPhone XS Max specifications
Biggest screen ever in an iPhone: 6.5 inch
Dustproof and waterproof case made of stainless steel and sturdy glass
Powerful hexa-core Apple A12 Bionic-processor
Dual 12 megapixel camera with Smart HDR
7 megapixel selfie camera with Portrait Lighting
Dual SIM-capable via eSIM
Gigabit fast 4G internet
Available in 64, 256 or 512 GB of storage
Camera with Smart HDR
The extra processing power of Apple's own A12 Bionic chip also comes in handy with the camera. It helps the dual 12 megapixel camera capture better exposures and shadows so you can take better photos. Also known as Smart HDR, it helps you take good photos in the background in a wide variety of challenging lighting conditions. The dual camera also allows you to play with sharpness/depth. This so-called bokeh makes it possible to blur the background, ideal for portrait photography. New is that you can adjust this sharpness afterwards. Apple has also paid attention to the selfie camera. Memoji's can follow your face more accurately thanks to the extra processing power, and Portrait Lighting allows you to add professional lighting to your selfies just like the photographer. All useful as long as the battery lasts. Thankfully, iPhone XS Max has the largest battery ever built into an iPhone. It lasts an hour and a half longer than an iPhone X.
---
Most important Apple iPhone XS Max specifications
Dimensions
157.5 x 77.4 x 7.7 mm
Item ID
A1921
EAN code
9507417973893, 9501481516628, 8720039736276, 8720039736269, 8720039736252, 8720039736245, 8720039736238, 8720039736221, 8720039736214, 8720039736207, 8720039736191, 7899998885545, 7699998885541Show 91 more

, 6013726966905, 6013724687697, 6013721696647, 6013720612617, 6013719896868, 6013717889848, 6013717825891, 6013716623603, 6013716293257, 6013714842822, 6013713345379, 6013709782720, 6013708226218, 6013707394369, 6013707256216, 6013706839878, 6013705882899, 6013705815859, 6013704723773, 6013704227219, 6013703018009, 6013702128143, 6013700929940, 6013700817889, 6013700742754, 6013700304327, 6013700247211, 5841252369997, 3322111111114, 2750098453322, 2750098453292, 2750098453247, 0400060098915, 0400060098908, 0400060098892, 0400060098885, 0400060098823, 0400060098816, 0400060098793, 0400060098786, 0400060098779, 0400060097789, 0400060097772, 0400060097758, 0400060097741, 0400060097703, 0400060097697, 0400060097666, 0400060097659, 0400060097642, 0400060096706, 0400060096683, 0400060096669, 0400060096652, 0400060096614, 0400060096607, 0400060096577, 0400060096560, 0400060096553, 0190198800626, 0190198800619, 0190198800602, 0190198791849, 0190198786470, 0190198786005, 0190198785909, 0190198785664, 0190198785565, 0190198785329, 0190198785220, 0190198785107, 0190198784988, 0190198784889, 0190198784643, 0190198784391, 0190198784308, 0190198784209, 0190198784056, 0190198783967, 0190198783868, 0190198783837, 0190198783677, 0190198783622, 0190198783523, 0190198783370, 0190198783332, 0190198783288, 0190198783189, 0190198783035, 0190198782991, 0000000011174, 0000000011075

iOS
12
Color display
6.5 inch, OLED, notch
Camera
12 MP, dual camera sensor
Dust and waterproof
Processor
Apple A12 Bionic, hexa core
Secondary camera
7 MP
Dual SIM
4G (LTE)
Internal memory
4 GB (Size (RAM)), 256 GB (Storage), 512 GB (Storage), 64 GB (Storage)
Memory card slot
Battery
3174 mAh
Fast charging
Wireless charging
Audio jack plug
---
Alternatives of the Apple iPhone XS Max
Scroll the table below to see more
| | |
| --- | --- |
| | |
| | |
| | Current product |
| iOS | 12 |
| Color display | 6.5 inch, OLED, notch |
| Camera | 12 MP, dual camera sensor |
| Dust and waterproof | |
| Processor | Apple A12 Bionic, hexa core |
| Secondary camera | 7 MP |
| Dual SIM | |
| 4G (LTE) | |
| Internal memory | 4 GB (Size (RAM)), 256 GB (Storage), 512 GB (Storage), 64 GB (Storage) |
| Memory card slot | |
| Battery | 3174 mAh |
| Fast charging | |
| Wireless charging | |
| Audio jack plug | |
Complete comparison between the Apple iPhone XS Max and these alternatives or compare with other models
---
Questions and answers about the Apple XS Max