---
Reviews about the BlackBerry KEY2
| | | |
| --- | --- | --- |
| 5 stars | | 0 reviews |
| 4 stars | | 0 reviews |
| 3 stars | | 0 reviews |
| 2 stars | | 0 reviews |
| 1 star | | 0 reviews |
Want to earn $50?
Every month we select a winner among all user opinions that were submitted. That person wins a voucher of $50. The only thing you need to do to is write your very own user opinion and let us and others know what you think about this product. Click the button below to start.
---
---
BlackBerry KEY2 product details
The BlackBerry KEY2 is a further development of the KEYone from 2017. The housing has remained the same except for some details and the complete keyboard is still present. Yet there are differences, large and small that are worth discussing.
20% larger keys
BlackBerry hasn't released phones itself for some time now and this KEY2 wasn't made by the Canadian company either. TCL designed it and screwed it together. Many people won't know that company, but it is one of the largest phone manufacturers in the world, of course from China. So you don't have to worry about the soundness of the KEY2. Renewal can be found in the keyboard, but with 20% larger keys you're less likely to be wrong. On top of that, there's an extra button; the Speed Key. This allows you to create shortcuts, up to 52 different ones. Apps, for example, open without having to return to the home screen each time.
Main BlackBerry KEY2 specifications
4.5 inch screen with 4:3 ratio
Double 12-megapixel camera with portrait mode and 2x optical zoom
Backlit keyboard, gestures and fingerprint recognition
Reasonably high 8 megapixel selfie camera with screen flash
Support for fast 4G Internet on the go
64GB of storage (expandable up to 256GB)
Not a high-end processor (Snapdragon 660), but with decent 6GB of RAM memory
First with dual camera
The BlackBerry KEY2 differs in appearance at least from its predecessor, one thing is completely different and that is the camera on the back. The KEY2 is the first BlackBerry with a double camera. There are two 12 megapixel cameras that can detect depth. The software can then blur backgrounds, which results in beautiful portraits where the subject stands out, as it were. Thanks to the 2nd camera it is also possible to bring objects up to 2x closer. Phones with a single camera can only zoom in digitally, which always results in a loss of quality. The zoom on the BlackBerry KEY2 is optical and then you keep the sharpness and detail.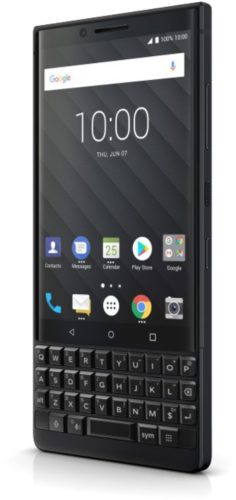 Extra security and privacy
As we are used to from BlackBerry, this KEY2 also runs on Android, at the time of release version 8.1 Oreo. However, what distinguishes him from other Android phones is the presence of additional BlackBerry software. Think of DTEK; a package of apps that make him safer and more privacy conscious. It all happens in the background without you even knowing it. The BlackBerry KEY2 is made from a block of Series 7 aluminum with a non-slip back with a diamond pattern. This makes it less likely to accidentally slip out of your hands. For phone calls, the KEY2 has a large battery, especially considering the not overly large screen, which makes it easy to have two days of stamina. Forgetting to recharge one night isn't the end of your working day.
---
Most important BlackBerry KEY2 specifications
Dimensions
151.4 x 71.8 x 8.5 mm
Item ID
BBF100-1
Codename
BlackBerry Athena
EAN code
4894461766690, 4894461766683
Fingerprint recognition
Android
8.1
Color display
4.5 inch, IPS
Camera
12 MP, 12 MP, dual camera sensor
Processor
1.8 GHz, 2.2 GHz, Qualcomm Snapdragon 660, octa core
Secondary camera
8 MP
LTE (4G)
Internal memory
6 GB (Size (RAM)), 64 GB (Storage)
Battery
3500 mAh
Fast charging
---
Video's about the BlackBerry KEY2
As @merijndoggen also said earlier there is only 1 reason to consider the BlackBerry KEY2 and that is his keyboard. BB is doing her best to convince you of that in this video
Let BlackBerry explain in 1 minute 37 what you can do with the KEY2 LE.
Change the layout of recently opened apps on your BlackBerry KEY2? That's how you do it
BlackBerry KEY2 turns out to be much more durable than its predecessor
How to take a screenshot on the BlackBerry KEY2? Well, so...
---
Alternatives of the BlackBerry KEY2
Scroll the table below to see more
| | | | | |
| --- | --- | --- | --- | --- |
| | | | | |
| | | | | |
| | Current product | | | |
| Fingerprint recognition | | | | |
| Android | 8.1 | 8.1 | | |
| Color display | 4.5 inch, IPS | 4.5 inch, IPS | 4.7 inch, IPS | 4.7 inch, IPS |
| Camera | 12 MP, 12 MP, dual camera sensor | 13 MP, 5 MP, dual camera sensor | 12 MP | 12 MP |
| Processor | 1.8 GHz, 2.2 GHz, Qualcomm Snapdragon 660, octa core | 1.6 GHz, 1.8 GHz, Qualcomm Snapdragon 636, octa core | Apple A11 Bionic, Quad Core | Apple A13 Bionic |
| Secondary camera | 8 MP | 8 MP | 7 MP | 7 MP |
| LTE (4G) | | | | |
| Internal memory | 6 GB (Size (RAM)), 64 GB (Storage) | 4 GB (Size (RAM)), 32 GB (Storage), 64 GB (Storage) | 2 GB (Size (RAM)), 256 GB (Storage), 64 GB (Storage) | 128 GB (Storage), 256 GB (Storage), 64 GB (Storage) |
| Battery | 3500 mAh | 3000 mAh | 1821 mAh | 1821 mAh |
| Fast charging | | | | |
Complete comparison between the BlackBerry KEY2 and these alternatives or compare with other models
---
Questions and answers about the BlackBerry KEY2