---
---
Pro and cons Fairphone 3
Largely repairable
Fair, recycled and responsibly sourced materials
Bigger screen, better camera
Phone case in the box
No charger or cable in the box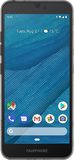 ---
Reviews about the Fairphone 3
| | | |
| --- | --- | --- |
| 5 stars | | 0 reviews |
| 4 stars | | 0 reviews |
| 3 stars | | 0 reviews |
| 2 stars | | 0 reviews |
| 1 star | | 0 reviews |
Want to earn $50?
Every month we select a winner among all user opinions that were submitted. That person wins a voucher of $50. The only thing you need to do to is write your very own user opinion and let us and others know what you think about this product. Click the button below to start.
---
---
Fairphone 3 product details
The Fairphone 3 is a smartphone from Holland and one that consists as much as possible of fair materials. It is already the third sustainable phone of the brand and in terms of appearance a considerable upgrade. If you are curious about the real story behind the Fairphone 3 please read on.
Screwdriver in the box, no charger
The Fairphone 3 has a sustainable design consisting of honest materials. So the Fairphone 3 is easy to repair yourself so you don't immediately have to buy a new mobile when only the screen breaks. Fairphone even encourages it, so there is a screwdriver in the box to get started immediately. What you don't find in the box is a charger and cable. You probably still have them somewhere. This way Fairphone saves costs, you help the planet with no unnecessary materials to consume and you keep your drawer tidier by not having to house another data cable and charger.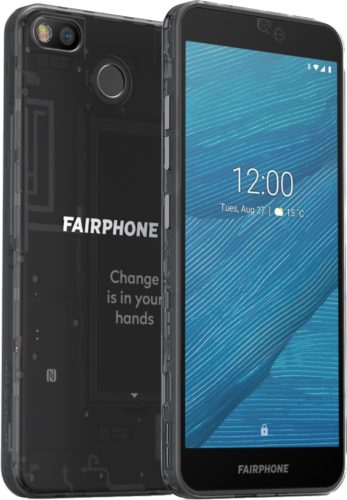 Sustainable materials, happy employes
Every mobile phone consists of materials such as gold, cobalt and plastic. The latter is easy to recycle and thus extract. This is not the case for many other materials, including metals. These are extracted from mines in often miserable conditions. You don't see it in the Fairphone 3 but at Fairphone they have put a lot of time into setting up a sustainable supply chain. Of tin from Congo and copper from China. Fairphone is therefore the first manufacturer to make phones from fairtrade gold. But Fairphone does not stop at fair materials, they also guarantee improved working conditions for the employes of, for example, mines where these materials are extracted. This also continues after you have bought a Fairphone 3. As a member of the Clean Electronics Production Network (CEPN), their ultimate goal is to completely eliminate employes' exposure to toxic chemicals.
Main Fairphone 3 specifications
Made out of fair materials including fairtrade gold
5.65 inch large screen + rugged Gorilla Glass 5
Possibility to extend storage
Octa-core Snapdragon 632 processor at 1.8 GHz
Fast 4G internet (LTE Cat 18 up to 300 Mbit/s)
12 megapixel main camera with bright f/1.8 low-light lens
Dualsim capabilities (nanoSIM type)
Large improvement
In terms of telephone, the Fairphone 3 certainly does not disappoint. New this year is the fingerprint scanner on the back and the much improved camera. But don't forget the much larger 5.6 inch screen either. It has thinner screen edges, although above and below the screen we still find the necessary 'bar'. That makes it relatively large. Considerably larger than its predecessor even. The Fairphone 3 is a Dual SIM phone so you can put two nano SIM cards in it at the same time. Charging can be done via the modern USB-C which has no top and bottom. There are two speakers for stereo sound and if it breaks down for any reason, just order it as a spare part in the Fairphone shop. The device runs a standard bare version of Android 9.0 and Fairphone promises to release updates for a long time to come, something they also did with previous models. All in all, the Fairphone 3 has become a fairly modern phone with a slightly higher price tag than equivalent phones but one with a much lower ecological footprint. Moreover, the price in comparison with the Fairphone 2 has become a lot lower. Double the profit.
---
Most important Fairphone 3 specifications
Dimensions
158 x 71.8 x 9.89 mm
Weight
187.4 grams
EAN code
8718819372042, 8718819372004
Fingerprint recognition
Android
9.0 (Pie)
Color display
5.65 inch, IPS
Camera
12.0 MP
Dirt and waterproof housing
Processor
1.8 GHz, Qualcomm Snapdragon 632, octa core
Secondary camera
8.0 MP
Dual SIM
LTE (4G)
Internal memory
4 GB (Size (RAM)), 64 GB (Storage)
Battery
3000 mAh, user replaceable
Fast charging
---
Alternatives of the Fairphone 3
Scroll the table below to see more
| | | | | | |
| --- | --- | --- | --- | --- | --- |
| | | | | | |
| Photos relative in size | | | | | |
| | Current product | | | | |
| Fingerprint recognition | | | | | |
| Android | 9.0 (Pie) | 9.0 (Pie) | 9.0 (Pie) | 8.1 | 8.1 |
| Color display | 5.65 inch, IPS | 6.1 inch, Curved Dynamic AMOLED Quad HD+, hole-punch display | 5.8 inch, Flat Dynamic AMOLED Full HD+, hole-punch display | 5.9 inch, Max Vision IPS, notch | 6.1 inch, FullVision IPS QuadHD+, notch |
| Camera | 12.0 MP | 12.0 MP, 12.0 MP, 16.0 MP | 12.0 MP, 16.0 MP, dual camera sensor | 13.0 MP, 2.0 MP, dual camera sensor | 16.0 MP |
| Dirt and waterproof housing | | | | P2i coating | |
| Processor | 1.8 GHz, Qualcomm Snapdragon 632, octa core | 1.7 GHz, 2.4 GHz, 2.8 GHz, octa core | 1.7 GHz, 2.4 GHz, 2.8 GHz, octa core | 2.0 GHz, Qualcomm Snapdragon 625, octa core | 2.35 GHz, Qualcomm Snapdragon 821, Quad Core |
| Secondary camera | 8.0 MP | 10.0 MP | 10.0 MP | 8.0 MP, flash | 8.0 MP |
| Dual SIM | | | | | |
| LTE (4G) | | | | | |
| Internal memory | 4 GB (Size (RAM)), 64 GB (Storage) | 8 GB (Size (RAM)), 128 GB (Storage), 512 GB (Storage) | 6 GB (Size (RAM)), 128 GB (Storage) | 4 GB (Size (RAM)), 64 GB (Storage) | 4 GB (Size (RAM)), 32 GB (Storage) |
| Battery | 3000 mAh, user replaceable | 3400 mAh | 3100 mAh | 3000 mAh | 3000 mAh |
| Fast charging | | | | | |
Complete comparison between the Fairphone 3 and these alternatives or compare with other models
---
Questions and answers about the Fairphone 3