The Google Pixel 3 is Google's idea of what a smartphone should be. A minimalist look, pure Android and with an excellent camera. Unfortunately, this all has a high price tag. In this description we are going to find out if that price is justified.
5.5 inch screen; small becomes big
Despite the fact that this Pixel 3 is the smallest model, we still find a large 5.5 inch screen at the front. That is the same size as the very first Pixel XL and thus the proof that phones are getting bigger and bigger. However, due to the removal of most of the screen edges, it is significantly smaller. There is some space above and below the screen, but it is usefully spent. For example, there are forward facing stereo speakers that are 40% louder and brighter compared to last year. The housing is also different. On the back we still find a split but this time we used glass with a glossy and matte coating. For the front, Google prominently chooses Gorilla Glass 5. Strange because Corning recently announced the firmer Gorilla Glass 6.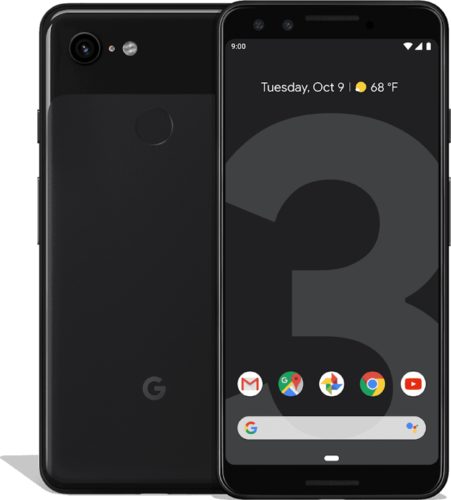 Better photos thanks to AI
Despite the fact that the camera of the Pixel 3 has almost the same specifications as the Pixel 2, there are still differences. Google knows this mainly through improvements on the software side. Google has succeeded in zooming in with a single camera without loss of quality. The Super Res Zoom keeps images sharp with the help of the necessary artificial intelligence. This was previously only possible with a second camera lens. Other new features include Night Sight, which can brighten images in dark conditions without using the flash, and Top Shot to get the best shot before you even press the shutter button. In addition to these new functions, there will also be improvements to existing functions. For example, you can now set the blur of the background in portraits. Just what you like. On the front we do find a double camera with which the Pixel 3 can shoot group movies.
Main Google Pixel 3 specifications
5.5 inch large Flexible OLED screen with Full HD+ resolution
Double 8 megapixel selfie camera with f/2.2 wide-angle lens and f/1.8 standard lens
A choice of 64 and 128GB memory
Octa-core Snapdragon 845 processor at 2.5GHz with 4GB of RAM memory
Gigabit mobile 4G internet
12,2 megapixel rear camera with unique AI functions
Water- and dustproof IPX8 housing
High integration with Google Assistant with lots of functionality
Hard to justify
Google further equips the Pixel 3 with a Snapdragon 845 processor that hasn't clocked it at the maximum 2.8 GHz but a bit lower at 2.5 GHz. This is possible to save the battery. You won't notice much of it because the Pixel phones are among the fastest on the market. That battery can now also be charged wirelessly. Google even made a separate charger; the Pixel Stand. That's a stand and charger in one. But you can also use any other Qi-compatible charger. Google traditionally praises the Pixel series very highly and the question is whether this is justified. Of course you'll get the best camera phone for it. You don't have to do it anymore for the pure Android experience as high-end Android One phones are also available today. And most of the features that are new to this Pixel 3 such as Night Sight will eventually come to other Pixel phones as well. So consider them also if you plan to buy a Pixel.