---
---
Pro and cons Google Pixel 3 XL
Unprecedented good camera
Beautiful finish with matt and glossy rear
Stereo sound and wireless charging
Double selfie camera
Deep screen notch and high price
---
Prices Google Pixel 3 XL Unlocked
---
Reviews about the Google Pixel 3 XL
| | | |
| --- | --- | --- |
| 5 stars | | 0 reviews |
| 4 stars | | 1 review |
| 3 stars | | 0 reviews |
| 2 stars | | 0 reviews |
| 1 star | | 0 reviews |
Give your opinion
Write your very own user opinion and let us and others know what you think about this product. Click the button to start.
---
---
Google Pixel 3 XL product details
The Google Pixel 3 XL is the search engine's third flagship and the most radical change ever. The screen is bigger than ever, has a notch, the camera has new tricks thanks to artificial intelligence and we get a selfie camera with wider angle view thanks to the dual sensor. We're going to find out if that's all we need here.
Big screen, big notch
Google has put its largest screen ever in a Pixel phone; no less than 6.3 inches and a resolution of Quad HD+. There's a pretty deep notch at the top, though. The height of the notch corresponds to the status bar in which the time and notifications are shown. So you have quite a bit less than 6.3 inches left for other content. Also on the front we find a double speaker for stereo sound that has become 40% louder this year. Google has had the sound tuned by a Grammy Award-winning producer so that high and low tones come into their own. Other new features include wireless charging and a glossy, matte finish on the glass case.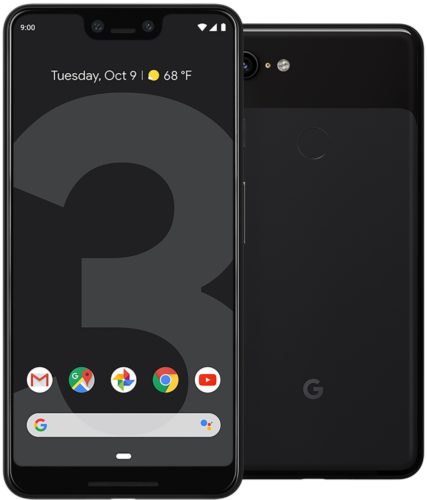 Camera with Night Sight and Top Shot
The Google Pixels are known for their good cameras and fortunately this Pixel 3 XL does not disappoint. The camera specifications do match those of last year, so the same 12.2 megapixel camera sensor and f1.8 lens, but thanks to artificial intelligence, Google is able to bring the necessary new functions. The most spectacular is night photography. With a mobile phone, this always remains difficult, but with machine learning, Google is able to increase the brightness in such a way that it looks as if a night shot has been taken during the day. And that without flash. This Night Sight feature is also available on older Pixel phones, so there's no need to buy a Pixel 3 XL. Exclusive is the Top Shot function that shoots photos before you even press the shutter button. If you miss the perfect moment, simply scroll back in time for the best photo. All your shot photos and 4K video are stored for free in the cloud in the highest quality.
Main Google Pixel 3 XL specifications
6.3 inch large Quad HD+ Flexible OLED screen including Gorilla Glass 5
12.2 megapixel AI camera with Top Shot and Night Sight
Waterproof housing with IPX8 rating and double finishing
Octacore Snapdragon 845 processor at up to 2,5 GHz + 4GB RAM
Double 8 megapixel selfie camera for group movies
Choice between 64 or 128GB of memory storage
4G support for gigabit internet on the go
High price
Because Google can make the hardware and software itself, everything fits together well. So expect a smooth-running phone without any hiccups. The Pixel 3 XL is of course helped by Qualcomm's Snapdragon 845 processor. This is the most powerful chip at the time of release and we therefore find it in all flagships. The processing power it delivers comes in handy with all AI functions. For example, Google Assistant gets some new features including Call Screen that can take phone calls for you. Handy when you get a call from a call center during dinner. A big disadvantage is the hefty price of the device. Whether that is justifiable is quite personal. The fact is that for a high-end phone with pure Android, you can now also go to Android One. Whether you can find such a good camera is virtually impossible. This Pixel 3 XL will probably remain king for years to come.
---
Most important Google Pixel 3 XL specifications
Dimensions
158 x 76.6 x 7.9 mm
Weight
184 grams
Codename
Google Crosshatch
EAN code
5854746665253, 1547856325981, 0842776110282, 0842776110275, 0842776108760, 0842776108753, 0842776108715, 0842776108708, 0842776108678, 0842776108654, 0842776108616, 0842776108609, 0842776108562Show 3 more

, 0842776108548, 0842776107466, 0400063833780, 0400063833773

Fingerprint recognition
Android
9.0 (Pie)
Color display
6.3 inch, Quad HD+ Flexible OLED, notch
Camera
12.2 MP
Dust and waterproof
Processor
1.6 GHz, 2.5 GHz, Qualcomm Snapdragon 845, octa core
Secondary camera
8 MP
4G (LTE)
Internal memory
4 GB (Size (RAM)), 128 GB (Storage), 64 GB (Storage)
Memory card slot
Battery
3430 mAh
Fast charging
Audio jack plug
---
Video's about the Google Pixel 3 XL
Always wondered what Gordon Ramsay would think of the Google Pixel 3 and Pixel 3 XL? This is your lucky day!
Google has released a teaser about the Pixel 3 and Pixel 3 XL in Japan. Something with squeezing
The Google Pixel 3 XL is extensively compared with the Pixel 2 XL before its unveiling in this video.
---
Alternatives of the Google Pixel 3 XL
Scroll the table below to see more
| | | | | | |
| --- | --- | --- | --- | --- | --- |
| | | | | | |
| | | | | | |
| | Current product | | | | |
| Fingerprint recognition | | | | | |
| Android | 9.0 (Pie) | 10 | 9.0 (Pie) | 9.0 (Pie) | 9.0 (Pie) |
| Color display | 6.3 inch, Quad HD+ Flexible OLED, notch | 6.3, Full HD+ Flexible OLED | 6.1 inch, Curved Dynamic AMOLED Quad HD+, hole-punch display | 6.4 inch, Curved Dynamic AMOLED Quad HD+, hole-punch display | 6.8 inch, Dynamic AMOLED Infinity-O Display |
| Camera | 12.2 MP | 12.2 MP, 16 MP, dual camera sensor | 12 MP, 12 MP, 16 MP | 12 MP, 12 MP, 16 MP | 12 MP, 12 MP, 16 MP, VGA camera |
| Dust and waterproof | | | | | |
| Processor | 1.6 GHz, 2.5 GHz, Qualcomm Snapdragon 845, octa core | 1.78 GHz, 2.84 GHz, Qualcomm Snapdragon 855, octa core | 1.7 GHz, 2.4 GHz, 2.8 GHz, octa core | 1.7 GHz, 2.4 GHz, 2.8 GHz, octa core | Octa core |
| Secondary camera | 8 MP | 8 MP | 10 MP | 10 MP, 8 MP | 10 MP |
| 4G (LTE) | | | | | |
| Internal memory | 4 GB (Size (RAM)), 128 GB (Storage), 64 GB (Storage) | 6 GB (Size (RAM)), 128 GB (Storage), 64 GB (Storage) | 8 GB (Size (RAM)), 128 GB (Storage), 512 GB (Storage) | 12 GB (Size (RAM)), 8 GB (Size (RAM)), 1 TB (Storage), 128 GB (Storage), 512 GB (Storage) | 12 GB (Size (RAM)), 256 GB (Storage), 512 GB (Storage) |
| Memory card slot | | | | | |
| Battery | 3430 mAh | 3700 mAh | 3400 mAh | 4100 mAh | 4300 mAh |
| Fast charging | | | | | |
| Audio jack plug | | | | | |
Complete comparison between the Google Pixel 3 XL and these alternatives or compare with other models
---
Questions and answers about the Google 3 XL