The Google Pixel 3a XL is an entry-level Pixel phone that needs a little more explanation because a simple list of features doesn't do it justice. So don't quit now and read on because this is a phone that is worth considering and that scares the competition a bit.
Same good camera with HDR
Google is doing something crazy with this Pixel 3a XL. Something we never saw before. They put their best camera in an affordable phone. Somewhat illogical because if you want the best of the best you will have to pay for it. Google turns it around and puts the fire to competitors. The single 12 megapixel camera doesn't seem very impressive on paper, but what Google does with it does. The Google HDR algorithm is possibly the best in the world and that is what we find in this 3a XL. There is a night mode that few other camera phones can match, a portrait mode that can blur backgrounds and a Color Pop mode that can make photos just a little more creative. The only real camera part this Pixel 3a XL has compared to more expensive Pixels is the lack of the separate Visual Core chip that makes shooting photos a little slower.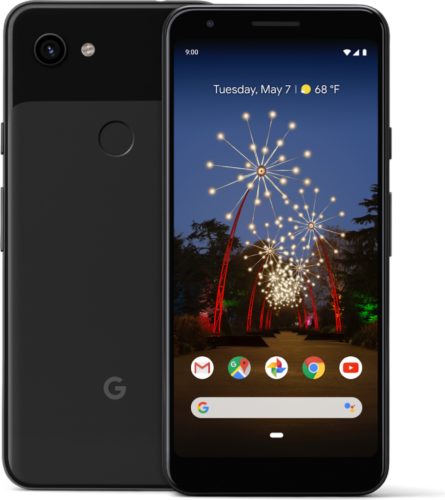 Long battery life
A big advantage of a large phone is that there is enough space for a large battery. This is also the case in this Pixel 3a XL. Google thinks you should be able to touch the 30 hours. Something that will only get better over time. The device learns from your behavior and saves on things you hardly use. If all this is not enough then a 15 minute power nap on the charger is enough for another 7 hours of use. The 18 Watt quick charger is just in the box. To power this Pixel, Google has chosen a Snapdragon 670 processor. Although this is not a high-end chipset as in the more expensive Pixels, it is still more than enough for everyday use. And fortunately, due to the bare Android version, there is no bloatware present that makes your user experience unnecessarily slow.
Main Google Pixel 3a XL specifications
Large 6 inch OLED display with sharp FHD+ resolution
Octa-core Snapdragon 670 processor at 2.0 GHz and with 4GB RAM memory
12.2 Megapixel dual-pixel camera night and portrait mode
Fast 4G mobile internet
Stereo speakers and 3.5mm headphone port
3700 mAh large battery with support for fast charging
Headphone port, stereo speakers but not waterproof
Because both Google makes this Pixel 3a XL and Android everything is nicely tuned to each other. Slowly he does not feel. Moreover, you will be the first to get Android updates. These are guaranteed for up to 3 years, as in an Android upgrade. On top of that, you get monthly security updates. This keeps your device protected and up to date for a long time. Also handy is that you can plug in your own headphones in this Pixel. Without crazy adapters. There is still a nice old-fashioned 3.5 mm headphone port available. Convenient, just like the Active Edge sensor which you can use to call the Google Assistant by squeezing the device. Stereo speakers are also available for a full sound experience. Only the waterproof housing is something missing. Something had to be cut back on.