The Pixel 7 Pro is Google's latest attempt at a great camera phone. It builds on the foundations of the Pixel 6 Pro, the first smartphone to feature Google's proprietary Tensor processor. The 7 Pro also features a Tensor chipset, the Tensor G2. Now even more powerful and with more features. You can find out which ones right here.
Big or hefty?
Like previous years, Google released its latest Pixel phones in three flavors; a basic Pixel with reasonably manageable dimensions, a more affordable A-model made of plastic, and an over-the-top one with the most extensive specifications. This Pixel 7 Pro falls into the latter category. It features a grand 6.7-inch screen with the highest screen refresh rate of 120Hz and the sharpest QHD+ resolution. Google has been making its phones fairly square recently. That, combined with the generous screen size, makes the 7 Pro a relatively large phone. Big also means there's plenty of room for a big battery. Google claims a battery life of beyond 24 hours, and we're inclined to believe that.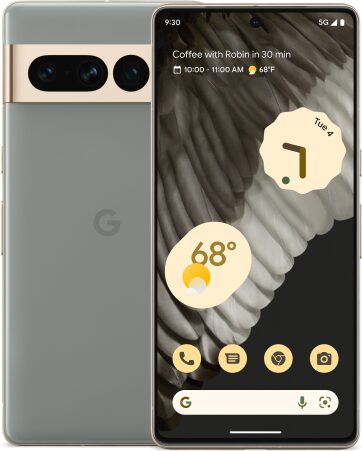 Pro-level Triple Camera
Google Pixel phones are known for their excellent camera. This Pixel 7 Pro certainly tries to be, too, thanks in part to its 50MP primary camera. Google opted for an Octa PD Quad Bayer sensor. A typical camera sensor consists of photodiodes arranged as pixels in a grid. There are green, red, and blue photodiodes. Usually, these are scattered, but in a Bayer layout, they are grouped. In the case of the Pixel 7 Pro, these groups are eight pixels large (octa). The advantage of this is that such a sensor is more light-sensitive and therefore shoots better photos in the dark and with higher contrast. And that has not gone unnoticed. The Google Pixel 7 Pro scored a camera score of 147 with independent DxoMark. At the time of writing, that's the second-highest score for a smartphone ever.
Main Google Pixel 7 Pro specifications
6.7-inch large, QHD+ sharp and 120Hz smooth LTPO screen
Excellent 50+48+12MP camera with 5x optical and 30x digital zoom
10.8MP selfie camera with face unlock
Google Tensor G2 processor with large 12GB of LPDDR5 RAM
Choose between 128, 256 or 512GB of UFS 3.1 storage
Large 5000mAh battery with 30W fast charging and Qi wireless charging
Face unlocking at last
The Pixel 7 Pro also owes that score to the three other cameras. Those are a 48MP telephoto camera with 5x optical and 30x digital zoom and a 12MP ultra-wide-angle camera with an extra-wide 125.8-degree viewing angle. And finally, the 10.8MP front-facing selfie camera. As with the Pixel 6 Pro, Google applies a small punch-hole right in the middle of the screen. What's new is that it can finally do facial unlocking, also known as Face Unlock. Yet it is safer to unlock your phone by fingerprint. The reader for this is built into the screen and is much faster than last year.
Tensor enables additional features
The advantage of a Google phone with Google software is that one company is responsible for everything. Updates arrive quickly because of this, and Google even promises to do this for up to five years. And thanks to its Tensor G2 processor, exclusive features such as Magic Eraser and Real Tone become possible. The former feature erases unwanted objects from a photo, while the latter can naturally capture skin tones. Functions that were previously not possible or were very slow. A new camera feature is Macro Focus, which lets you take sharp shots at very close range with the ultra-wide-angle lens, and Photo Unblur can restore old blurred photos. Impressive features that only a Pixel can do.