---
Reviews about the Honor 20 Pro
| | | |
| --- | --- | --- |
| 5 stars | | 2 reviews |
| 4 stars | | 0 reviews |
| 3 stars | | 0 reviews |
| 2 stars | | 0 reviews |
| 1 star | | 0 reviews |
Want to earn $50?
Every month we select a winner among all user opinions that were submitted. That person wins a voucher of $50. The only thing you need to do to is write your very own user opinion and let us and others know what you think about this product. Click the button below to start.
---
---
Honor 20 Pro product details
Suppose you're looking for a mobile with a quad camera for the best photos and videos, a large battery and a nice big screen without distractions? Then the Honor 20 Pro might be for you. In this description we'll explain all the pros and cons of the device so you'll be on ice.
Beautifully designed
The Honor 20 Pro is a beautifully designed smartphone with a modern look. That's because of its 6.26 inch large screen without any noteworthy screen edges. The 32 megapixel self-shooting device sits in a punch-hole in the top left corner. This is hardly noticeable during use, especially because the 4.5 millimeter screen aperture is very small. Honor has not mounted the fingerprint scanner in the screen like others do, but it is on the side of the 20 Pro. This has advantages because an in-screen fingerprint scanner is slower. On the Honor 20 Pro it is nice and old-fashioned fast.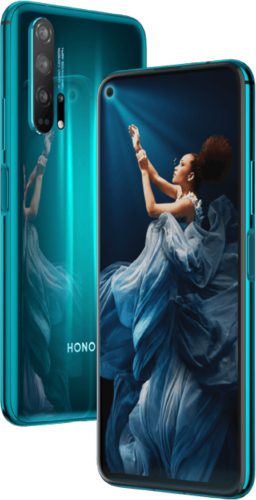 Versatile Quad Camera System
On the back we find a four-person camera consisting of 48 megapixel standard lens, 16 megapixel ultra wide angle lens for landscapes and wide shots, 8 megapixel telephoto to zoom in up to 3x and a 2 megapixel macro lens for extreme close-ups. This combination makes the Honor 20 Pro nice and versatile with a suitable lens for every situation. By the way, where we wrote standard lens we actually mean a 1/2" large sensor with an extremely bright f/1.4 lens. Thanks to this wide aperture, even in the dark you shoot exposed shots, more than you can see with the human eye. So don't use that flash. And the presence of a special macro lens allows you to shoot sharp images even from 4 centimeters. Ideal for capturing fine details such as insects or jewelry.
Main Honor 20 Pro specifications
Large 6.26 inch screen-hole IPS
32 megapixel selfie camera with super night mode
Dual SIM functionality (nanoSIM type)
Support for fast 4G internet
Powerful Kirin 980 processor at up to 2.6GHz with 8GB of RAM
Huge amount of built-in storage (256GB)
Powerful, spacious but not without flaws
Is there anything more to tell about the Honor 20 Pro? Yeah. It is powered by a Kirin 980 processor from its parent company, Huawei, and that chip has an impressive 8 GB of RAM memory at its disposal. More than enough to have a lot of apps open and switch between them. The storage memory is 256 GB and the battery has a capacity of 4000 mAh. In other words, there's plenty of room for your content and plenty of room to enjoy it long enough. And if the battery does start to run out, it's half charged in just 30 minutes thanks to the included Honor SuperCharge charger. Is there anything the Honor 20 Pro can't do? Oh absolutely; it's not waterproof. So it's blown around water. Also, you can't expand the memory (although that won't be necessary any time soon) and there is no 3.5 millimeter headphone port.
---
Most important Honor 20 Pro specifications
Dimensions
154.6 x 73.97 x 8.44 mm
Weight
182 grams
EAN code
6901443351619, 6901443303366, 6901443303359, 6901443303342
Fingerprint recognition
Android
9.0 (Pie)
Color display
6.26 inch, IPS, hole-punch display
Camera
16 MP, 2 MP, 48 MP, 8 MP
Processor
1.8 GHz, 1.92 GHz, 2.6 GHz, HiSilicon Kirin 980, octa core
Secondary camera
32 MP
Dual SIM
LTE (4G)
Internal memory
8 GB (Size (RAM)), 256 GB (Storage)
Memory card slot
Battery
4000 mAh
Fast charging
Audio jack plug
---
Video's about the Honor 20 Pro
Always wondered what's inside your Honor 20 Pro? But never dared to unscrew your own mobile? Look no further, here's the video
Check the launch of the Honor 20 and 20 Pro again? This 4-minute 46-second summary updates you on all the pros and cons of the Honor 20 and 20 Pro.
---
Alternatives of the Honor 20 Pro
Scroll the table below to see more
| | | | | | |
| --- | --- | --- | --- | --- | --- |
| | | | | | |
| | | | | | |
| | Current product | | | | |
| Fingerprint recognition | | | | | |
| Android | 9.0 (Pie) | 9.0 (Pie) | 9.0 (Pie) | | 9.0 (Pie) |
| Color display | 6.26 inch, IPS, hole-punch display | 6.1 inch, Curved Dynamic AMOLED Quad HD+, hole-punch display | 6.4 inch, Curved Dynamic AMOLED Quad HD+, hole-punch display | 6.5 inch, Infinity-O Display, hole-punch display | 6.3 inch, Dynamic AMOLED Infinity-O Display |
| Camera | 16 MP, 2 MP, 48 MP, 8 MP | 12 MP, 12 MP, 16 MP | 12 MP, 12 MP, 16 MP | 12 MP, 48 MP, 5 MP, 5 MP | 12 MP, 12 MP, 16 MP |
| Processor | 1.8 GHz, 1.92 GHz, 2.6 GHz, HiSilicon Kirin 980, octa core | 1.7 GHz, 2.4 GHz, 2.8 GHz, octa core | 1.7 GHz, 2.4 GHz, 2.8 GHz, octa core | 1.7 GHz, 2.3 GHz, Samsung Exynos 9611, octa core | Octa core |
| Secondary camera | 32 MP | 10 MP | 10 MP, 8 MP | 32 MP | 10 MP |
| Dual SIM | | | | | |
| LTE (4G) | | | | | |
| Internal memory | 8 GB (Size (RAM)), 256 GB (Storage) | 8 GB (Size (RAM)), 128 GB (Storage), 512 GB (Storage) | 12 GB (Size (RAM)), 8 GB (Size (RAM)), 1 TB (Storage), 128 GB (Storage), 512 GB (Storage) | 6 GB (Size (RAM)), 128 GB (Storage) | 8 GB (Size (RAM)), 256 GB (Storage) |
| Memory card slot | | | | | |
| Battery | 4000 mAh | 3400 mAh | 4100 mAh | 4000 mAh | 3500 mAh |
| Fast charging | | | | | |
| Audio jack plug | | | | | |
Complete comparison between the Honor 20 Pro and these alternatives or compare with other models
---
Questions and answers about the Honor 20 Pro