---
Reviews about the Honor Play
| | | |
| --- | --- | --- |
| 5 stars | | 0 reviews |
| 4 stars | | 0 reviews |
| 3 stars | | 0 reviews |
| 2 stars | | 0 reviews |
| 1 star | | 0 reviews |
Give your opinion
Write your very own user opinion and let us and others know what you think about this product. Click the button to start.
---
---
Honor Play product details
The Honor Play is a phone that, thanks to some unique features, is ideal to play games on. To appeal gamers, the graphics chip is equipped with a turbo, there is 3D gaming sound and Smart Shock. In this review we will go deeper into these distinctive features.
Quick(er) GPU with turbo
Gamers know better than anyone that a heavy video card is a must to play graphic games. In the case of a phone, that's not exactly a concern of manufacturers. With Honor this is different, because a good GPU is the first priority with this Honor Play. The built-in GPU is thanks to a turbo to 60% more powerful and at the same time 30% more economical. This turbo is mainly the result of software modifications to the Kirin 970 chipset from Huawei in order to achieve consistently high frame rates. In the reviews we have seen, this is also evident in practice. So it's not just an empty marketing slogan. But there's more that should appeal to gamers.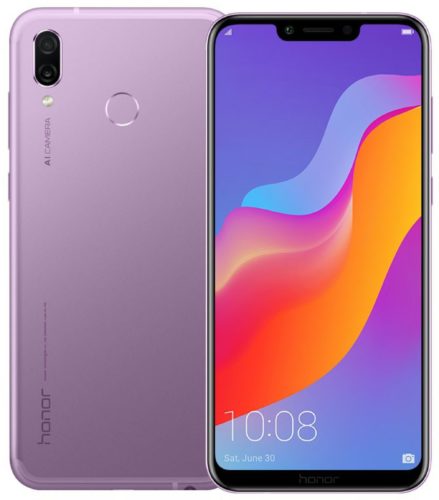 Smart Shock and 3D Gaming Sound Effect
Thanks to the built-in vibrator, Honor introduces a function called Smart Shock. Shoot a rifle or drive fast over a bumpy web; thanks to vibrations, games take on an extra dimension. Honor subtly calls it a 4D Gaming Experience. Especially games with PUBG Mobile make use of it. Another plus for gamers are 3D sound effects. This only works with wired headphones. Thanks to the 3.5mm audio jack headphone input you can plug it in without a dongle. We see the port disappearing more and more so it's nice that the Honor Play just has it. To make sure you can play for a long time, there is an extra thick 3750 mAh battery that with normal use lasts 1.5 days. Playing games is not really normal use, so fortunately the Play can be charged quickly with the 9V/2A quick charger.
Main Honor Play specifications
Powerful Kirin 710 processor with GPU Turbo and 4GB of RAM memory
Large 6.3-inch FullView screen 19.5:9 aspect ratio
16 + 2 MP camera automatically recognizes the best setting thanks to AI NPU
High 16 megapixel selfie camera with portrait mode and professional exposure
Dual SIM functionality
64GB of storage + a memory card slot (shared with dual sim-slot)
Fast internet browsing thanks to Wi-Fi ac or on the go with 4G support
Large FullView screen and smart AI Portrait Mode Selfies
Games can only be played on big screen. The Honor Play does not disappoint. The screen measures 6.3 inches and thanks to the relatively thin screen edges it still feels like a relatively compact phone. What a pity is that Honor applies a notch at the top so you have lost a bite from your FullView screen. When you don't lose yourself in gameplay, you capture the real world with a double camera on the back. Honor applies a 16 and 2 megapixel camera that can recognize 22 different categories and over 500 scenarios. All in real time thanks to Artificial Intelligence (AI). Finally, a noteworthy mention of the selfie camera. With a 16 megapixel sensor, it has a lot of detail and sharpness. Here, too, the artificial intelligence provides some extra functions. Think of AI Portrait Mode Selfies and 3D Portrait Lighting. This allows you to blur backgrounds and add studio-style lighting. Because Honor Play is so good at recognizing faces, it can also be used to unlock your phone. Safe and personal, in a variety of lighting conditions.
---
Most important Honor Play specifications
Dimensions
157.91 x 74.27 x 7.48 mm
Weight
176 grams
EAN code
6901443256082, 6901443254491, 6901443254484, 6901443242122, 6901443242115
Fingerprint recognition
Android
8.1
Color display
6.3 inch, FullView IPS FHD+, notch
Camera
16 MP, 2 MP, dual camera sensor
Processor
1.7 GHz, 2.2 GHz, HiSilicon Kirin 710, octa core
Secondary camera
16 MP
Dual SIM
4G (LTE)
Internal memory
4 GB (Size (RAM)), 64 GB (Storage)
Battery
3750 mAh
Fast charging
---
Alternatives of the Honor Play
Scroll the table below to see more
| | | | | | |
| --- | --- | --- | --- | --- | --- |
| | | | | | |
| | | | | | |
| | Current product | | | | |
| Fingerprint recognition | | | | | |
| Android | 8.1 | 9.0 (Pie) | 9.0 (Pie) | 9.0 (Pie) | 10 |
| Color display | 6.3 inch, FullView IPS FHD+, notch | 6.1 inch, Curved Dynamic AMOLED Quad HD+, hole-punch display | 6.4 inch, Curved Dynamic AMOLED Quad HD+, hole-punch display | 6.8 inch, Dynamic AMOLED Infinity-O Display | 6.2 inch, Infinity-O Display, hole-punch display |
| Camera | 16 MP, 2 MP, dual camera sensor | 12 MP, 12 MP, 16 MP | 12 MP, 12 MP, 16 MP | 12 MP, 12 MP, 16 MP, VGA camera | 12 MP, 12 MP, 64 MP |
| Processor | 1.7 GHz, 2.2 GHz, HiSilicon Kirin 710, octa core | 1.7 GHz, 2.4 GHz, 2.8 GHz, octa core | 1.7 GHz, 2.4 GHz, 2.8 GHz, octa core | Octa core | Octa core |
| Secondary camera | 16 MP | 10 MP | 10 MP, 8 MP | 10 MP | 10 MP |
| Dual SIM | | | | | |
| 4G (LTE) | | | | | |
| Internal memory | 4 GB (Size (RAM)), 64 GB (Storage) | 8 GB (Size (RAM)), 128 GB (Storage), 512 GB (Storage) | 12 GB (Size (RAM)), 8 GB (Size (RAM)), 1 TB (Storage), 128 GB (Storage), 512 GB (Storage) | 12 GB (Size (RAM)), 256 GB (Storage), 512 GB (Storage) | 12 GB (Size (RAM)), 128 GB (Storage) |
| Battery | 3750 mAh | 3400 mAh | 4100 mAh | 4300 mAh | 4000 mAh |
| Fast charging | | | | | |
Complete comparison between the Honor Play and these alternatives or compare with other models
---
Questions and answers about the Honor Play