---
Reviews about the Honor View 20
| | | |
| --- | --- | --- |
| 5 stars | | 1 review |
| 4 stars | | 1 review |
| 3 stars | | 0 reviews |
| 2 stars | | 0 reviews |
| 1 star | | 0 reviews |
Give your opinion
Write your very own user opinion and let us and others know what you think about this product. Click the button to start.
---
---
Honor View 20 product details
The Honor View 20 is a refreshing phone that does things a little differently. For example, the selfie camera is not above the screen or in a large notch but in a hole in the upper-left corner. This so-called punch-hole is going to be the trend in 2019 and Honor is leading with the View 20.
Screen is an eye-catcher
That screen is of course the biggest eye-catcher. It measures 6.4 inches but is still smaller than the View 10 which still has a 5.99 inch screen. More screen in a more compact housing. The 25 megapixel selfie camera sits in a round hole with a diameter of only 4.5 millimeters. That's small enough not to notice when you use it for a while. The All-View Display sits tight against the top and sides, but there is still a chin underneath. That's good news somewhere, because then there's room for improvement for its successor.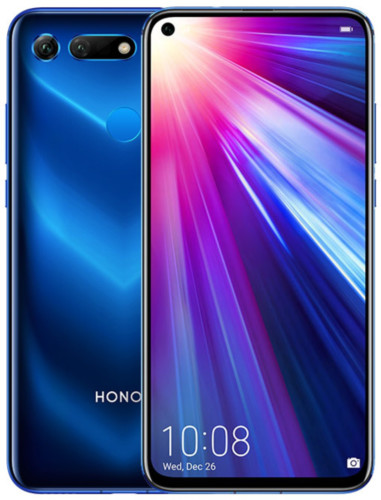 48 megapixel shoots best in 12 megapixel
In addition to a refreshing screen, the Honor 20 View features an impressive rear camera. Although there are two cameras to be seen, Honor chooses a different approach. One sensor measures 48 megapixels, while the second is a Time Of Flight camera that therefore sees 3D. This means that you do not zoom in, but you can scan objects in 3D and play games with them. Compare it to the Xbox Kinect where your body is the controller. For this you need a special dock and you need to connect the View 20 via HDMI cable to your TV. Afraid you can't zoom in with this 2nd camera you don't have to be. Because of the abundance of megapixels, you hardly compromise on image quality when you get images closer. The View 20 is also helped in part by artificial intelligence, also known as AI. Incidentally, you shoot the best quality photos in 12 megapixels, oddly enough. This is because this mode combines 4 pixels to 1 superpixel, which makes it possible to shoot in the dark.
Main Honor View 20 specifications
6.4-inch large display with screen-hole for 25 MP selfie camera
48 megapixel camera with 3D capability
128GB of non-extendable storage
Speedy mobile web browsing on the go thanks to 4G support
Powerful octa-core Kirin 980 with ample 6GB of RAM memory
Powerhouse with Liquid Cooling
To ensure that the View 20 is an extremely powerful phone, Honor borrowed the Kirin 980 processor from parent company Huawei. Built on an energy-efficient 7 nanometer process, this powerful chipset features an extra fast and powerful graphics chip that allows you to effortlessly play the toughest games on it. The GPU Turbo 2.0 should provide higher frame rates and therefore smooth images. To ensure that the Kirin 980 keeps a cool head at all that game violence, Liquid Cooling has been used. An S-shape heat pipe efficiently dissipates heat so you can always deliver peak power. For this it's handy that you have a large battery so you don't have to power your phone halfway through your game. The 4000 mAh capacity battery should be sufficient for this purpose. Charging is extra fast thanks to SuperCharge. Half an hour at the charger is enough for a 50% full battery.
---
Most important Honor View 20 specifications
Dimensions
156.9 x 75.4 x 8.1 mm
Weight
180 grams
Item ID
PCT-L29
EAN code
6901443275373, 6901443275366, 6901443275359, 6901443275342, 6901443274772, 6901443274765, 2750104502310
Fingerprint recognition
Android
9.0 (Pie)
Color display
6.4 inch, Full HD+ All-View Display, hole-punch display
Camera
48 MP
Processor
HiSilicon Kirin 980, octa core
Secondary camera
25 MP
Dual SIM
4G (LTE)
Internal memory
6 GB (Size (RAM)), 128 GB (Storage)
Memory card slot
Battery
4000 mAh
Fast charging
---
Video about the Honor View 20
Enough of those punch-holes already? Bad luck because the Honor View 20 has it too!
---
Alternatives of the Honor View 20
Scroll the table below to see more
| | | | | | |
| --- | --- | --- | --- | --- | --- |
| | | | | | |
| | | | | | |
| | Current product | | | | |
| Fingerprint recognition | | | | | |
| Android | 9.0 (Pie) | 9.0 (Pie) | 9.0 (Pie) | 10 | 10 |
| Color display | 6.4 inch, Full HD+ All-View Display, hole-punch display | 6.4 inch, Curved Dynamic AMOLED Quad HD+, hole-punch display | 6.8 inch, Dynamic AMOLED Infinity-O Display | 6.2 inch, Infinity-O Display, hole-punch display | 6.7 inch, Infinity-O Display, hole-punch display |
| Camera | 48 MP | 12 MP, 12 MP, 16 MP | 12 MP, 12 MP, 16 MP, VGA camera | 12 MP, 12 MP, 64 MP | 12 MP, 12 MP, 64 MP |
| Processor | HiSilicon Kirin 980, octa core | 1.7 GHz, 2.4 GHz, 2.8 GHz, octa core | Octa core | Octa core | Octa core |
| Secondary camera | 25 MP | 10 MP, 8 MP | 10 MP | 10 MP | 10 MP |
| Dual SIM | | | | | |
| 4G (LTE) | | | | | |
| Internal memory | 6 GB (Size (RAM)), 128 GB (Storage) | 12 GB (Size (RAM)), 8 GB (Size (RAM)), 1 TB (Storage), 128 GB (Storage), 512 GB (Storage) | 12 GB (Size (RAM)), 256 GB (Storage), 512 GB (Storage) | 12 GB (Size (RAM)), 128 GB (Storage) | 12 GB (Size (RAM)), 128 GB (Storage) |
| Memory card slot | | | | | |
| Battery | 4000 mAh | 4100 mAh | 4300 mAh | 4000 mAh | 4500 mAh |
| Fast charging | | | | | |
Complete comparison between the Honor View 20 and these alternatives or compare with other models
---
Questions and answers about the Honor View 20