Huawei Mate 10 Lite review
For a dime in first grade?
---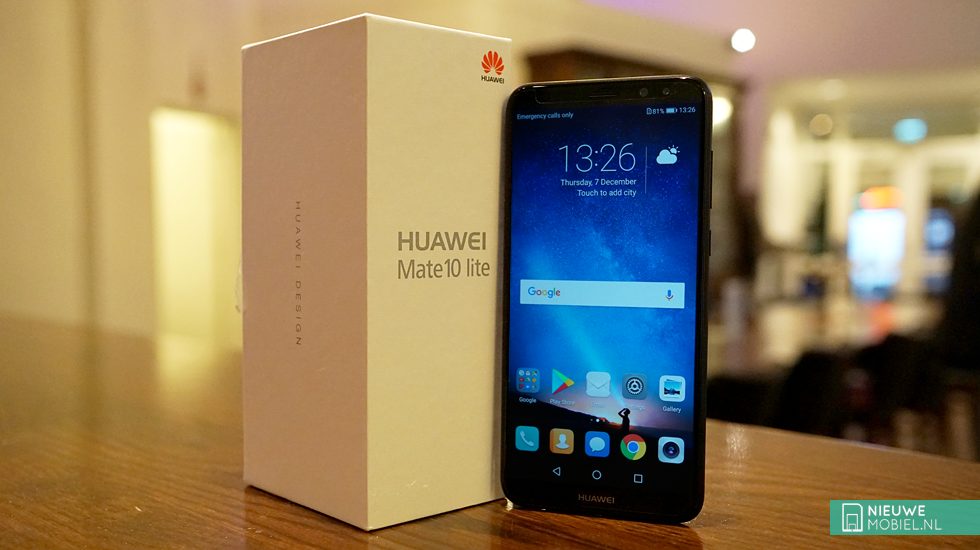 The trend of 2017 for telephones is the front-facing screen. Huawei has now joined this trend and is coming to the Netherlands with two phones; the Mate 10 Pro and the Mate 10 Lite tested by us.
Appliances with a large, front-filling screen are generally still quite expensive. Let that be the property where the Mate 10 Lite distinguishes itself first. Its price was already under 350 euros at launch. For that amount of money you still get a decent arsenal of specifications. Think for example of a 5.9 inch screen, four(!) cameras, a fingerprint scanner and 64 GB of storage memory.
Content of the box
Charger
microUSB cable
SIM lock removal tool
Quick start guide
When you search in our comparator for aircraft for less than 350 euro you will find the Xiaomi Mi A1, Wiko View Prime, Motorola Moto G5S Plus and LG Q6. Each one of them with a large screen. Although not as big as the Huawei but they are all a bit cheaper. So maybe the Mate 10 Lite should look up and the question arises if it can compete with the flagships of 2017 for less than half the price of a high end model?
---
Design
Huawei holds on to a metal unibody for the Mate 10 Lite. This results in a little conspicuous or innovative but effective design. The appliance feels solid and fits comfortably in the hand. All around the sides of the appliance have a slight bulge. Between the front and sides is a thin plastic edge where the glass is attached.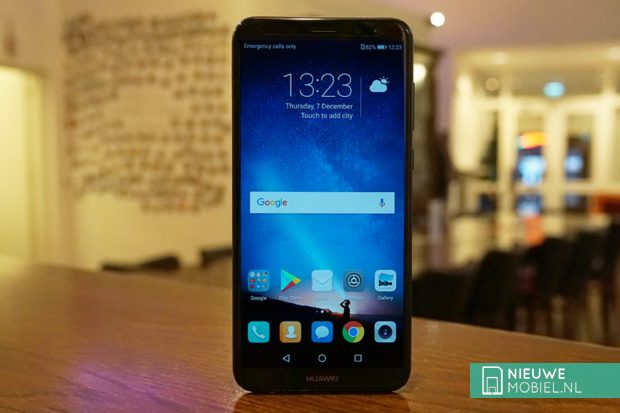 Large FullView display with small screen edges
Double self-image camera with special portrait mode
The screen is not as front-filling as on the real flagships because along the sides the Mate 10 Lite is not completely borderless, but with a screen-to-body ratio of 83% you certainly won't hit a mud figure. Above the screen the double selfie camera is placed. Furthermore there are a number of sensors, the ear loudspeaker and a notification light.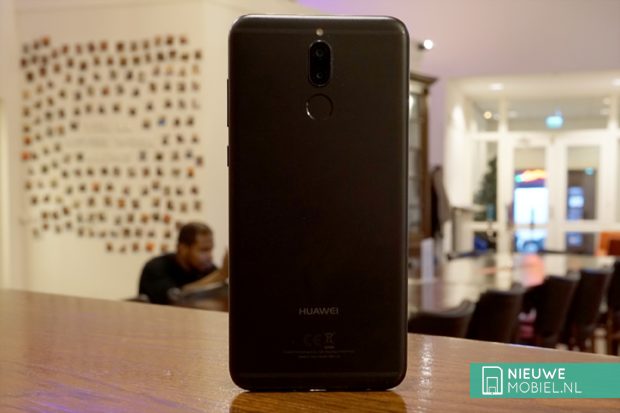 Also on the back of 2 cameras that enable sharpness/depth effects
Quick fingerprint scanner
full metal housing
The back is completely flat but unfortunately the camera module protrudes quite far. The fingerprint scanner is directly underneath the camera module. This is a logical place but quite high and can be a bit more difficult for some people to reach. At the top and bottom there are two plastic strips for the antenna. These were hardly noticeable on our black test device.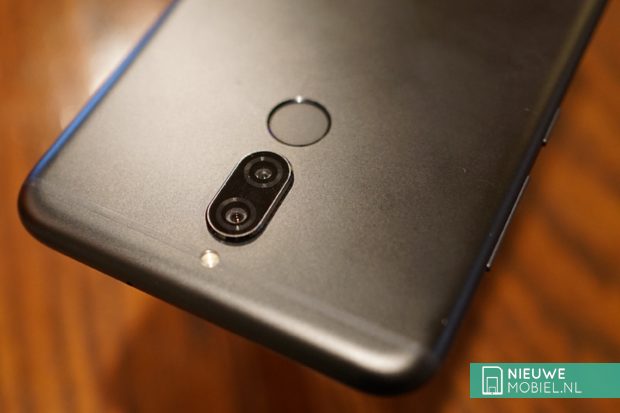 On the left side of the device you will find the tray for a SIM card and microSD card or second SIM. The buttons are placed on the right side of the device. Unfortunately the power button has no ridge or relief so it is just a little bit easier to recognize by touch. The volume buttons are quite high, which makes it more difficult to adjust the volume during a phone call.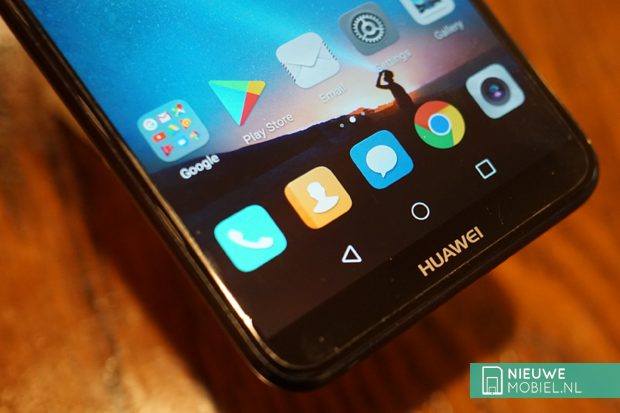 In contrast to the Mate 10 Pro, the Lite does not have a USB-C but the now somewhat old-fashioned microUSB connection. On the other hand, this model still has a headphone jack. Both are placed at the bottom of the unit. Here you can also find the loudspeaker.
The Mate 10 Lite, with its aluminium body and rounded sides and corners, offers very little grip. As a result, it slips quickly out of your hands. A transparent, hard plastic case was supplied with the device. This solves the grip problem but also makes the device a bit larger and therefore less easy to hold with one hand.
Performance
The Mate 10 Lite can draw its energy from a 3,340 mAh battery. Nowadays this is not exceptional and you need such a battery to power a screen like the Mate 10 Lite. With a screen on time of more than 6 hours, we were generally able to complete the 48 hours of use. This can hardly be described as intensive use, but we were active on two email accounts, WhatsApp, social media and news apps. So a busy, long day shouldn't be a problem for the Mate 10 Lite either. Fast charging is not one of the options to recharge the battery, although Huawei promises a full battery in less than 150 minutes.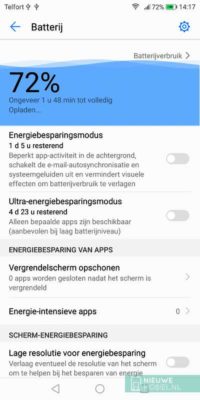 The standard Android battery saver is not available on the device. Instead, you can use Huawei's (ultra) power saving mode. Unfortunately, it cannot be set to a remaining battery percentage. However, at 20% you will get a message and you can turn on the power saving mode manually. The obtrusive notification for power-intensive apps in the past is still turned on by default, but hasn't been heard from again.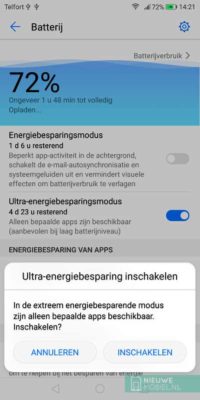 Under the hood of the Mate 10 Lite is a Kirin 659 processor. This is an octacore unit that runs at a maximum of 2.36 GHz. On paper, Huawei's own processors usually seem very capable, but in practice they often fall short. The Mate 10 Lite also has occasional hiccups or has to think a bit longer when opening apps, but helped by the 4 GB working memory it manages to hold its own quite well.
Screen
The front-end screens are more elongated and therefore use a slightly different aspect ratio than we are usually used to. On the Mate 10 Lite a ratio of 18:9 has been chosen. Huawei applies a resolution of 1080 x 2160 pixels for the 5.9 inch LCD screen. This puts the image quality at 409 pixels per inch. This is more than enough for a camera in this price range.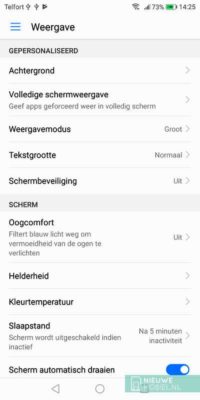 The colour temperature of the display can be fully adjusted to your own preference or you can choose between the three pre-programmed settings. With the default setting we actually thought it was fine. There is also an eye comfort mode available. This filters the blue light and gives the image a yellowish colour. This can be switched on automatically at a set time and the colour temperature can also be adjusted.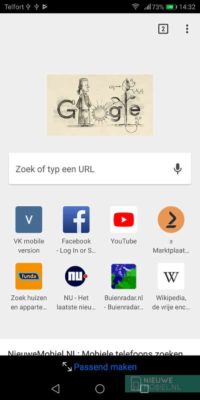 Apps that do not support the new aspect ratio can be adjusted via a button at the bottom of the image. You will then receive a message that this can also be undone if it leads to an incorrect display. In our case it was only necessary for a few apps to fit and it never caused any problems.
Software
The Mate 10 Lite still runs on Android 7.0. That's a bit strange because the Mate 10 Pro is already equipped with Android 8.0 Oreo. Still, you won't notice much difference because Huawei rebuilds the interface so thoroughly with its own shell that you hardly see any specific features of Android.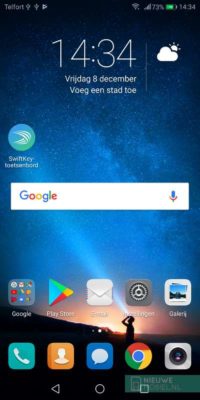 For example, there is the default setting to put all apps on the home screens and not use an application menu. Fortunately, this can be easily adjusted. The navigation keys at the bottom of the screen are very close together for Android terms. Their order can be changed and a button can be added to open the notification screen.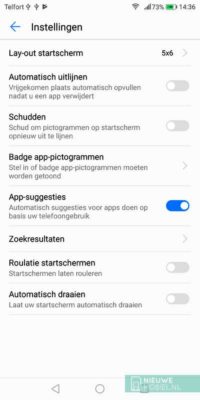 The maximum size of the grid on the start screens is 5x6. The background for the home screen can automatically change according to an adjustable interval. The settings menu of the Mate 10 Lite is actually far too extensive and confusing. Even as an experienced Android user, we were looking for certain settings.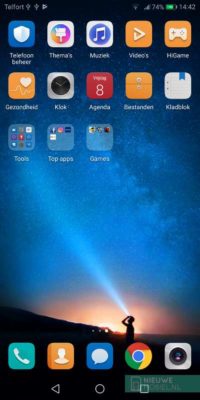 As a Chinese manufacturer, Huawei is in the habit of filling up her devices with apps. For example, there are about 50 applications in the application menu by default. Of course there are also apps from Google in this menu. Among Huawei's own apps such as health, HiGame, compass and mirror, but also games and Booking.com or eBay. Fortunately, the latter can all be removed, as can a large number of Huawei apps.
Hardware
Huawei's aircraft always had a well functioning fingerprint scanner. On the Mate 10 Lite it works remarkably well and especially fast. A fingerprint is easily recognized. Even when it is a little damp or dirty or the scanner is not completely covered. Huawei was the first manufacturer to add extra functions to the scanner. On the Mate 10 Lite we also see them again. The scanner can be used to take a photo or video, answer a call, turn off the alarm clock, open the notification screen and browse through photos. For the first three you have to use a saved fingerprint. You don't have to for the last two.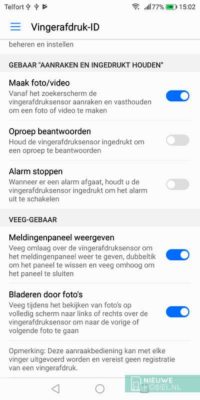 The Mate 10 Lite does not support NFC nor is it possible to connect to 5GHz Wi-Fi networks. Occasionally we have experienced problems connecting to our home network. Here you can clearly see that it's more of a budget device. However, you do have access to an FM radio.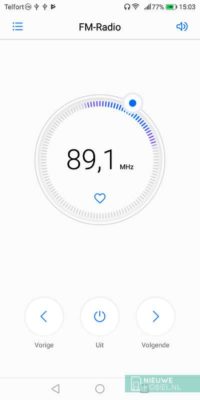 Camera
As said, the Mate 10 Lite has two double cameras. At the back this is a 16 and 2 megapixel and at the front it is a combination of a 13 and 2 megapixel. In both cases, the 2 megapixel camera is used to give extra depth to photos. There are no less than 16(!) recording modes available. This ranges from video to light painting and effects to good food. Unfortunately, HDR is also a separate mode and cannot automatically be switched on in the standard photo mode. In the pro mode, photos can also be captured in RAW format.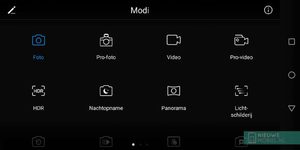 Portrait mode, in turn, is part of normal photo mode. With the camera at the back, an 8 megapixel photo can be taken in this mode. Strangely enough, there is no limitation in the number of megapixels for the self-image camera. Furthermore, the aperture and live image can also be set in normal photo mode. This last option can record a short movie at the moment you take a picture.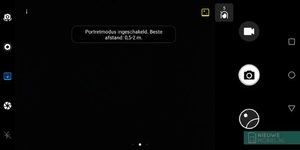 Shots are taken in a 4:3 ratio as standard. This means that when viewing them on the camera, part of the screen remains black. Photographs taken outdoors have rich colors with good contrast reproduction and drawing through. Details are slightly lost when processing the photo. However, the camera is capable of taking macro photos. The depth effect or bokeh looks nice but is determined with varying success. Sometimes there are hazy spots around the subject in the foreground or the transition is not well determined. Indoors and in low light, the camera at the back clearly has more trouble focusing and detail. Strikingly enough, the self-image camera then usually performs better. Filming is possible with both front and rear cameras in up to 1080p and with a 16:9 aspect ratio.


Click above for more pictures shot with the Huawei Mate 10 Lite
.
Conclusion
There are times when you expect the Mate 10 Lite to be capable of more, but then realize that it's not a high end all-rounder. This will largely be due to its size and premium look and feel and is not an immediate knockout but more of an indication of what an almost front-end screen does to your expectation of a phone.
In essence, it's a simple smartphone with an above-average screen. Such a midrange device comes with the usual pluses and minuses we know from a Huawei. The build quality, screen and fingerprint scanner are among the best in its price range. The interface of Huawei is not for us and with Android 7.0 it lags behind the real toppers. The camera is good but not amazing. The Mate 10 Lite is not a flagship competitor but you can pretty much keep up appearances.
---
---
Questions and answers about this Huawei 10 Lite review