The LG Q6 is the more affordable brother of the G6 flagship. Despite its much lower price, the device still gets quite a few of the high-end features including a FullVision screen with thin edges and selfie camera with wide-angle lens where you can get more people in the picture. In this description we dive into all those things and all the other advantages of the camera.
FullVision display for bigger multimedia experience
Looking at the LG Q6, you can't ignore the large borderless screen. The screen is with 5.5 inches a bit smaller than on the G6, it is still the so-called FullVision screen with a ratio of 18 is at 9 and above and below very thin screen edges. It gives it a modern look and gives you a sharp screen ideal for viewing multimedia. LG has hoisted the Q6 in a premium and sturdy jacket because the frame is made of strong aluminum. This nicely rounded H-Beam frame makes it tough even though we don't recommend deliberately dropping it.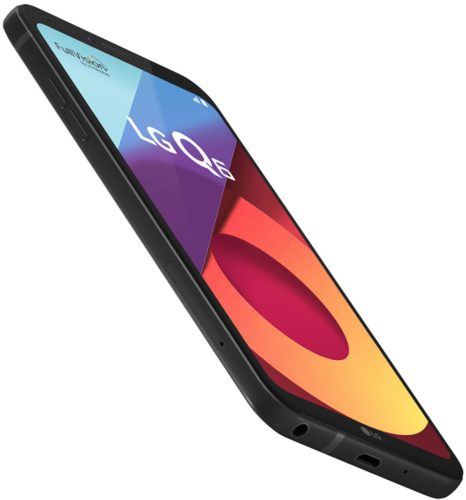 Group shots thanks to 100º wide-angle lens
On the back, LG applies a single 13 megapixel camera with an f/2.2 lens. Here, the Q6 is perhaps the most different from the G6 that is equipped with a double 13 megapixel camera with a much brighter f/1.8 lens. So expect to need the flash more often with the Q6 in dark conditions. At the front is a selfie camera with a 100 degrees wide angle lens. With this you not only capture yourself but also your friends. What's more, selfies become even more creative thanks to a square self-image mode. Within this mode you have a choice of 4 variants: snap shot, grid shot, guide shot and match shot. Also handy is that you can use the selfie camera to unlock your phone. Face recognition sounds like a nice gimmick but because of the lack of a fingerprint scanner it is your only option besides a pattern or password to secure your phone.
Main LG Q6 specifications
Fast mobile 4G internet
Octacore processor (Snapdragon 435) at 1.4GHz, 3GB of RAM memory
13 megapixel main camera with 4K video
32GB of storage memory but expandable thanks to microSD cards
5.5 inch FullVision IPS FHD+ screen with Corning Gorilla glass
Waterproof housing (IP68 rating)
Relative sharp selfie camera (5 megapixel)
Decent battery life, plastic back
Other features are a Snapdragon 435 processor with 3 GB of RAM memory. That fits perfectly with the low price tag of the Q6 and should make it suitable for average use. The battery is with 3000 mAh on the generous side with which you have to make the day with normal use easy. Charging is done via a microUSB cable and unfortunately there is no fast charging. Changing the battery quickly is not possible either; it's built in. Other possible drawbacks are the plastic back. In this price category it would have been a bit too much to ask for a full metal or glass casing, but it would have been nice.