---
Reviews about the Huawei Mate 20
| | | |
| --- | --- | --- |
| 5 stars | | 0 reviews |
| 4 stars | | 1 review |
| 3 stars | | 0 reviews |
| 2 stars | | 0 reviews |
| 1 star | | 0 reviews |
Want to earn $50?
Every month we select a winner among all user opinions that were submitted. That person wins a voucher of $50. The only thing you need to do to is write your very own user opinion and let us and others know what you think about this product. Click the button below to start.
---
---
Huawei Mate 20 product details
The Huawei Mate 20 is the standard model in the Mate 20 series for 2018/2019. As its captain, it has a Dewdrop screen at the front, 3 Leica cameras at the back and one of the most powerful chipsets available on the market. So is this the ultimate phablet, you might ask? For us to answer that question positively, we need to dig a little deeper into the matter.
Extra large screen with extra small notch
Huawei has been working hard for a couple of years now and occasionally surprises us positively with a new mobile. So does this Mate 20, because despite its recognizable appearance you can clearly recognize a Huawei in it. Although this year also a lot has changed which makes it clearly new. For example, we noticed the very small notch. Huawei only made a small cutout for the 24 megapixel selfie camera, nothing more and nothing less. Luckily, because we're dropping in at least a screen on it. That still leaves 6.53 inches with a resolution of Full HD+ or 2244 by 1080 pixels. That sounds generous, but the pixel density drops below 400 per inch, which is considerably less than his brother the Mate 20 Pro. This isn't really a problem because at subpixel level, where the pixels are built up, both devices don't differ when it comes to numbers.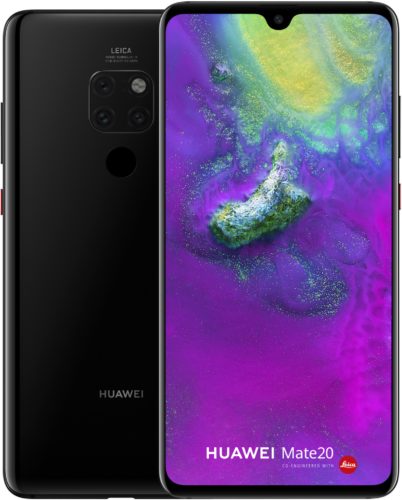 Impressive camera specs
If we turn the device over, our eye immediately catches the square Leica camera module. It contains no less than 3 different cameras with a fairly advanced flash. In addition to a regular wide-angle lens, the Leica Triple Camera therefore has a second, much wider wide-angle lens plus a telephoto zoom lens for zooming in. This gives you the right lens for the perfect picture in every situation. If you like macro photography, so from very close range, then the Huawei Mate 20 does not disappoint. It can capture objects as small as 2.5 centimeters in focus. The abundance of processing power enables additional functions such as real time video editing. And because you can shoot video at a ratio of 21:9, they look more realistic, according to Huawei. Under the camera module there is a fingerprint scanner on the Mate 20 while on the Mate 20 Pro it is integrated in the screen.
Main Huawei Mate 20 specifications
Very large 6.53 inch LCD screen with drop-shaped notch
Triple Leica camera with the best lens for every situation
Sharp 24 megapixel selfie camera with bright f/2.0 lens
4G support for fast mobile internet
Powerful and fast Kirin 980 processor with large 4GB of RAM memory
128GB of storage, expandable via NM memory card
Use 2 SIM cards (Dual SIM support, shared with memory slot)
What to do with all that processing power?
Huawei has been making its own chipsets for some time and this Mate 20 also uses them. The Kirin 980 is the first of the company that is based on 7 nanometers and applies to chipsets; the smaller the faster and more energy efficient. So expect a fast phone, without hiccups, without stuttering animations and where everything is immediately open. The amount of processing power comes in handy with the various AI functions, also known as artificial intelligence. Entirely in Huawei-style, the Mate 20 is full of it, from AI camera to AI power. The built-in 4000 mAh battery provides one day of power and the quick charger provides 58% battery within 30 minutes. Sitting without a battery makes this much more difficult. Charging is done via USB-C and in contrast to the more expensive Mate 20 Pro, you can plug in headphones via the 3.5 millimeter audio jack. Huawei releases the Mate 20 with Android 9.0 Pie which is the most recent version at the time of release. On top of that is EMUI 9.0 which you have to love. It looks a bit dated.
---
Most important Huawei Mate 20 specifications
Dimensions
158.2 x 77.2 x 8.3 mm
Weight
188 grams
Item ID
L29CA
Codename
Huawei Hima
EAN code
6901443262380, 6901443262373, 6901443262366, 6901443262342, 6901443262335, 6901443261550, 5413729233379, 5412882746764
Fingerprint recognition
Android
9.0 (Pie)
Color display
6.53 inch, TFT
Camera
12 MP, 16 MP, 8 MP
Processor
1.8 GHz, 1.92 GHz, 2.6 GHz, HiSilicon Kirin 980, octa core
Secondary camera
24 MP
Dual SIM
LTE (4G)
Internal memory
4 GB (Size (RAM)), 128 GB (Storage)
Battery
4000 mAh
Fast charging
---
Alternatives of the Huawei Mate 20
Scroll the table below to see more
| | | | | | |
| --- | --- | --- | --- | --- | --- |
| | | | | | |
| | | | | | |
| | Current product | | | | |
| Fingerprint recognition | | | | | |
| Android | 9.0 (Pie) | 9.0 (Pie) | | 9.0 (Pie) | 9.0 (Pie) |
| Color display | 6.53 inch, TFT | 6.4 inch, Curved Dynamic AMOLED Quad HD+, hole-punch display | 6.5 inch, Infinity-O Display, hole-punch display | 6.8 inch, Dynamic AMOLED Infinity-O Display | 6.3 inch, Dynamic AMOLED Infinity-O Display |
| Camera | 12 MP, 16 MP, 8 MP | 12 MP, 12 MP, 16 MP | 12 MP, 48 MP, 5 MP, 5 MP | 12 MP, 12 MP, 16 MP, VGA camera | 12 MP, 12 MP, 16 MP |
| Processor | 1.8 GHz, 1.92 GHz, 2.6 GHz, HiSilicon Kirin 980, octa core | 1.7 GHz, 2.4 GHz, 2.8 GHz, octa core | 1.7 GHz, 2.3 GHz, Samsung Exynos 9611, octa core | Octa core | Octa core |
| Secondary camera | 24 MP | 10 MP, 8 MP | 32 MP | 10 MP | 10 MP |
| Dual SIM | | | | | |
| LTE (4G) | | | | | |
| Internal memory | 4 GB (Size (RAM)), 128 GB (Storage) | 12 GB (Size (RAM)), 8 GB (Size (RAM)), 1 TB (Storage), 128 GB (Storage), 512 GB (Storage) | 6 GB (Size (RAM)), 128 GB (Storage) | 12 GB (Size (RAM)), 256 GB (Storage), 512 GB (Storage) | 8 GB (Size (RAM)), 256 GB (Storage) |
| Battery | 4000 mAh | 4100 mAh | 4000 mAh | 4300 mAh | 3500 mAh |
| Fast charging | | | | | |
Complete comparison between the Huawei Mate 20 and these alternatives or compare with other models
---
Questions and answers about the Huawei 20