---
---
Pro and cons Huawei P30 Pro
New screen with fingerprint scanner and speaker
Leica camera with 50x zoom
Powerful by Kirin 980
Wireless charging
Significantly higher recommended retail price than before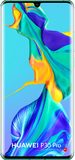 ---
Reviews about the Huawei P30 Pro
| | | |
| --- | --- | --- |
| 5 stars | | 3 reviews |
| 4 stars | | 0 reviews |
| 3 stars | | 0 reviews |
| 2 stars | | 0 reviews |
| 1 star | | 0 reviews |
Want to earn $50?
Every month we select a winner among all user opinions that were submitted. That person wins a voucher of $50. The only thing you need to do to is write your very own user opinion and let us and others know what you think about this product. Click the button below to start.
---
---
Huawei P30 Pro product details
The Huawei P30 Pro was announced at the beginning of 2019 and solves one of the biggest problems that camera phones have been facing for years: being able to zoom in without loss of quality. Whether Huawei has cracked the code with the P30 Pro and what else you can get with the device is something we will explain for you here.
Bigger screen does more
First, let's talk about his casing. Huawei put the P30 Pro in a nice jacket of rounded glass that is available in many colors. The new front consists of a 6.47 inch OLED panel with a drop-shaped notch at the top for the selfie camera. The OLED technology creates bright colors that splash off the screen. At the bottom of the screen is the fingerprint scanner. Laying your finger on it scans it, although you can also unlock the P30 Pro via facial recognition. The screen is even used as a loudspeaker while talking on the phone. Being able to leave out a traditional speaker gives you a higher water resistance, cleaner look and a smaller screen border.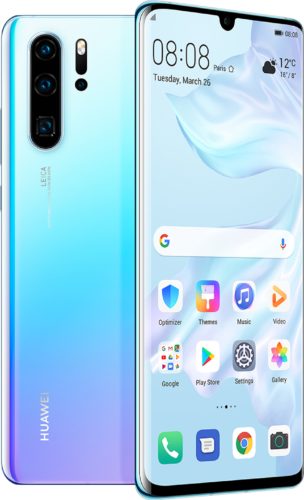 Unprecedented camera zoom
But if you're considering a Huawei P30 Pro, of course it's because of your camera. Huawei calls it the "Super Camera System" for a reason. It consists of a 40 megapixel Super Sensing Camera, 20 megapixel super-wide-angle lens, a super zoom lens and a ToF depth of field camera. The first one is for everyday shooting but with extra detail. Huawei has greatly improved light sensitivity by using a RYYB sensor. The green subpixels have been replaced by yellow ones, so that it absorbs 40% more light. That combined with a maximum ISO value of 409,600, you can still take visible photos in almost complete darkness. You can even capture the starry sky. But as far as we are concerned, the SuperZoom lens is the most interesting. It gets images 5x closer without loss of quality, 10x hybrid and 50x digital. That is enough to get the moon in the picture recognizable. Unprecedented for a mobile phone.
Main Huawei P30 Pro specifications
6.47 inch screen with DewDrop notch, fingerprint recognition and speaker
Four Leica camera with 50x zoom, night mode and enhanced depth recognition
Sharp 32 megapixel selfie camera with enhanced portrait mode
Waterproof IP68 housing
Place two SIM cards thanks to Dual SIM support
Choose between 128 and 256GB of non-extendable storage
Powerful Kirin 980 processor at up to 2,6 GHz + 8GB of RAM memory
Large 4200 mAh battery can charge and give away power wirelessly
Fast mobile 4G internet
The camera phone to beat in 2019
Not to mention the ToF depth camera. It is better able to distinguish the foreground from the background, which results in more beautiful portraits. But the selfie camera also impresses. It is equipped with 32 megapixels for sharp shots with a lot of detail. Thanks to the processing power of the Kirin 980 processor, the P30 Pro also knows how to deal with backlight. This gives you better exposed selfies with more realistic looking colors. For the sake of convenience, forget the macro mode for close-up shots, AIS Long Exposure Shot for mysterious effects and wide angle lens for nature shots. In other words, the Huawei P30 Pro is every photographer's dream. Although the necessary artificial intelligence also helps in the background to take good photos and videos. One that lasts a while thanks to a battery of 4200 mAh thick. It even recharges quickly and wirelessly. It doesn't stop.
---
Most important Huawei P30 Pro specifications
Dimensions
158 x 73.4 x 8.41 mm
Weight
192 grams
EAN code
9508276725883, 9507327276817, 9507325243439, 9504695672814, 9504656879832, 6901443330584, 6901443329748, 6901443329731, 6901443291366, 6901443291359, 6901443291342, 6901443291007, 6901443290734Show 5 more

, 6901443290727, 6901443290710, 6901443288069, 6901443288052, 6901443288045, 5412882757890

Fingerprint recognition
Android
9.0 (Pie)
Color display
6.47 inch, OLED, notch
Camera
20.0 MP, 40.0 MP, 8.0 MP
Dirt and waterproof housing
Processor
1.8 GHz, 1.92 GHz, 2.6 GHz, HiSilicon Kirin 980, octa core
Secondary camera
32.0 MP
Dual SIM
LTE (4G)
Internal memory
8 GB (Size (RAM)), 128 GB (Storage), 256 GB (Storage)
Memory card slot
Battery
4200 mAh
Fast charging
Wireless charging
Audio jack plug
---
Alternatives of the Huawei P30 Pro
Scroll the table below to see more
| | | | | | |
| --- | --- | --- | --- | --- | --- |
| | | | | | |
| Photos relative in size | | | | | |
| | Current product | | | | |
| Fingerprint recognition | | | | | |
| Android | 9.0 (Pie) | 9.0 (Pie) | 9.0 (Pie) | 9.0 (Pie) | |
| Color display | 6.47 inch, OLED, notch | 6.4 inch, Curved Dynamic AMOLED Quad HD+, hole-punch display | 6.8 inch, Dynamic AMOLED Infinity-O Display | 6.3 inch, Dynamic AMOLED Infinity-O Display | 6.67 inch, Fluid AMOLED |
| Camera | 20.0 MP, 40.0 MP, 8.0 MP | 12.0 MP, 12.0 MP, 16.0 MP | 12 MP, 12 MP, 16.0 MP, VGA camera | 12 MP, 12 MP, 16.0 MP | 16.0 MP, 48.0 MP, 8.0 MP |
| Dirt and waterproof housing | | | | | |
| Processor | 1.8 GHz, 1.92 GHz, 2.6 GHz, HiSilicon Kirin 980, octa core | 1.7 GHz, 2.4 GHz, 2.8 GHz, octa core | Octa core | Octa core | 2.84 GHz, Qualcomm Snapdragon 855, octa core |
| Secondary camera | 32.0 MP | 10.0 MP, 8.0 MP | 10.0 MP | 10.0 MP | 16.0 MP |
| Dual SIM | | | | | |
| LTE (4G) | | | | | |
| Internal memory | 8 GB (Size (RAM)), 128 GB (Storage), 256 GB (Storage) | 12 GB (Size (RAM)), 8 GB (Size (RAM)), 1 TB (Storage), 128 GB (Storage), 512 GB (Storage) | 12 GB (Size (RAM)), 256 GB (Storage), 512 GB (Storage) | 8 GB (Size (RAM)), 256 GB (Storage) | 12 GB (Size (RAM)), 6 GB (Size (RAM)), 8 GB (Size (RAM)), 128 GB (Storage), 256 GB (Storage) |
| Memory card slot | | | | | |
| Battery | 4200 mAh | 4100 mAh | 4300 mAh | 3500 mAh | 4000 mAh |
| Fast charging | | | | | |
| Wireless charging | | | | | |
| Audio jack plug | | | | | |
Complete comparison between the Huawei P30 Pro and these alternatives or compare with other models
---
Questions and answers about the Huawei P30 Pro