---
Pro and cons Moto G 5G Plus
Affordable 5G phone
Total of 4+2 cameras
Large 90Hz screen
Clean Android version
Was that macro camera really necessary?
---
Reviews about the Motorola Moto G 5G Plus
| | | |
| --- | --- | --- |
| 5 stars | | 0 reviews |
| 4 stars | | 1 review |
| 3 stars | | 0 reviews |
| 2 stars | | 0 reviews |
| 1 star | | 0 reviews |
Want to earn $50?
Every month we select a winner among all user opinions that were submitted. That person wins a voucher of $50. The only thing you need to do to is write your very own user opinion and let us and others know what you think about this product. Click the button below to start.
---
---
Motorola Moto G 5G Plus product details
The Motorola Moto G 5G is a relatively inexpensive 5G phone with four cameras on the back and two on the front. But why would anyone need so much cameras? Let's find out.
Large plus point
We ourselves think the name of the 'Moto G 5G Plus' is somewhat unfortunate. It suggests the existence of a 'Moto G 5G', but that doesn't exist. Not yet, anyway. Motorola apparently felt the need to give out a plus right away. Possibly it has to do with the quadruple camera on the back. As main sensor, a 48MP model was chosen which, thanks to the Quad Pixel technique, combines 4 pixels to 1. Because of this, it captures more light for better exposed photos, which leads to better shots, especially in the dark. The 2nd camera is an 8MP ultra-wide-angle with a 118° angle of view. The 3rd camera is a 2MP depth camera and the 4th is a so-called 5MP macro camera. This allows you to shoot sharp shots from very close range. Ideal for details that others would lose. A separate zoom lens is missing so you can only zoom in digitally.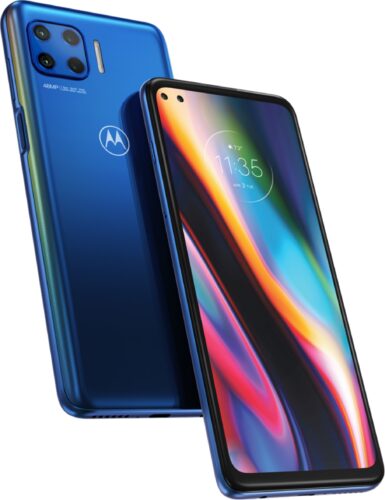 Selfie camera suitable for groups
At the front of the Moto G 5G+ there are two more cameras; a 16 and an 8MP camera. The first one will be used most often which, just like the 48MP main rear camera, uses Quad Pixel technology and therefore has a 4x better light sensitivity. Ideal for selfies in twilight or not ideal light conditions. If you also want to photograph your group of friends, take the 8MP camera with ultra wide angle lens. To make the most of your creativity, Motorola has equipped the Moto G 5G Plus with various fun camera effects such as an extra-long shutter speed of 32 seconds, spot color and Night Vision.
Main Motorola Moto G 5G Plus specifications
6.7-inch large CinemaVision screen with sharp FHD+ resolution, fast 90Hz and colorful HDR10 support
48+8+5+2MP Quad Camera with ultra-wide-angle, depth and macro lens
Double wide-angle selfie camera for group movies
5000 mAh large battery with 20 Watts TurboPower fast charging
Choice of 64 or 128 GB storage, expandable to up to 1 TB
5G support but can also handle 4G
Dual SIM (2 nano SIM cards + 1 microSD memory card
3.5mm audio jack input for headphones
5G for now or 5G for later
Apart from the cameras, the Motorola Moto G 5G Plus is of course a phone that is already suitable for 5G. At the time of release, that is not yet available everywhere and you will also need a separate subscription for it. The fact that you already have it on a phone means that you are already prepared and don't have to buy a new mobile phone as soon as you want 5G. It's also one of the most affordable 5G phones available. That 5G support is made possible by the Snapdragon 765 processor. It's not Qualcomm's top-of-the-range model, but it's certainly powerful enough for extensive tasks and games. So your Moto G 5G+ won't feel slow any time soon. It also runs Android 10 out of the box without thick skin and unnecessary bloatware that you can't remove. And it's all in a water-repellent coated case, too. Oh and had we already told you that the 6.7 inch screen has a higher refresh rate of 90Hz? At the time of writing, this is a premium feature often only found on flagships.
---
Most important Motorola Moto G 5G Plus specifications
Dimensions
168 x 74 x 9 mm
Weight
207 grams
EAN code
0840023210488, 0840023207143, 0840023205620, 0840023205491, 0840023204159
Fingerprint recognition
Android
10
Color display
CinemaVision, hole-punch display
Camera
2 MP, 48 MP, 5 MP, 8 MP
Dust and waterproof
P2i coating
Processor
Octa core
Secondary camera
16 MP, 8 MP
Dual SIM
4G (LTE)
5G
Internal memory
4 GB (Size (RAM)), 6 GB (Size (RAM)), 128 GB (Storage), 64 GB (Storage)
Battery
5000 mAh
Fast charging
---
Video's about the Motorola Moto G 5G Plus
Motorola's Moto G 5G Plus is a lightning-fast phone and not just because of 5G support.
The Motorola Moto G 5G Plus features 5G but what is it and how fast is it?
---
Alternatives of the Motorola Moto G 5G Plus
Scroll the table below to see more
| | |
| --- | --- |
| | |
| | |
| | Current product |
| Fingerprint recognition | |
| Android | 10 |
| Color display | CinemaVision, hole-punch display |
| Camera | 2 MP, 48 MP, 5 MP, 8 MP |
| Dust and waterproof | P2i coating |
| Processor | Octa core |
| Secondary camera | 16 MP, 8 MP |
| Dual SIM | |
| 4G (LTE) | |
| 5G | |
| Internal memory | 4 GB (Size (RAM)), 6 GB (Size (RAM)), 128 GB (Storage), 64 GB (Storage) |
| Battery | 5000 mAh |
| Fast charging | |
Complete comparison between the Motorola Moto G 5G Plus and these alternatives or compare with other models
---
Questions and answers about the Motorola 5G Plus