---
---
Pro and cons Moto G7 Plus
Large borderless screen with small notch
Camera shoots sharply in the dark
Stereo sound thanks to Dolby
Extra fast charging
Not completely waterproof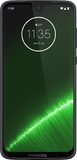 ---
Reviews about the Motorola Moto G7 Plus
| | | |
| --- | --- | --- |
| 5 stars | | 1 review |
| 4 stars | | 0 reviews |
| 3 stars | | 0 reviews |
| 2 stars | | 0 reviews |
| 1 star | | 0 reviews |
Want to earn $50?
Every month we select a winner among all user opinions that were submitted. That person wins a voucher of $50. The only thing you need to do to is write your very own user opinion and let us and others know what you think about this product. Click the button below to start.
---
---
Motorola Moto G7 Plus product details
The Motorola Moto G7 Plus is part of Motorola's popular G-Series, reaching its seventh generation. This G7 Plus is the most comprehensive with a much better camera. Why we think that and what else the Moto G7 Plus has to offer, we're going to find out for you in this description.
Not bigger, but better
Plus at Motorola stands for 'better' rather than 'bigger'. For example, with a 6.2 inch screen it is the same size as the regular G7 and the G7 Power. This is a so-called Max Vision screen with a Full HD+ resolution. Motorola itself mentions an aspect ratio of 19:9 but in reality it is 18.5:9. At the top there is a drop-shaped notch, meant for the selfie camera. Because he is so small, he soon doesn't stand out anymore and that's exactly the intention. The small screen edges suck you into the screen and give you a beautiful multimedia experience. Ideal for photos and videos. That sounds nice of course, but at the bottom of the screen there is still a large bar with the Motorola logo on it. This space is needed for the antenna, so it does have a function.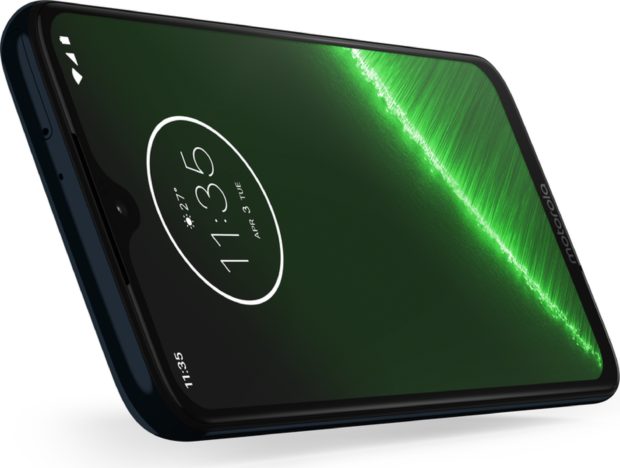 16 megapixel camera with OIS
So the Moto G7 Plus has the same kind of screen as some of the others in the G7 series. The biggest difference, however, is its camera. With a 16 megapixel camera and optical image stabilization, it shoots significantly better (and especially sharper) photos than its siblings. Thanks to a bright lens of f/1.8, you also shoot clear images in the dark, which are also sharp thanks to the OIS stabilization. And because there are not 1 but 2 cameras on the back, you can also shoot photos with sharpness/depth. This makes the background blurry, which results in beautiful portrait photos. If you have trouble getting people in the picture, the 'Smart Composition' mode is handy. It takes a second shot of how he thinks it should be. There is also automatic smile recognition, high resolution zoom, portrait mode and spot color. These are all tools that should make your photos even more beautiful.
Main Motorola Moto G7 Plus specifications
6.2 inch Max Vision Full HD+ screen with Gorilla Glass protection
16 + 5 megapixel main camera with 4K video and OIS
64GB of storage memory (expandable up to 512GB)
Sharp 12 megapixel selfiecam in drop notch
Powerful Snapdragon 632 processor at 1,8 GHz + 4 GB RAM memory
Support for Dual SIM (shared with memory slot)
4G support for mobile internet (Cat 13)
Quick charger and stereo sound
The Motorola Moto G7 Plus further distinguishes itself by being even quicker to charge. Everyone hates an empty phone battery, so it's nice when it's full again soon. Or full enough to get through the day. 15 minutes on the power for 12 hours of energy. And the great thing is that this 27 Watt TurboPower quick charger is just in the box. Also, this G7 Plus is the only one with stereo speakers with Dolby Audio sound that gives a surround effect. Handy is that there is room for a memory card but you can also use this slot for a second SIM card. Neither is possible. It is also important to be careful with water. Although it has a water-repellent coating, it is not completely waterproof.
---
Most important Motorola Moto G7 Plus specifications
Dimensions
157 x 75.3 x 8.3 mm
Weight
176 grams
EAN code
9503384888635, 0723755134317, 0723755132832, 0723755131385, 0723755131378, 0723755130197
Fingerprint recognition
Android
9.0 (Pie)
Color display
6.2 inch, Max Vision Full HD+, notch
Camera
16.0 MP, 5.0 MP, dual camera sensor
Dirt and waterproof housing
P2i coating
Processor
1.8 GHz, Qualcomm Snapdragon 632, octa core
Secondary camera
12.0 MP
Dual SIM
LTE (4G)
Internal memory
4 GB (Size (RAM)), 64 GB (Storage)
Battery
3000 mAh
Fast charging
---
Alternatives of the Motorola Moto G7 Plus
Scroll the table below to see more
| | | | | | |
| --- | --- | --- | --- | --- | --- |
| | | | | | |
| Photos relative in size | | | | | |
| | Current product | | | | |
| Fingerprint recognition | | | | | |
| Android | 9.0 (Pie) | 9.0 (Pie) | 9.0 (Pie) | 9.0 (Pie) | |
| Color display | 6.2 inch, Max Vision Full HD+, notch | 6.1 inch, Curved Dynamic AMOLED Quad HD+, hole-punch display | 6.4 inch, Curved Dynamic AMOLED Quad HD+, hole-punch display | 6.3 inch, Dynamic AMOLED Infinity-O Display | 6.67 inch, Fluid AMOLED |
| Camera | 16.0 MP, 5.0 MP, dual camera sensor | 12.0 MP, 12.0 MP, 16.0 MP | 12.0 MP, 12.0 MP, 16.0 MP | 12 MP, 12 MP, 16.0 MP | 16.0 MP, 48.0 MP, 8.0 MP |
| Dirt and waterproof housing | P2i coating | | | | |
| Processor | 1.8 GHz, Qualcomm Snapdragon 632, octa core | 1.7 GHz, 2.4 GHz, 2.8 GHz, octa core | 1.7 GHz, 2.4 GHz, 2.8 GHz, octa core | Octa core | 2.84 GHz, Qualcomm Snapdragon 855, octa core |
| Secondary camera | 12.0 MP | 10.0 MP | 10.0 MP, 8.0 MP | 10.0 MP | 16.0 MP |
| Dual SIM | | | | | |
| LTE (4G) | | | | | |
| Internal memory | 4 GB (Size (RAM)), 64 GB (Storage) | 8 GB (Size (RAM)), 128 GB (Storage), 512 GB (Storage) | 12 GB (Size (RAM)), 8 GB (Size (RAM)), 1 TB (Storage), 128 GB (Storage), 512 GB (Storage) | 8 GB (Size (RAM)), 256 GB (Storage) | 12 GB (Size (RAM)), 6 GB (Size (RAM)), 8 GB (Size (RAM)), 128 GB (Storage), 256 GB (Storage) |
| Battery | 3000 mAh | 3400 mAh | 4100 mAh | 3500 mAh | 4000 mAh |
| Fast charging | | | | | |
Complete comparison between the Motorola Moto G7 Plus and these alternatives or compare with other models
---
Questions and answers about the Motorola G7 Plus