---
---
Pro and cons Moto G7 Power
Large screen with thin edges
Large battery for long battery life
Reasonably fast thanks to powerful processor
Fun camera functions
Poor night performance selfie camera
---
Prices Motorola Moto G7 Power Unlocked
---
Reviews about the Motorola Moto G7 Power
| | | |
| --- | --- | --- |
| 5 stars | | 0 reviews |
| 4 stars | | 1 review |
| 3 stars | | 0 reviews |
| 2 stars | | 0 reviews |
| 1 star | | 0 reviews |
Want to earn $50?
Every month we select a winner among all user opinions that were submitted. That person wins a voucher of $50. The only thing you need to do to is write your very own user opinion and let us and others know what you think about this product. Click the button below to start.
---
---
Motorola Moto G7 Power product details
The Motorola Moto G7 Power is an Android phone with a monstrously large battery that's large enough for several days of uninterrupted fun. And yet it's not for everyone. We'd like to explain exactly why here.
Same size, slightly less premium
The G7 Power is part of the 7th generation Motorola Moto G Series. It has a large 6.2-inch Max Vision screen that is the same on paper as the G7 and G7 Plus but different in practice. First of all there is a larger notch on it instead of the drop-shaped one mentioned earlier. Also, the screen resolution of HD+ is lower. Images will therefore be less sharp. Also different on the screen is that there is no Gorilla Glass for extra protection. Also slightly less solid is the back. This is not made of metal or glass but of polymer which is a bit in between plastic and glass. What is nice is that the fingerprint scanner is incorporated in the logo.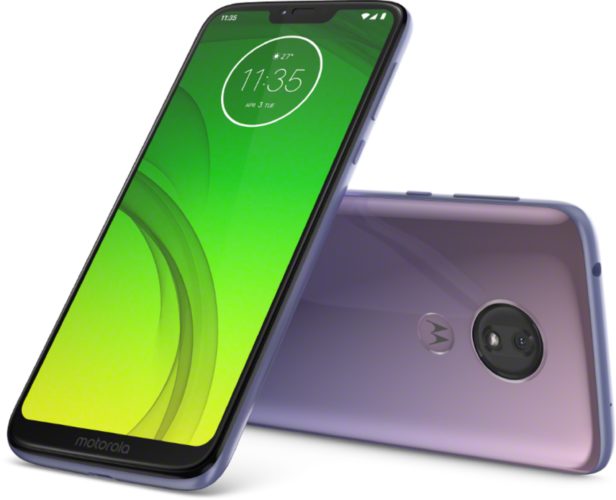 Enormous large battery
But in the end the G7 Power is all about one thing and that is its battery. It has a capacity of no less than 5000 mAh and that's enough for a battery life of 60 hours. Converted, that is enough energy for 2.5 days. The device comes with an 18W TurboPower charger that can be charged for another 9 hours with just 15 minutes of recharging. Charging is via USB-C which is known for its reversible cable. No more searching in the dark how to insert the cable, both sides fit.
Main Motorola Moto G7 Power specifications
Big 5000 mAh battery sufficient for more than 2 days
6.2 inch Max Vision HD+ screen
12 megapixel main camera with 4K video, cinemagraphs and portrait mode
64GB of storage memory, expandable up to 512GB via microSD card
Sharp selfiecam (8 megapixel) but with f/2.2 aperture
4G support for fast mobile internet on the go
Dual SIM capabilities (Hybrid so shared with memory card slot)
Quick Snapdragon 632 processor at 1.8GHz + 4GB of RAM memory
Single camera with nice functions
Looks like Motorola was so fixated on the battery that they missed other things. In addition to the previously mentioned shortcomings on the screen, the water-repellent coating is also missing. Also a double camera is missing. However, there is a 12 megapixel camera with fast autofocus that also works quickly in the dark. Although there is only one camera, the Moto G7 Power does have a portrait mode in which the background is blurred. This only works a bit less well, so there is a chance of beauty flaws. The selfie camera is reasonable at 8 megapixels, but the lens has a maximum aperture of f/2.2, so it cannot take very clear shots in the dark. However, there is a screen flash to correct that. Inside we find a Snapdragon 632 processor just like the other G7 models. It is powerful to handle everything nice and fast.
---
Most important Motorola Moto G7 Power specifications
Dimensions
160.83 x 76 x 9.4 mm
Weight
198 grams
Item ID
XT1955
EAN code
9501274635840, 0723755132894, 0723755132559, 0723755132542, 0723755132207, 0723755131514, 0723755131255, 0400063514764
Fingerprint recognition
Android
9.0 (Pie)
Color display
Max Vision HD+, notch
Camera
12 MP
Processor
1.8 GHz, Qualcomm Snapdragon 632, octa core
Secondary camera
8 MP
Dual SIM
4G (LTE)
Internal memory
4 GB (Size (RAM)), 64 GB (Storage)
Battery
5000 mAh
Fast charging
---
---
Questions and answers about the Motorola G7 Power