On paper, the Motorola Moto G9 Play looks like a playful device with large screen and equally large battery. But is it? In this review, we'll take a closer look at that, and then we'll also look at whether the triple camera on the back shoots good photos, whether it's a bit fast, and what's missing
Big but otherwise mediocre screen
But we start with its main plus points. These are its affordable price, large screen and large battery inside. For relatively little money you get a big phone in the house. The screen measures a spacious 6.5 inches and the displayed resolution is HD + (1600 lines of 720 pixels each). Competitors such as the Xiaomi Redmi Note 9 have a sharper Full HD+. At the top is a small notch for an 8MP selfie camera. It is an IPS screen panel which is known for its realistic color reproduction. However, this screen is not particularly bright so that reading during sunny days can be a problem.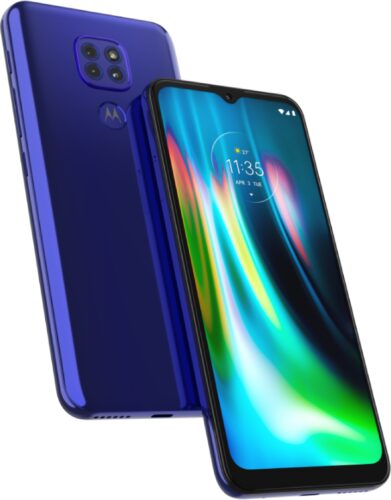 Three cameras, not all equally useful
On the back of the Moto G9 Play, we find a trio of cameras. They are a 48MP main camera that shoots photos in 12MP. So 4 pixels are merged into 1; a technique called Quad Pixel. In theory, this allows you to shoot better exposed photos in the dark. And indeed, the night mode works very well. Motorola itself calls it the Night Vision mode and it ensures that you can shoot useful and well-lit photos at night. We also find a 2MP macro mode that allows you to shoot close-ups. In practice, however, 2 megapixels are too little to capture much sharpness. The third camera is also 2 megapixel but is only used to distinguish foreground from background. This makes a portrait mode possible where you blur the background
Main Motorola Moto G9 Play specifications
Spacious 6.5-inch Max Vision screen with HD+ resolution
Fine 48MP main camera + 2MP macro, 2MP depth camera and Full HD video
8MP front camera in screen notch
Water resistant plastic design
Qualcomm Snapdragon 662 processor at up to 2GHz
4GB RAM memory + 64GB storage memory (expandable by up to 512GB)
5000 mAh large battery with 15W fast charging
Average performance, above-average battery
Inside the Moto G9 Play runs a Snapdragon 662 processor from Qualcomm. This is a mid-range chipset that delivers fine performance. There is 4GB of RAM memory and 64 GB of built-in storage. So far, all standard. The battery, however, is not. With a capacity of 5000 mAh, it is above average. This results in a usage time of several days. Motorola itself reports that the battery is quick to charge but with 15W maximum that is somewhat exaggerated. Wireless charging is missing but that is also not unusual in this category. Is even 5000 mAh too little for you? Then consider the Moto G9 Power with a whopping 6000 mAh battery.