The Motorola One is a modern and recognizable phone running Android One. This offers some advantages, especially when it comes to software. You are assured of updates in the coming years as well as monthly security updates. Yet the One has even more advantages such as a double camera on the rear. Time to take a closer look at it
iPhone clone but still with unique characteristics
At first glance, this Motorola One looks like a shameless copy of the iPhone. At the front, the screen has a notch, at the back there is a double camera in the corner and the whole device is made of glass. Still, this would be a bad summary of him because there is so much to tell about it. For example, his low price and the presence of Android One. The ability to quickly charge the battery and the included quick charger. Being able to call Google Assistant with your voice and the power of Google Lens. The Dual SIM lock and space for a memory card. You may already hear it, so it's certainly not a shameless copy.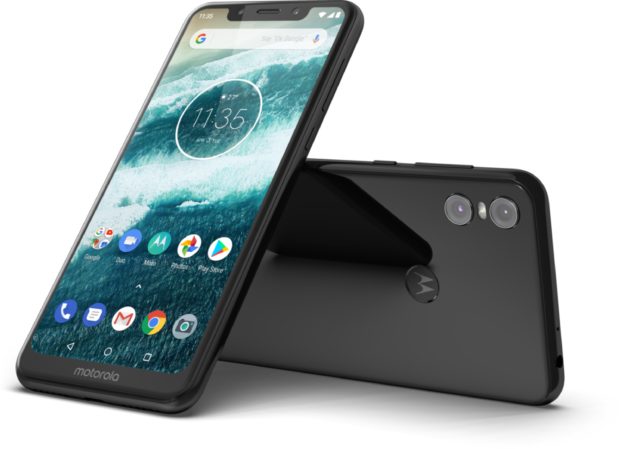 Great screen with great camera functions
Motorola applies a 5.9-inch Max Vision screen at the front with a ratio of 19 to 9. This results in a spacious screen with very thin screen edges. Only underneath it is not tight against the edge. Upstairs a notch is used for the selfie camera. The 8 megapixel selfiecam has the ability to blur backgrounds. This results in beautiful portraits or selfies that can be viewed on Instagram. On the back is a double camera that uses a 13 and 2 megapixel sensor. Besides the fact that you can blur the background here as well, there are more functions. Think of Cinemagraphs that allow you to move parts of a still image. An example of what that looks like can be found under the heading 'videos'. Another fun function is 'spot colors', where you can make one color stand out in a black and white photo. Of more practical value is the presence of Google Lens that can recognize products, animals, plants or text in your image. And because the Motorola One runs on Android One, photos and videos are automatically stored in the highest resolution in the cloud. Free and for free
Main Motorola One specifications
5.9 inch Max Vision HD+ screen with 2.5D Gorilla Glass
Double main camera (13 + 2 megapixels) with Cinemagraphs and spot color function
High 8 megapixel selfiecam with dedicated flash and ability to blur background
Support for lightning-fast 4G internet
Octacore Snapdragon 625 processor on up to 2 GHz + 4 GB of RAM memory
Use multiple SIM cards thanks to Dual SIM support (2x nanoSIM)
64 GB of storage but expandable by up to 256 GB via memory card
Android One is a wise choice
The Motorola One is made of glass with at the front the sturdy Gorilla Glass 2.5 which is not only sturdy but also nicely rounded. This makes it comfortable in the hand. Because of all that glass, it is sensitive to fingerprints. Inside is a 3000 mAh battery which is big enough for a day of fun. Because it works on fast charging, you can charge by just 20 minutes with the included TurboPower charger 6 hours ahead. The choice of processor is made on the Qualcomm Snapdragon 625. This is a mid-range chipset which combined with the 4 GB ensures neat results. It is most helped by the Android One operating system which does not require any unnecessary processing power due to the lack of unnecessary bloatware. Android One also offers guaranteed updates to newer Android versions and monthly security updates. The wise choice.