The Motorola edge 20 Lite is the entry-level model of the new edge 20 series that Lenovo announced in 2021. Lenovo is the parent brand of Motorola and has been scoring some success lately with attractively designed phones with nice specifications. This edge 20 Lite seems to fit that profile.
Misleading names
Frequent visitors know that we don't like terms like 'Lite'. They suggest something while products often aren't even that. So again with this edge 20 Lite. A 5G phone, colorful 6.7-inch OLED screen, thick 5000 mAh battery, generous 8GB of RAM memory and a 108MP camera sound anything but 'Lite'. A word about that screen; it's the same size as all the other Edge 20 models. It has the same 10-bit OLED screen with a colorful display only the refresh rate is slightly slower. But at 90Hz, that's still higher than the standard 60Hz. Also, the screen edges are slightly thicker making this edge 20 Lite the largest of the entire family.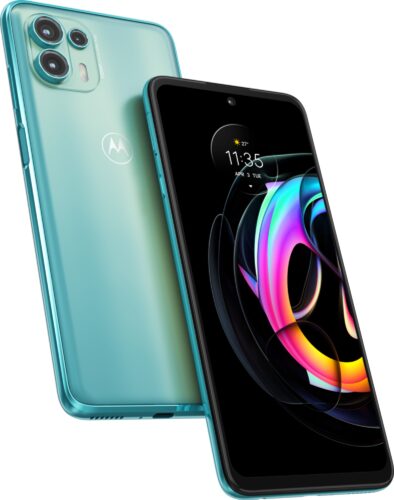 Same 108MP camera
On the back we find a 108 megapixel main camera with f/1.9 lens; again the same as in all other edge 20 models. You can shoot razor-sharp images with it or extra-wide photos with the 8MP ultra-wide angle. Special about the latter is that you can also take shots from extra close. This is called macro and you can use it to capture, for example, insects or the foam of your cappuccino. The third and last camera is a 2MP depth camera that helps the portrait mode to recognize depth. You can shoot video in 4K but with a maximum of 30 frames per second. If you want more then switch back to FHD (60fps). The only thing that seems to be missing is optical image stabilization. Motorola uses electronic stabilization instead.
Main Motorola edge 20 Lite specifications
Large 6.7-inch 10-bit OLED screen with smooth 90Hz display
108+8+2MP camera system with ultra wide-angle and 4K video
32MP selfie camera with Quad Pixel technology
MediaTek Dimensity 720 processor with 8GB of RAM memory
128 GB built in storage, expandable up to 1TB
5000 mAh battery for 2 days battery life + 30W fast charge
Splashproof body (IP52)
3.5mm audio jack for your own headphones
5G support for blazing fast mobile internet
Great value for money
This edge 20 lite is the only edge 20 model without a Qualcomm processor but with a MediaTek one. The choice was made for the Dimensity 720 with a generous 8 GB of RAM memory. This delivers surprisingly good results. It doesn't feel slow at all. Incidentally, this lite is the edge 20 model with the largest battery; no less than 5000 mAh. This results in an excellent battery life and with a maximum of 30W it can also be charged quickly. It is also the only Edge 20 model with expandable memory. With a standard 128GB storage capacity, this can hardly be called small. All in all, it's a great choice and good value for money.