---
Pro and cons Nokia 1.4
Cheap Android phone
Dual camera with flash
Fingerprint scanner!
Reasonably large battery
Only for simple and average use
---
Reviews about the Nokia 1.4
| | | |
| --- | --- | --- |
| 5 stars | | 0 reviews |
| 4 stars | | 0 reviews |
| 3 stars | | 0 reviews |
| 2 stars | | 0 reviews |
| 1 star | | 0 reviews |
Want to earn $50?
Every month we select a winner among all user opinions that were submitted. That person wins a voucher of $50. The only thing you need to do to is write your very own user opinion and let us and others know what you think about this product. Click the button below to start.
---
---
Nokia 1.4 product details
The Nokia 1.4 is one of the most affordable Nokia smartphones of the moment. And yet, it has many of the features you would expect from a contemporary smartphone. This makes a full-fledged smartphone accessible to everyone.
Old-fashioned quality
The Nokia 1.4 is a smartphone that is made by the Finnish HMD Global. They have obtained the right to release phones under the name Nokia. Despite that, the Nokia 1.4 has the same quality you can expect from Nokia's past. The front is protected by Panda Glass, and the back is made of sturdy polycarbonate, also known as plastic. At the front of the 1.4 is a 6.517-inch HD+ screen. That's big for extended use and sharp for most. At the top of the screen is a V-shaped notch, a notch, for the selfie camera. This is 5MP in size, making it sufficient for easy use.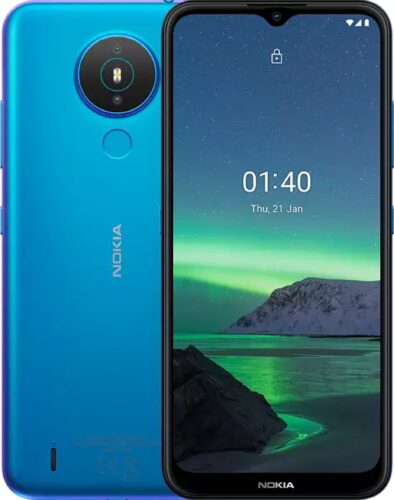 Large battery without fast charge
On the back of the Nokia 1.4, we find no less than 2 cameras; an 8MP main camera with various modes and a 2MP macro camera for close-ups and portraits. In the middle of the round camera module, we also find a single LED flash for when it gets too dark. On the back is also where we find the fingerprint scanner. This secures your device with your own unique fingerprint. Behind that fingerprint scanner is a large battery with a battery life of 2 days (with average use). No wonder because the capacity is a large 4000 mAh. Take some time to fully charge it though; there is no quick charge function available.
Most important Nokia 1.4 specifications
6.51-inch HD+ screen with rounded 2.5D Panda Glass
5MP selfie camera in screen notch
Double camera (8+2 megapixels) with LED flash and macro photography
Large 4000 mAh battery can be charged with microUSB cable to charge
Physical fingerprint scanner on the back
room for dual nano SIM card
Simple Qualcomm QM215 processor with 1GB of RAM memory
16GB of storage, expandable up to 128GB via memory card
Approved with Android 11 (Go Edition)
Just enough for Android Go
All in all, you wonder how HMD Global managed to put out such a cheap smartphone. This is largely due to the standard specifications but mainly due to the entry-level processor. The Qualcomm QM215 is not the most powerful processor. Something has been found for that. Instead of using the full version of Android, they chose the stripped down Android Go. This allows you to do exactly the same as the full Android, but the system applications such as messages, mail and browser are a bit simpler. This also means that only 1 GB of RAM memory is needed. Don't be fooled by this, for Android Go phones this is sufficient in most cases.
---
Most important Nokia 1.4 specifications
Dimensions
166.42 x 76.72 x 8.7 mm
EAN code
6438409061621, 6438409061614, 6438409057426, 6438409057419
Fingerprint recognition
Android
10
Color display
IPS, notch
Camera
2 MP, 8 MP, dual camera sensor
Processor
1.3 GHz, qualcomm 215, Quad Core
Secondary camera
5 MP
Dual SIM
4G (LTE)
Internal memory
1 GB (Size (RAM)), 2 GB (Size (RAM)), 3 GB (Size (RAM)), 16 GB (Storage), 32 GB (Storage), 64 GB (Storage)
Battery
4000 mAh
---
Video about the Nokia 1.4
Everyone should be connected. But that starts with an affordable smartphone. The Nokia 1.4 is just that, and more.
---
Alternatives of the Nokia 1.4
Scroll the table below to see more
| | |
| --- | --- |
| | |
| | |
| | Current product |
| Fingerprint recognition | |
| Android | 10 |
| Color display | IPS, notch |
| Camera | 2 MP, 8 MP, dual camera sensor |
| Processor | 1.3 GHz, qualcomm 215, Quad Core |
| Secondary camera | 5 MP |
| Dual SIM | |
| 4G (LTE) | |
| Internal memory | 1 GB (Size (RAM)), 2 GB (Size (RAM)), 3 GB (Size (RAM)), 16 GB (Storage), 32 GB (Storage), 64 GB (Storage) |
| Battery | 4000 mAh |
Complete comparison between the Nokia 1.4 and these alternatives or compare with other models
---
Questions and answers about the Nokia 1.4